A smaller national team event may replace WUGC for World Games qualification.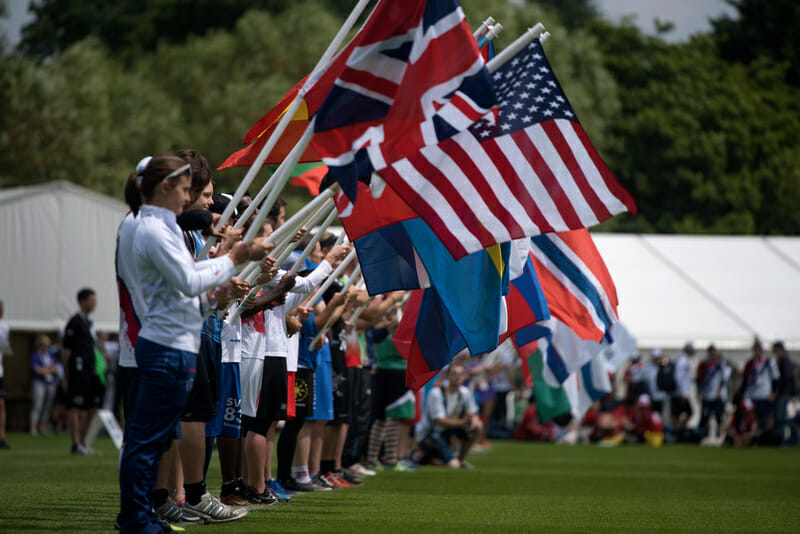 The World Flying Disc Federation is postponing or potentially outright cancelling the 2020 World Ultimate and Guts Championships, World Junior Ultimate Championships, and World Masters Ultimate Championships due to the spread of the novel COVID-19 coronavirus, the organization announced this morning after deliberations over the weekend. No world championship events will take place for at least the next six months.
The decision follows reports that the 2020 Summer Olympics, set to begin just days after WUGC in July, was going to be postponed.
"We regret having to take this extraordinary decision, but the health and safety of our athletes, team support, volunteers, staff, and spectators is our paramount concern," said WFDF President Robert "Nob" Rauch in a statement. "We know that this decision will disappoint many athletes who had been extensively training for these competitions, but it is difficult to imagine moving forward given the current environment of border shutdowns, individual lockdowns, and other exceptional governmental actions.
"We appreciate the understanding of the TOCs who have been working on these events for up to the last three years. Further, WFDF appreciates all of the medical personnel around the world, working tirelessly at reducing and eradicating this unprecedented threat, and it is in solidarity with the whole of society to contain the virus."
WFDF Vice President and ultimate committee chair Brian Gisel said that postponing WUGC and WJUC to next year "does not appear feasible,"1 but that WFDF is considering the creation of a smaller national team event — a 16 to 20 country mixed ultimate event, according to Rauch — in early 2021 that could serve as a qualifier for the 2021 World Games in September. WUGC normally serves as a qualifying tournament for the countries that are selected to compete at the quadrennial World Games. If no national team event can be scheduled as a replacement, WFDF will likely use some combination of their World Rankings and the 2016 WUGC results to select teams for this cycle.
Player and team fees that have been paid towards the events are non-refundable, but WFDF has instructed tournament organizing committees "to use all unspent funds or prepaid amounts that can be reclaimed from the vendors and suppliers of the events in order to to reimburse teams and players, to the extent possible."
Just five days ago, WFDF said that all three events were scheduled to continue as planned, an indication of how swiftly sentiment has been changing regarding large-scale events in the next four months.
WFDF will explore options for rescheduling the three tournaments, but there is no timeline for when or even if events will occur.
---
The WMUC may be postponed until next year. ↩