Who is the favorite and why?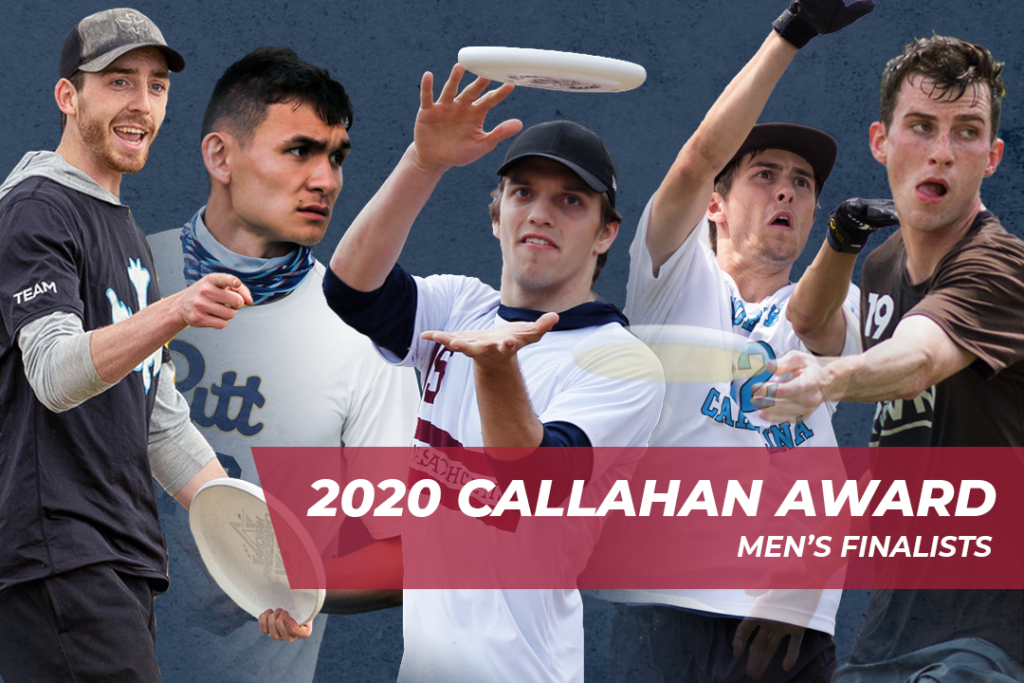 The announcement of the Callahan award, the most prestigious designation in ultimate, was already one of the premier events on the calendar for 2020, but has taken an even greater importance in an age of COVID. With college ultimate on hold until maybe November at the earliest, the race for the Callahan award has been the last vestige of competition and genuine excitement around a season that was otherwise left hanging. Some of the more creative videos (perhaps the result of editors with a lot of time on their hands?) in recent memory and long Twitter testimonials have shown an appetite for salving some of the pain from the season's abrupt end with an exciting, meaningful Callahan race.
And also we can bet on it.
In his recent mailbag, Ultiworld Editor in Chief/loanshark Charlie Eisenhood laid out odds on the Callahan award, for both winning straight up and finishing top five. More than just giving us an opportunity for a couple of tempting parlays, it provided a nice framework for the state of the race and gave some color to surprises in the announced finalist lists. Following the release of the five finalists in each division, Charlie has since updated his odds in the Ultiworld Slack channel,1 which gives us a pretty accurate picture on the state of the race heading into the final days.
In the men's division we can see a fairly neat hierarchy, but certainly some room for surprises.
Michael Ing (Odds -250)
Tannor Johnson (Odds +160)
Elijah Long (Odds +250)
Jac Carreiro (Odds +600)
Solomon Rueschemeyer-Bailey (Odds +800)
We've got an iconic player with the chance to wrap his career up with one last accolade after coming close last season, a candidate whose video shot him from relative obscurity into the limelight, national championship winners from historic programs who could be another feather in some already pretty illustrious caps, and your favorite player's favorite player who seems like he was made in a lab to win frisbee acclaim.
What it means to win the Callahan is a moving target, with the rationale and criteria of what makes a winner shifting as priorities and accessibility within the sport changes. Each season gives us another data point about what winning it actually signifies, and with all of the emphasis on this year's award elevating its importance, whoever wins this year could become an important marker in determining what the designation "Callahan winner" really means.
Michael Ing (-250)
With lots of support pouring in online for Ing after he was mocked by Seattle Mixtape on Twitter and everyone freaked out, Ing has certainly garnered the most effusive praise down the homestretch of the race. Pitt has run an achingly earnest but likely effective campaign for their guy, and several of his opponents have popped up with testaments to his spirit and attitude. Add an excellent video (by editor on the rise Max Charles) to the mix and it's clear why he has become the front runner.
Winning a major individual achievement like the Callahan would be a somewhat ironic, if still fitting, end for a player whose college career was defined by his willingness to subsume his individual talents into a team structure. Ing rarely played like a superstar because Pitt didn't shine a spotlight on him, instead deploying Ing like a Winston Wolfe-esque fixer, plugging any hole the team had and rushing in to save the day when trouble arose.
Shuttled between offensive and defensive lines Ing never developed a signature style or role other than just general excellence. He became harder to put in a box and assess than some of his peers because there was no one thing he did on the field that first comes to mind the way you think about demolishing the deep-deep on a jump ball when I say Tannor Johnson or rocketing a flick blade into triple coverage when I say Kai Marcus.
Perhaps as a result of his harder-to-conceptualize role, he never won a POTY award, and may never have gotten quite the respect his talent deserved during his college career. But capping everything off with a Callahan award would serve to validate the sacrifices he made for his team and prevent anyone from questioning his personal legacy.
Tannor Johnson (+160)
In terms of consistent domination — let's create a made-up metric for, something like Applied Unit of Dominant Individualism (or AUDIs, for short) — Tannor is a no-doubt leader over the span of his career. For five years he has torched the college division with a combination of size and skill that bears comparison to only the truly greatest offensive talents of all time. And he did it every single year, dropping AUDIs on everyone's head from his Rookie of the Year campaign all the way through this abbreviated fifth year.
Winning the Callahan would be a vindication of that sustained period of ass-kicking (or SPAK), if not necessarily memorable team results. His freshman year, the sky was the limit for Tannor and UMass and at least one title seemed like a surety. But with a COVID shortened season this year and a shock upset at Regionals last season, Tannor was only able to reach the semifinals of Nationals once in his career. He hasn't been beyond prequarters at college Nationals since 2017.
None of that makes his AUDIs and SPAK less impressive. His accumulated assault on defenses has created more offensive production over five years than any other player in this year's class — and potentially in the all-time pantheon — but his lack of team postseason success may handicap him in the Callahan race. He was a finalist last season, and may have the most name recognition of any player in the Men's division. If he wins the Callahan this time around, it will be a testament to the reputation as a singularly dominant individual player he's built up over the last five years.
Elijah Long (+250)
Elijah Long is essentially making the opposite case of Tannor Johnson. You couldn't miss Long deep in the bracket at Nationals. He never failed to make the semifinals during his entire collegiate career,2 winning the whole thing in 2018 and coming one game short in 2019. That kind of sustained presence in the spotlight, in the games that mattered most, has a clear impact on a player's perception and can garner a lot of votes come award season.
Team success may cut both ways for Long here, as all the wins that have given him a spotlight also may make him a victim of voter fatigue. He follows on the heels of Matt Gouchoe-Hanas's win last season and no men's program has gone back-to-back since Fortunat Mueller and Justin Safdie did the double for Brown back in 1999-2000. After having so recently anointing Gooch, it may be tough for voters to give Long credit for all of those postseason runs.
But as his endearing Callahan video and US National Team resume show, Long isn't just someone who's been along for the ride on these Darkside title runs. He's one of the savviest handlers in the sport and a supernatural defender, pulling poach blocks out of thin air like a magician with a hat. He'd be a deserved winner if voters can look past the UNC machine around him, but that may be too big of an if.
Jac Carreiro (+600)
No one else has had their profile elevated as much by their video as Jac Carreiro. Heading into the season he wouldn't have been anywhere near this list, but after seeing him jetpack around the field like a Mandalorian he's now in the top five. And for good reason! Watch that video again. Seriously.
Carreiro's highest profile club play has come with Boston Wild Card in the mixed division. This makes him the third finalist who has most prominently featured in the mixed division, with Tannor Johnson and Michael Ing have more notable playing careers with Slow White and AMP respectively than when they have dabbled in men's. I don't have any grand conclusions about what this means for the mixed division or the shape of the Callahan electorate, but a win by one of these players will make it the first time a mixed club player has won the men's Callahan award since…when exactly?
If Carreiro pulls off the big upset it will be a testament to the power of submission videos. He wasn't an unknown player around the division, especially after leading Tufts to Nationals last season, but it's impossible to divorce his viability as a candidate from the radness of his video. Is he the best player in the division? No. Has he had the most impactful performances? Also no. But that's not what the award has come to represent.
John Stubbs won in 2017 because of one really, really good game in the semis the year before, and winning a club title. Gabe Hernandez won in 2018 because he had what was basically a Nike "Just Do It" ad after Regionals. Kobe Nguyen won in 2018 because of… an incredible video. If Jac and his incredible video win in 2020, it will be another crucial data point towards understanding what it means to win this award.
Solomon Rueschemeyer-Bailey (+800)
A bit of an upset by bookmakers standards, SRB makes the finalist podium over some contenders like Connor Russell, Many Eckart, and Will Lohre. Rueschmeyer-Bailey plays a more unassuming game than some of the other finalists, but that didn't stop voters from recognizing his contributions to a Brown program that went from Regionals also-rans his freshman year to National champs.
Emerging as the chief engine room mechanic on Brown's championship team last year, SRB evolved his play this season following the departure of Mac Hecht and absence of John Randolph. With more playmaking and leadership responsibilities, he attacked defenses with a greater sense of urgency, not departing from his even-keeled style but applying it with more confidence and panache. He was instrumental in Brown handing BYU their only defeat of the season, coolly absorbing the physicality of BYU's imposing defenders and converting it into steady holds.
Sol's game doesn't create the spectacle that you'll see from the rest of the players on this list. But he has proven to be unfaltering teammate, someone who you can look in the eye on double game point and know that he'll get his job done. He's someone who has wrung all of their talent out and left it on the field. We all love that guy. How could you not? So if he wins the Callahan, we'll know why.
You can see which of these finalists takes home the Callahan Award tonight as they are announced live! Men's Division winner will be announced at 8 PM ET, with women's coming at 9 PM ET.
---
Accessible to our Plus subscribers! ↩

Except, obviously, this year. ↩