Takeaways from this year's women's division race.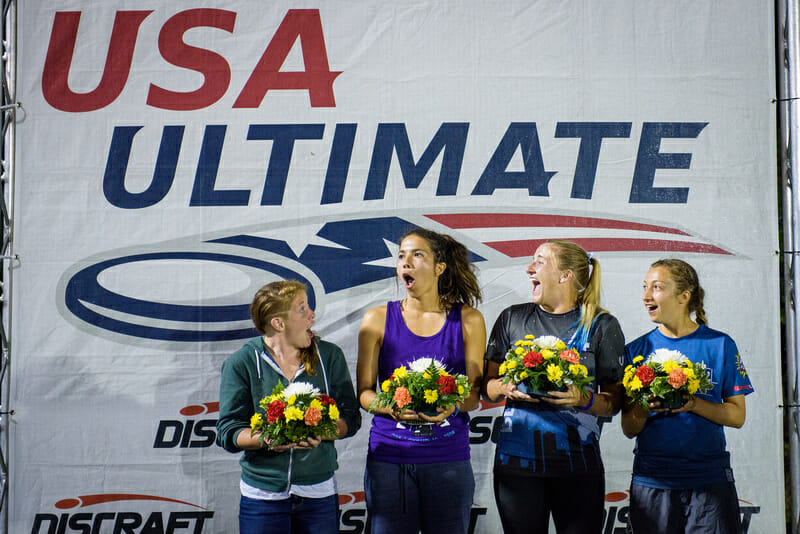 Thanks to the current global crisis, there are a lot of milestones we've missed in this college season. Many of the late regular season tournaments where teams are at their peak were taken from us, along with the most exciting weekend of the ultimate calendar: college regionals. With Nationals all but cancelled, too, there just hasn't been any sort of normalcy to the college season. Luckily, the Callahan vote is the one piece of 'normal' we can cling to in this abbreviated season.
Thanks to an ample amount of time and boredom from college players, we're currently experiencing a cornucopia of college ultimate highlights. More schools than ever have made videos for their nominees, and it's a blessing or a curse depending on who you ask. For the average college ultimate fan, the number of videos and nominees may be a little overwhelming, and trying to get through them all can be a chore. With voting officially closed, it's determined which someone will win the award, but that shouldn't be the only takeaway from the Callahan race this year. For those who're still trying to catch up on the 2020 Callahan award process, here's what we've learned so far.
For the First Time Since 2015, The Winner Won't Be from Dartmouth or UC Berkeley
The title pretty much says it all, but there's still more to glean from this fact than what first meets the eye. The past four Callahan winners were from only two schools located on opposite sides of the nation. Dartmouth's stars were the favorites in their respective years, with Angela Zhu and Jack Verzuh dominating their competition. The opposite can be said for the UC Berkeley stars: both Marisa Rafter and Jackelyne Nguyen were in very competitive races and beat out the presumed favorites to win the award. All four are very talented players and earned their nominations for a reason, but 2020 will end this streak. Dartmouth did not officially nominate a candidate this year, and UC Berkeley's nominee – Bianca Champenois — doesn't quite have the same name recognition as her school's previous Callahan winners.
Before moving on, it should be noted that there's an underlying principle to the previous winners' streaks that cannot be ignored. The Southwest and the Northeast are two of the largest voting blocs in college ultimate, and always have strong candidates arise from their ranks. All of the past four Callahan winners benefited from strong campaigns, but they also benefited from a generally unified base of support. We won't see either Dartmouth or UC Berkeley win the award, but with Kaitlyn Weaver in the Southwest and Margo Urheim in the Northeast, it's not out of the question that the award will continue to stay in one of the two powerhouse regions.
Callahan Video Tip: Might as Well Jump
There were a lot – a lot — of Callahan videos this year and the problem with being so invested in the college season is that sometimes that means you have to watch all 110 of them.1 The one takeaway from watching all of the women's videos is this: college players, if you want to have a Callahan video made about you, get really good at skying your competition.
I can't tell you how many videos featured the nominee beating their competition in the air, but I can tell you that a good skying grab was often the most memorable part. Sometimes hucks, layouts, and especially open under cuts can become a blur, but seeing a player roof their defender is still so satisfying when done right. If you'd like an example, the first 30 seconds of Margo Urheim's video is just her skying people and it's very satisfying.
Other trends from this year's Callahan videos included a lot of fancy footwork and body awareness. If you're looking for a good example of this, it's basically the entirety of Anne Worth's Callahan video – we'll get to her in a little while. There was also an increase in pulling within this year's Callahan videos, and that's a good thing. Pulls are still an underrated element in the college division and if these videos encourage young players to work on their pulls, that's an absolute win.
If there's one trend we can hopefully see end in 2021, it's the clips of sub-10-yard-gaining under cuts. Callahan videos are already too long, and we don't need to see an unmarked catch in the least dangerous part of the field. The same goes for throwing these short gain passes. No matter how good the music, the play just isn't that impressive.
Let's Talk Favorites
Thanks to the lack of a full regular season, with full regular season coverage and scheduled games, the Callahan race is a little less predictable, or at least that should be the case. This year, USAU has allowed players to do the same thing they do every year, and look at a player's legacy to inform their vote.2
This is important, because the current frontrunner is Anne Worth, who was injured throughout the entire 2020 regular season. Other top candidates included Julia Zhang, Hallie Dunham, Chupzi Lema, Maddie Boyle, Rowan Jaynes, Cara Sieber, Kaitlyn Weaver, and Margo Urheim. All of these players have name recognition at a regional and national level. Most importantly, these are the only players whose videos have crested 1.7K views at the time of publishing, which appears to be the threshold for favorites. Frankly, most of the names on this list are no surprise; only Chupzi Lema can be considered a shock. Chalk it up to competing in the Southeast or being on a team that hasn't been a Nationals contender in a while, but Lema's rise has been the most interesting story to follow in the race.
Ultimately, though, the top five votegetters are Boyle, Sieber, Urheim, Weaver, and Worth.
Really, only Dunham's absence is a surprise — as likely the best thrower in the division this year, Dunham not making the top five means that there's no player in tonight's award ceremony that's really known for their throws.
Ignore Everything Else, this is Anne Worth's Race to Lose
The Callahan voting is closed so we can have no fear of influencing results here. So, here's an opinion that is about as close to a fact as they come: it would be a big shock if Anne Worth did not win this thing. Along with incredibly positive word-of-mouth surrounding the UNC star that has been present since the preseason, Anne Worth's Callahan video is probably the strongest of the field. With respect to the throwing display from Hallie Dunham, the song choice from Michelle Slaughter, the athleticism from Julia Zhang, and the frankly magnificent editing of Maddie Boyle's video, Anne Worth's was still the most memorable of the pack.
We can take my own objective view out of it and look at the 8,130 other objective views3 that also seem to find Anne Worth's video worth the watch. Worth blew the competition out of the water with viewership. Julia Zhang came second and has roughly half as many views. Only Urheim also cracked 3000. Without as much on-field evidence or ability to compete against players in the regular season to help determine the votes, it's almost a given that players will turn to the videos to inform their decision – not that they haven't in the past, anyway. Anne Worth's video has close to 8x that of her standard competition, and it's safe to say that many of those viewers are college students with a vote. We don't really need to make much more of a case than that. As previously noted, she's already the odds-on favorite according to Charlie Eisenhood. There's really not much more you need to know.
Watch the live Callahan Award ceremony tonight at 9 PM Eastern:
Callahan Award 2020 | Women's Division
---
No one tell me if there are more than 110 Callahan videos this year. I truly, truly do not want to figure out which ones I missed ↩

Riddle me this, if it was always meant to just be about the player's nominated season, why does everyone list their resume at the end of their videos?!? Case closed. ↩

current to the time of publishing ↩