The top five for each division!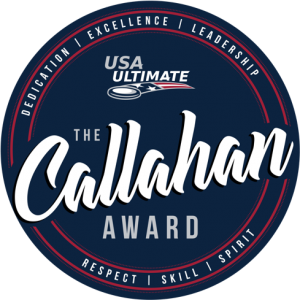 The finalists for the 2020 Callahan Award were announced today by USA Ultimate.
Here are the finalists in alphabetical order.
Women's Finalists
Maddy Boyle – Oregon
Cara Sieber – Ohio State
Margo Urheim – Tufts
Kaitlyn Weaver – UC Santa Barbara
Anne Worth – North Carolina
Men's Finalists
Jac Carreiro – Tufts
Michael Ing – Pittsburgh
Tannor Johnson – Massachusetts
Elijah Long – North Carolina
Solomon Rueschemeyer-Bailey – Brown
Check out all of their Callahan videos, plus those of the rest of the players who were nominated by schools across the country, on our mega-thread.