Meet other people and raise the stakes.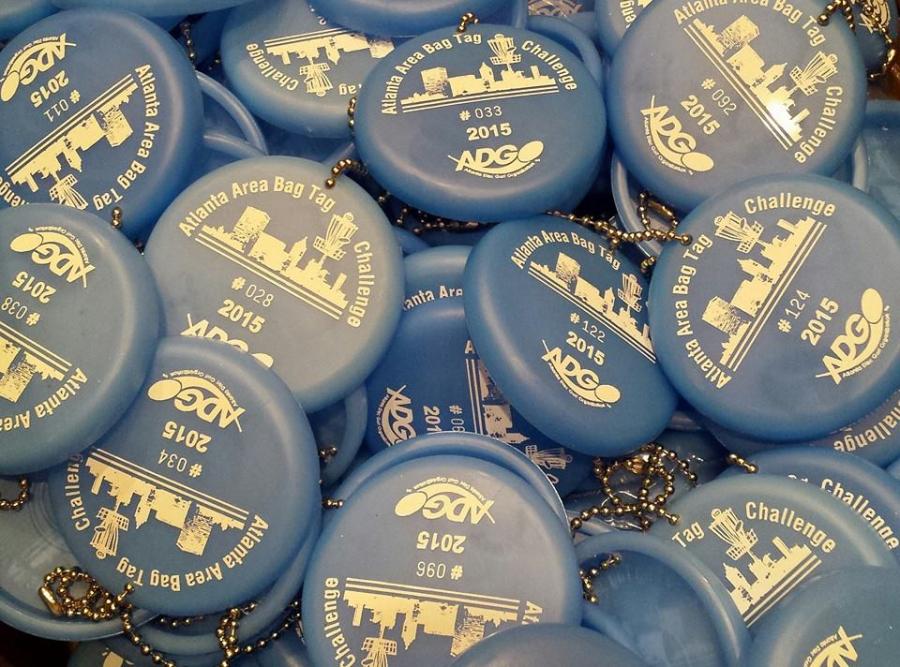 This is part five in our series on learning to play disc golf as an ultimate player. The series is presented by Innova Discs, the Choice of Champions! 
In New England, spring is more a state of mind than an actual season. I have a distinct memory of rolling down my windows one day after a long winter, happy to finally feel a breeze without it stinging my face. As I dangled my hand out the window to let it be buffeted by the wind, I passed the local bank and saw the sign display 32℉. Bemused, I rolled up the window and wondered what California was like. In my time at Amherst ultimate practice, the first day of "T-shirt weather" was celebrated more than the Solstice and usually started once the thermometer edged over 50℉.
Brent and I were entering our 6th month of actual disc golf concentration in April 2016, and we were back at Ecker Hill, waiting for the final snow to melt. His baby daughter had put a limit on his weekday availability, so I was solo more often than not. One Wednesday, I arrived around 5:00, only to find that there was a whole mob of people grouped around the first teepad. They asked me, as you might one day be asked, if I was there for "league." I said "What's league?"
My disc golf career was never the same.
"League" is a wonderful thing. League might refer to a handicap league, a doubles league, or a tag league (see below for more info). League is a set time and place for locals to show up, buy in for a few dollars, and play a competitive round in good company with a chance to earn a payout.
The Ecker Hill Wednesday Doubles League requires a $6 buy-in. Five of those dollars are added to the winners pot. The number of people paid out depends on how many people buy in, but first place takes the bulk of it. Most league organizers have a spreadsheet that dictates how winnings are divided. The sixth dollar goes to the "course fund" which pays for tee pads, signs, maintenance, and the like. At most leagues, you'll also have the option to buy in for some additional propositions. Usually you can add an extra dollar to join the ace pot, which is paid out for a hole-in-one (always do this, trust me). Often times, there is also a $1 CTP (Closest To the Pin), which is paid out to the person whose drive lands nearest the basket on a given hole. Generally a "fair" hole, reachable by all players, is designated as the CTP hole. I always buy in for CTPs as well, so my weekly buy in is the "full" eight dollars.
When this was described to me, I shrugged and signed up. Everyone seemed to know each other so it was a little awkward to be the outsider, but a few people came and asked my name and made conversation about how long I'd been playing. At some leagues, you will flip discs like coins to sort out doubles pairings. At Ecker, we draw cards (so the two deuces will be partners, the two threes will be partners, etc.) As luck would have it (or not, that night), I drew the joker; there were an odd number of people so one person, me, would be playing "Cali." I have no idea, outside of the obvious, of the etymology of this term, but the person playing Cali is granted one extra shot per hole in lieu of a doubles partner, the thinking being that a repeat shot for one person is enough of an advantage to offset the additional throws by a second person. I was offered to buy into "Connecticut Cali" for an extra five dollars, which would allow me to "roll over" unused throws on one hole for extra shots on later holes, but I declined because I figured the initial eight dollars was already lost, and I'm a cut-bait kind of guy.
And I was right! I played terribly, but it was eye-opening to go a round with people who actually knew how to play. There was a local pro who could hit putts from a mile away, and a drunk guy who had no trouble steering his Roc 300' through the trees. I caught some names and got a few appreciative nods on my better shots, as well as a few complimentary "ohh, hmm"s when a bit of ultimate technique was necessary to get me out of the deep rough: the step-back outside-in forehand, in particular, is not a throw pure disc golfers see often. I went back the next week, and the next, and heard about the other leagues in the area and started going to those, too. Soon I was making friends, learning lots about disc golf from people much more experienced than me, and becoming familiar with the other local courses.
My fifth Tuesday Tip for ultimate players picking up disc golf is: Play your local leagues. 1
It's easy to find them. My first suggestion is to consult Facebook, as that is the primary method of publication in my area and, I assume, nationwide. Search for something like "Connecticut disc golf," and join the groups that pop up. There may be a page for individual courses, or even individual leagues. This is where the organizers will address inclement weather cancellations and updated times, and maybe post results. If Facebook doesn't work for you, I'd just ask people you bump into on the course if they know of any leagues there. To brazenly stereotype: the better the player, the more likely they are to know about the local goings on, but everyone is worth asking. I can only speak for the Central Connecticut scene, but disc golfers are good people eager to grow the sport. Plus, you're a mark and the good players want to take your money! So save a few days' scratch card money and go bet on yourself instead. You'll win some of it back in time.
***
Here are a few league types to know.
Singles Handicap. You'll probably play three rounds without buying in to establish a handicap set against the par. For example, if the par for a course is 54, and you shoot a 60, a 62, and a 64, you will have averaged eight strokes over par, so your handicap will be a -8. This allows you to be competitive with better players who might regularly shoot a much lower score. Come by Wickham Park on Tuesdays at 5:00 and we can play a round. My handicap is -5.
Best Shot Doubles. You'll be randomly assigned a partner, as described above, and you'll play the best shot between the two of you throughout the course. If you have a good drive and mine hits a tree, we pick up my shot and throw our approach from yours, and continue that way until we hole out. Scores in doubles rounds are typically well below singles scores; my partner and I lost at Ecker (par 56) recently with a 45 to two teams that shot 43s.
A/B Groups. Down at Bridgeport, they don't balance scores against a handicap, but instead let players self-sort into more (A) and less (B) competitive groups and split the money accordingly. I think they spread the payouts a little thinner to keep more players engaged.
Tag Leagues. I don't know of any of these near me that are tags only, but I think there are some leagues that don't involve money. Instead, you buy a "bag tag" (or maybe a "brag tag"?) showing a number. The winner that night walks away with the lowest number. We have tags at Wickham, but they operate concurrently and secondarily to the money.
---
keep in mind that during the coronavirus crisis, they may be suspended or altered. ↩