Celebrating the players who defined the decade, both with impressive peaks and extended longevity.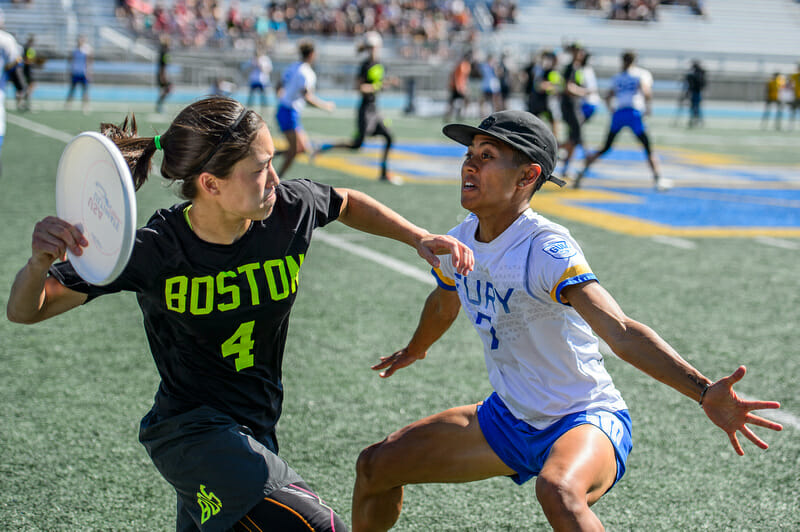 Ultiworld's "Decade's Greatest" series is presented by Greatest Bag. Get the greatest bag in ultimate at GreatestBag.com!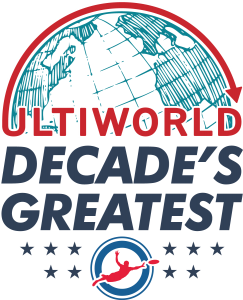 "Who are the best players in the game?" is perhaps the most fundamental argument in the coverage of any sport. It is often fiercely debated and is as much a conversation about the definition of "best" as it is about who should be in consideration.
As part of our Decade's Greatest series, we set out to figure out who were the 10 "best" players of the 2010s — who had the biggest impact and success within the sport over the course of a decade.
We considered success in any and all competitions, from college to club to international play and looked at awards won, championships claimed, on-field performances, and the general impact on the narratives of each season. We eschewed hard metrics or point systems and instead tried to holistically debate each player's overall resume. Earning a spot on this list required a combination of both lofty peaks and impressive longevity — spending two years at the top of the game at either the start or end of the decade wasn't enough to be included.
Narrowing this list down to just ten names was hard enough without then parsing the particular ranked order. After plenty of internal debate, we landed on our final list1 then asked long-time teammates or opponents to help tell the stories of what makes these players so good.
Georgia Bosscher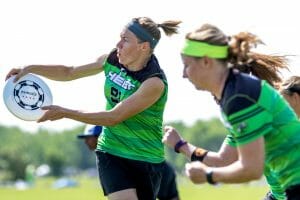 Georgia Bosscher was at the height of her powers at the very beginning of the decade, when she was one of the best players on the San Francisco Fury teams that won the first two club championships of the 2010s. That was before Ultiworld was around, otherwise she likely would have claimed more than just her lone official media accolade, First Team Mixed All-Club in 2018.
But Bosscher doesn't need the individual club season awards to warrant making this list. The winning she did all throughout the decade speaks for itself. In addition to the two club titles, Bosscher was one of just four players to win gold medals at both of the decade's World Games. She won another world championship with the US women's team at the 2016 WUGC, and tacked on another international club gold at 2010 WUCC as well.
Bosscher's rare combination of athletic explosiveness and expansive throwing ability made her a mainstay of US national teams, whether she was playing her club with Fury, or Madison Heist, or DC Space Heater.
"Georgia's throwing skill set is unrivaled. I attribute it to her power, control of edges, and her unreal throwing vision. She is a system player with her legs, but has creative vision that goes beyond this world," says Bosscher's former Heist teammate Robyn Fennig. "I haven't even begun to talk about her layouts. The woman is a torpedo…I feel like she regularly makes plays the rest of us dream of doing once in a career. She does them all the time. She just has this way of making routine things seem bigger than life."
Claire Chastain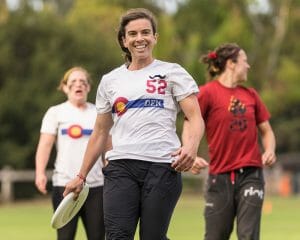 Chastain is the only player to make the list without a national championship to her name, but even among the icons listed here, few equaled her impact on the game over the last 10 years.
Chastain was arguably the best player in the United States for a season or two, and she's certainly been one of the most unstoppable offensive forces in the game in the latter half of the decade. Her 2016 Offensive Player of the Year and 2017 Player of the Year honors reflect that, as do her record-tying six appearances on Ultiworld All-Club teams. She's also one of just two players on this list to have won the Callahan award in the decade, doing so in 2013.
Chastain has played the game in a unique way, particularly on offense, where she's famous for her defense-crushing give-and-gos.
"Claire is such a great player because of her creativity and calm composure. She has the ability to control the tempo of the game with her throws and handler movement," says Vancouver Traffic star Catherine Hui, a long-time opponent as well as teammate of Chastain's at the 2018 Dream Cup. "Her ability to read the situation and change the dynamics based on that sets her above the rest in terms of making an impact on the field."
Chastain does possess some winner's medals as well. She was one of the stars of the gold medal-winning US women's team at the 2016 WUGC, and she was a top player for the Medellín Revolution team that won the first-ever Premier Ultimate League title in 2019. Most famously, though, she's been the face of the Denver Molly Brown team that she helped lead into being one of the decade's top clubs.
Carolyn Finney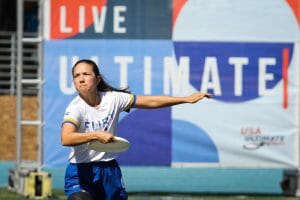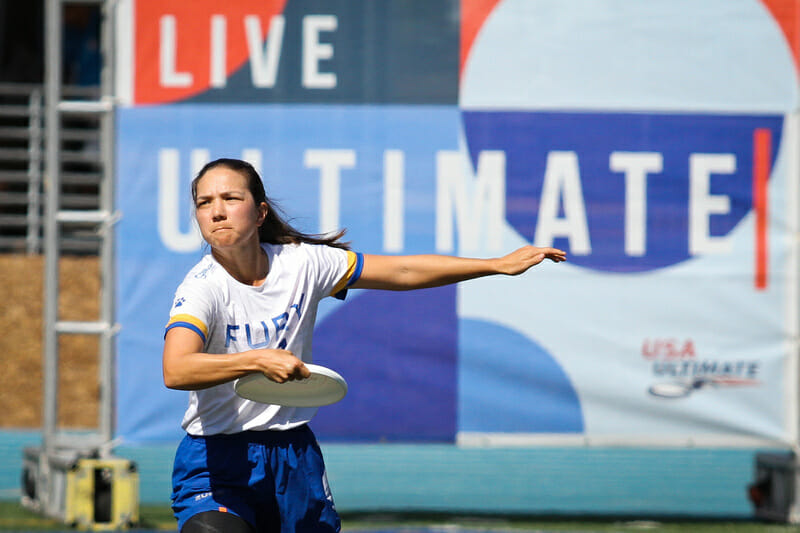 Finney's decade of impressive accomplishments started in 2011 with UC Santa Barbara, when she became the only player on our list to win a college national championship. In the final against Michigan, Finney put together one of the all-time great individual performances with a 2G/10A stat line, scoring or assisting on all but one of her team's goals — while playing on a sprained ankle. She rolled that success right into making Fury for the first time in 2012 and she quickly became one of the standouts on a team full of all-stars.
Through the rest of the decade, she earned three club national titles, a 2017 World Games gold, two First Team All-Club honors, and a Player of the Year award in 2018.
Like so many of the players on this list, Finney boasts an impressively well-rounded game. She's the prototype for the kind of player Fury has built its image on for much of the decade. "She's a complete player," says Fury head coach Matty Tsang. "Defensively she can guard all positions, and does very well at guarding space as well as her matchup. Offensively as well, she can cut to get open and is also a really big thrower. She is one of the top players playing our sport today and it's because of that big skillset."
Finney is also the consummate competitor, and in a lot of ways it felt like she willed Fury to a championship the year she won POTY, upsetting a dominant and undefeated Brute Squad in the national final. It's another way in which Finney has imprinted herself into Fury's ethos.
"She was pretty injured in the last World Games tryout and I thought the way that she pushed through to me epitomizes the type of player that Finney is," says Tsang. "I have complete confidence that no matter what the situation of the game is, what her physical state is, what the state of the team is, she is the utmost competitor and is gonna bring that level no matter the situation."
Sarah Griffith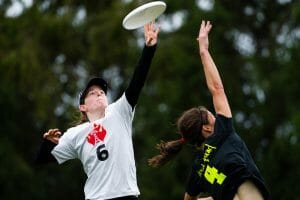 "When Surge takes the field she is able to amplify her athletic gifts with all of the physical, mental, and strategic preparation work she has put in. She's not just 'out-athleting' you or simply being smarter than you. She's doing both all at once, and there's nothing you can do about it," says Andy Lovseth, who formerly coached Sarah "Surge" Griffith on Seattle Riot.
It took moving to San Francisco and playing with Fury in 2018 for Griffith to win her only club national title of the decade, but those attributes merited her place as one of the 2010s' defining players long before she was finally able to claim that particular winner's medal.
Griffith did plenty of winning before finally claiming gold in the club season. She's another one of the four players to have been on both of the decade's US World Games teams.2 She also won WUCC gold medals in 2014 and 2018 with Seattle Riot, where she was the team's most decorated player of the decade. She boasts five First Team All-Club appearances, the second-most of any player in the division.
Griffith earned those accolades as one of the game's most well-rounded players and most consistent defenders. "Surge will certainly be remembered for her speed, quickness, and change of direction, and how that changed the shape of the games she played. Surge should also be remembered for her ability to guard anyone in any position," says Lovseth. "She has disrupted offenses, forced turnovers, and gotten blocks in every imaginable scenario. She's the cheat code on defense."
Kami Groom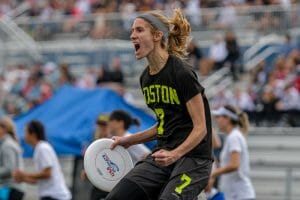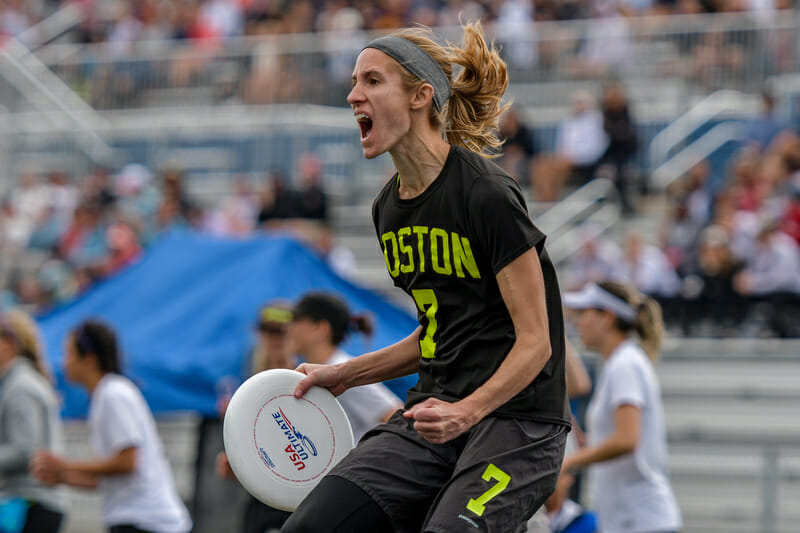 There has not been a player in the 2010s that has been more consistently elite than Kami Groom. After winning the women's club Player of the Year in 2016, she finished as the first runner-up for that award every season for the rest of the decade. She's made All-Club six of the seven seasons Ultiworld has bestowed the honor, all of them on the First Team — more than any other player.
She won three club titles with Boston Brute Squad in that stretch and appeared in every club national championship since 2015. Like so many others on this list she also won gold with the 2016 US women's WUGC team.
Groom has been known for her blazing speed since she broke onto the elite club scene with Chicago Nemesis early in the 2010s, earning her the nickname "Zoom Zoom." That speed and athleticism have made her a tremendous goal-scoring threat, as well as one of the game's most terrifying defenders. Her style of play has helped to define Brute Squad's defense-first identity, and she's probably the player many think of first when they think of Boston's dynasty.
"She's a relentless striker — on offense, defense, behind the disc, in the air, etc. — by which I mean her awareness of what's happening around her allows her to minimize her reaction time when she sees an opportunity to strike, and she sees them everywhere, all the time. And she strikes, all the time," says San Francisco Fury's Opi Payne. "You can see the product of that in how casual she can make these big plays look. She might get a run through block and just keep running for a score because that's what you do and she's always operating with that level of effort and intention so she's used to being there. That makes her an incredibly reliably productive player. Lining up against Kami is a pleasure. You know you're gonna learn something, very possibly at your expense."
Liên Hoffmann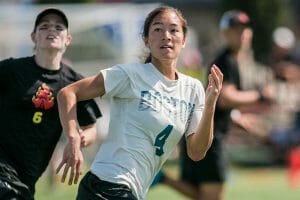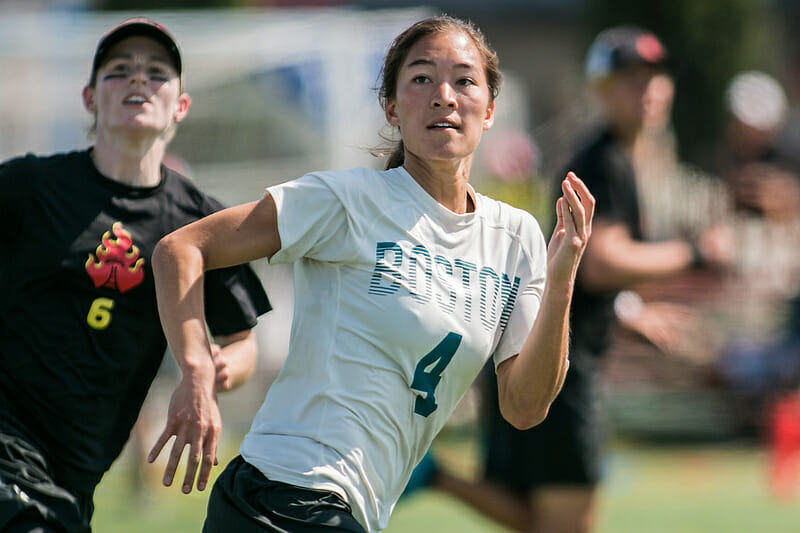 You can't really talk about Kami Groom without talking about Liên Hoffmann, so it's fitting the two end up next to each other alphabetically on this list. When the pair left Nemesis after the 2013 season to join Brute Squad (along with a few other major additions) it changed the landscape of the division for the remainder of the decade.
Brute Squad made the national semifinals the following season after a three-year hiatus, won back-to-back titles in 2015 and 2016, and came up two points short of five straight after winning another in 2019. They're arguably the top team of the 2010s, and Hoffmann was an invaluable part of them earning that status.
The Northwestern product has four First Team All-Club appearances, matching Claire Chastain for third-most all-time in the division. She won Defensive Player of the Year in 2017, and she won a gold medal with the US at the 2017 World Games.
Hoffmann has also been the embodiment of consistency thanks to her impeccably well-rounded game. "She's the absolute full package: an uncoverable cutter, a devastating defender, and a pristine thrower," says Groom of her longtime teammate. "Her ability in the air is the best I've ever seen, and her strategic mind has been key to Brute's success."
It's that versatility coupled with her eternally dependable, mistake-free play that has made her one of the best players of the decade. But it's the style in which she does it that makes her one of the most iconic. "There is no right way to play the game of ultimate. But if there were, it would look like Liên," says Groom. "She plays like poetry—with flow, with rhythm, with subtlety, with sacrifice, with attention to the smallest details, all punctuated by moments of explosion. She makes ultimate look elegant and effortless."
Sandy Jorgensen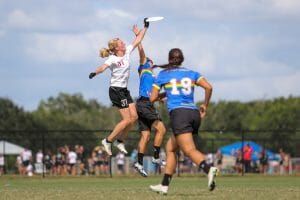 Jorgensen was the most physically imposing player of the decade. Her size and speed made her one of the most uniquely dominant players in the sport's history. She routinely made plays that no one else in the sport was capable of, and was an invaluable piece of the DC Scandal teams that won back-to-back club national titles in 2013 and 2014.
"I think picking a single moment diminishes how often Sandy could produce moments like this. It was more than once or twice, more even than one or two per weekend — almost every game she would produce a moment that no other player could duplicate," says Jorgensen's Scandal head coach Alex "Dutchy" Ghesquiere. "If I had to pick one moment, maybe it would be in Medellín in 2017 where a wide-open man on the Colombian World Games team was poached deep. The throw went up and was an easy goal," he says. "But Sandy disagreed, came off her cover, made up 10 or more yards on this guy, and D'd him in the air in a stunning play. It was uniquely Sandy, and routine Sandy."
That 2017 World Games team, of course won gold, and Jorgensen won another international gold medal with the US mixed team at the 2016 WUGC.
Other players could match her impressive list of wins and accolades, but no one else in the decade equaled Jorgensen's unique physical impact on the game. As Ghesquiere puts it, "She changed the shape of the field." Teams always had to be aware of Jorgensen and cobble together some sort of plan for minimizing her impact. Very few had the level of impact on a game Jorgensen had in the 2010s, and none did it quite in the same way.
Opi Payne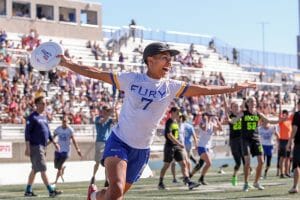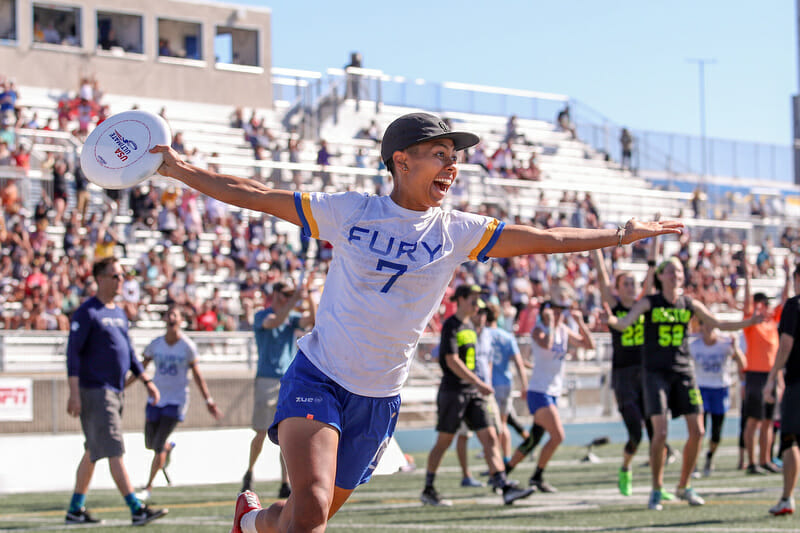 The only player on our list to win club national titles with multiple teams, Payne proved her star-quality explosiveness and her adaptive versatility as a key member of both Scandal's and Fury's back-to-back winners in 2013-14 and 2017-18, respectively. With an impressive stint with Molly Brown in between as well, Payne showed off an ability to star in multiple systems and stand out in a number of different ways through the 2010s.
Payne was on the 2013 US World Games team, an alternate for the 2017 team, and on the 2016 WUGC US women's team, as well as a three-time All-Club player.
Payne put up massive numbers with Scandal, including leading the women's division in assists at Nationals in 2014. On Molly Brown, she was again a big-time playmaker and one of the squad's primary focal points. With Fury over the last three seasons, though, Payne has slotted into a more defined role as one of their chief disc-getters on their D-line, while still flashing that big-play capability offensively when needed.
"Opi is an ideal D-line player," says Dutchy Ghesquiere, her former coach on Scandal. "She can cover a great player, get blocks, own the disc on the turn, and stretch the field, really far, with throws. Having this on a D-line allows for so much flexibility; with so many roles accounted for in just one person she adds even more than just her direct impact. Her combination of elite skills is extremely rare."
It's not often that a player capable of leading the division in assists, could win Defensive Player of the Year six years later, as she did in 2019. But that's exactly what makes Payne such a special player.
Alex Snyder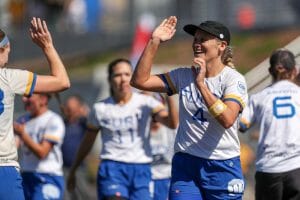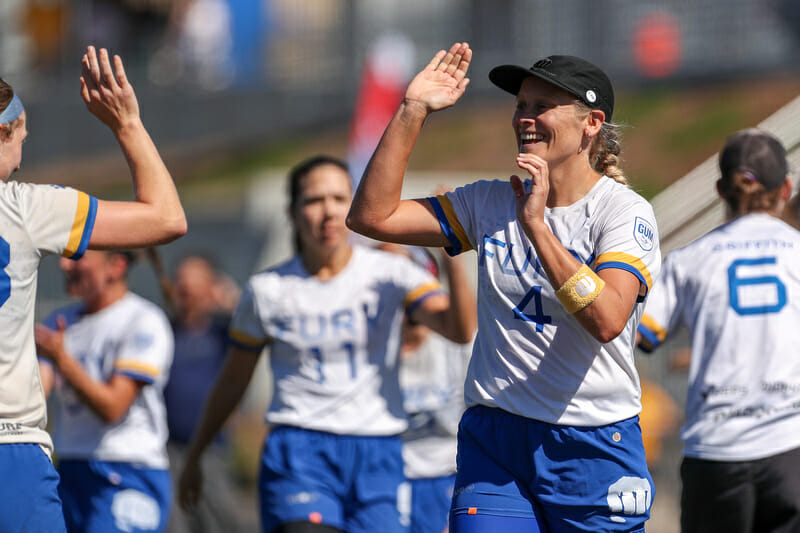 All Snyder did in the 2010s was lock up GOAT status. She added five club national championship trophies to her cabinet;3 won gold medals at the 2010 WUCC, 2013 World Games, and 2016 WUGC; and earned Offensive Player of the Year and First-Team All-Club honors in 2017.
Snyder played as big of a part as anyone in Fury's first three club national titles of the decade. But Snyder's most memorable performance may have been her masterful resurgence at Nationals in 2017, after Fury had gone on a four-year title drought. Snyder was equal parts artful and intrepid in the Sarasota wind that gobbled up many of the game's other strongest throwers. She led them all the way to the upset of Brute Squad in the final, setting up Fury's back-to-back titles in 2017 and 2018, and handing Father Time his first career loss in the process.
Snyder will always be remembered as one of the most impressive throwers to have graced an ultimate field, but she was also the face of Fury's historic dynasty and a pivotal leader for the most dominant team in the sport's history.
"Legacy is based on others' perspectives, what others 'know' about her, based on watching her from the sidelines, or reading an article from someone else's perspective. I will guess her legacy will be her throwing arsenal and that she is the best thrower to have ever played," said longtime Fury teammate Carolyn Finney. "I hope that her ability as a leader — with her attitude, controlling the tempo on the field, and defensive craftiness — is not lost with time. Fury benefited a ton and had a lot of success from Alex's throwing abilities, but Fury doesn't win all those championships without her attitude and leadership."
Leila Tunnell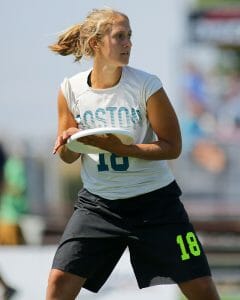 One of the preeminent figures in the women's division from the beginning to the middle of the decade, Leila Tunnell built a resume of both individual and team success. Known for her leadership, skill, and steady hand, Tunnell was one of the people who defined the landscape of the women's division while she was in her prime.
"She is a community-builder that transforms and elevates teams and programs she is a part of by bringing equal parts fierce competitor, thoughtful ambassador, and staunch advocate for equity," says former Brute Squad teammate Amber Sinicrope.
Her reputation as a thrower is rivaled only by Alex Snyder's, owning a combination of power, skill, and level-headed vision. "Leila has an uncanny vision for the field and a terrifying ability to create throwing windows and hit anyone, anywhere — regardless of conditions," says Sinicrope. "I would argue there is 'thrower's wind' and then there is 'Leila's wind', where she still throws whatever she wants even during a tornado or absurdly windy Nationals."
Tunnell is a highly decorated player. Her most famed recognition is her 2011 Callahan Award, which she won after finishing second in the voting in 2010. Of course, she claimed two First Team All-Region selections, as well. She added a Club Women's Player of the Year award in 2015, the first player to win the honor. Both Ultiworld and Skyd recognized her as one of the best seven players in the club division at different parts of the decade — Ultiworld in 2015 as a First Team All-Club selection and Skyd in 2012 as part of their Starting Seven.
In addition to being one of the most talented players on the field, Tunnell was also one of the most respected for her qualities as a leader. While still in college, after guiding UNC to Nationals twice, she helped found and lead Raleigh Phoenix. In 2014, she won the Kathy Pufahl award. Over the next two seasons, she was a critical part of Brute Squad as they lined up back-to-back club titles. And while she probably could have continued as an elite player, Tunnell brought her leadership to the sidelines as a coach at the famed Amherst Regional High School, following up on extensive coaching experience she built throughout the decade, including as a U20 US National Team assistant coach in 2012.
Beyond her impressive abilities and myriad accomplishments, Tunnell's influence on ultimate is her lasting legacy. It's hard to look back at the decade in women's ultimate without seeing her mark on it.
---
Presented below alphabetically. ↩

The others being George Stubbs and Beau Kittredge on the men's side, along with the aforementioned Bosscher. ↩

Bringing her career total to an incredible nine. ↩