The final vote for the best team of the past decade.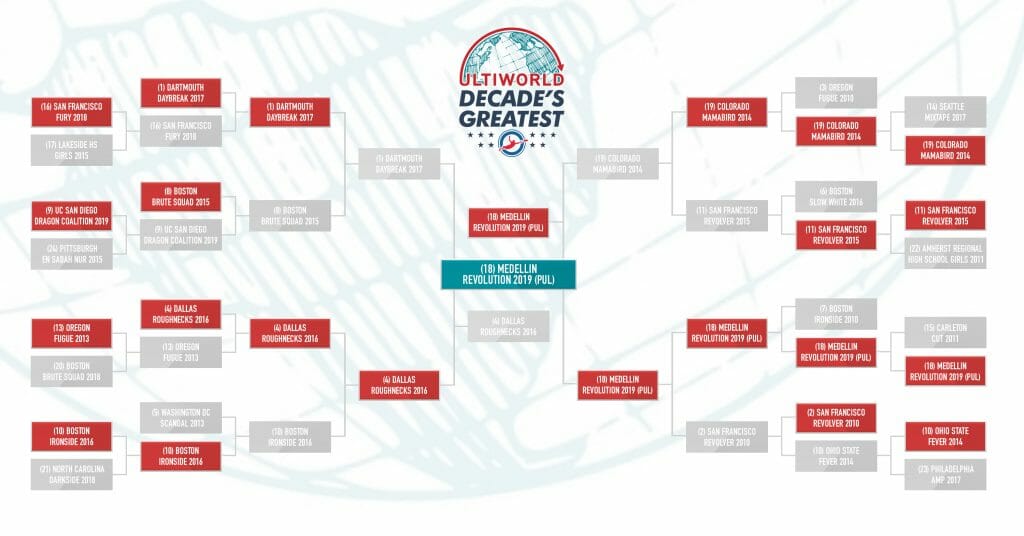 Ultiworld's "Decade's Greatest" series is presented by Greatest Bag. Get the greatest bag in ultimate at GreatestBag.com!
The decade had its share of dynasties with extended runs of excellence, while other teams had one or two outstanding seasons. The super programs are the ones you already know. But which team in which season was the best of the decade? We've culled the list down and are leaving it in the hands of our subscribers to decide.
We reviewed full-season results from every meaningful competition in North America from 2010 to 2019 to select 24 of the most dominant single-year teams of the decade. We excluded national teams — shout out to the 2010 WUGC Canadian National Team, the 2015 U24 Mixed US National Team, and 2010 WJUC US Boys National team — whose critical competition is simply too brief to really get a true sense of their greatness. Championships were highly valued, albeit not required for consideration. Our final field is composed of entrants ranging from high school squads to elite semi-pro outfits and nearly everything in between. The question is not who would win in a matchup between the two, but rather which team was more dominant and successful compared to their competition. Did Oregon Fugue's 2013 team crush their college peers to a greater degree than Boston Ironside did to their club men's opposition in 2016?
Our top eight seeds received byes, while the bottom 16 battled it out in a play-in round. Then our subscribers voted round by round until deciding our champion.
The Teams
For full write-ups of every team, head to the first post in this series.
The Winner: Medellin Revolution '19 (PUL)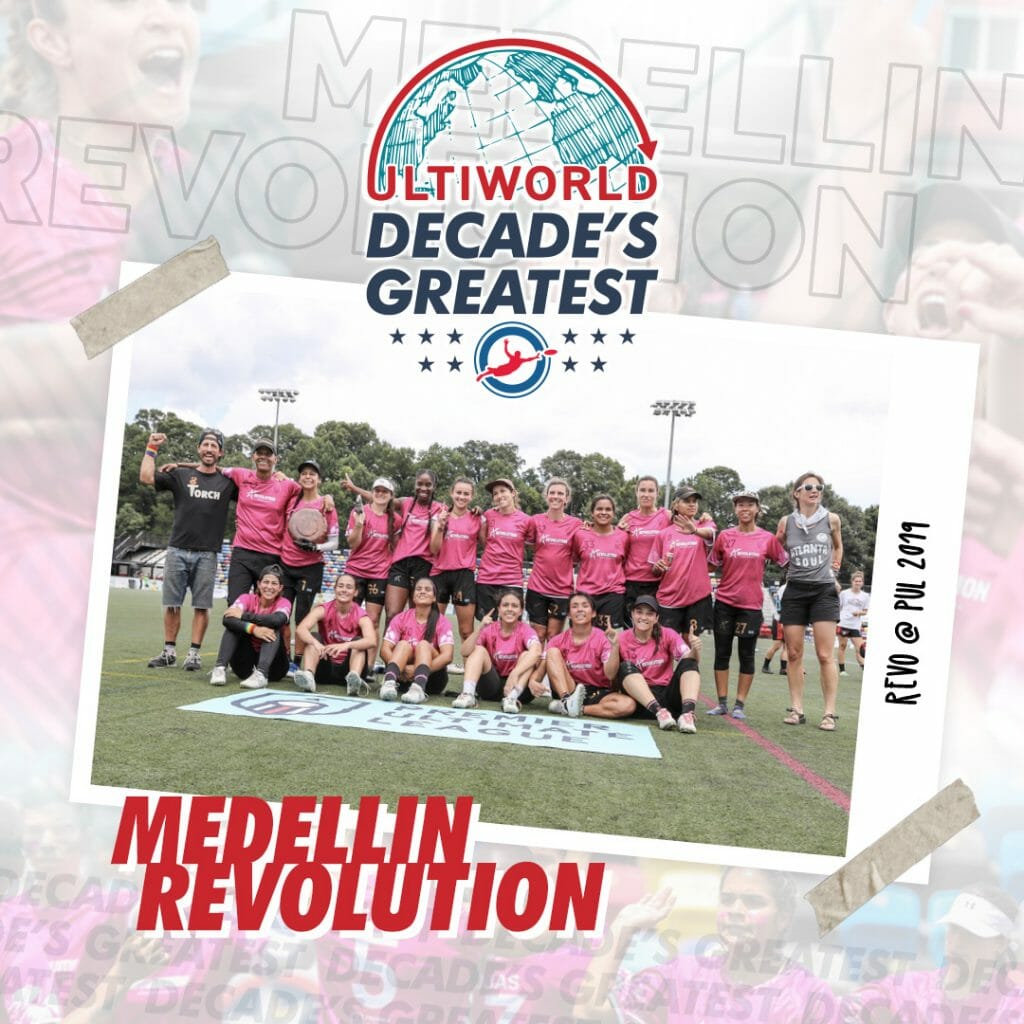 The 2019 Premier Ultimate League champions were not only the first of their kind, but also Ultiworld's first champion of the decade. Among some of the greatest conglomerations of ultimate ability the world has seen in the past 10 years, our subscribers felt Revolution's traveling talent show ruled the roost. It came down to the wire, as they defeated the AUDL's 2016 Dallas Roughnecks by just four votes.
It turns out adding a couple of the best players in the United States to a core of the world class talent on the Colombian club was a recipe for success. League MVP Elizabeth Mosquera, Yina Cartagena, Aleja Torres, and the Cardenas sisters were joined by Claire Chastain, Kaela Helton, and more to form this super-roster. While they had some lulls in their season, fans were able to overlook them due to their immense ability, undefeated record, and exciting performances. Their memorable overtime win over the Atlanta Soul at Championship Weekend was their signature moment, but the highlight machine would have to work overtime to get in everything together.