The final vote for the best team of the past decade.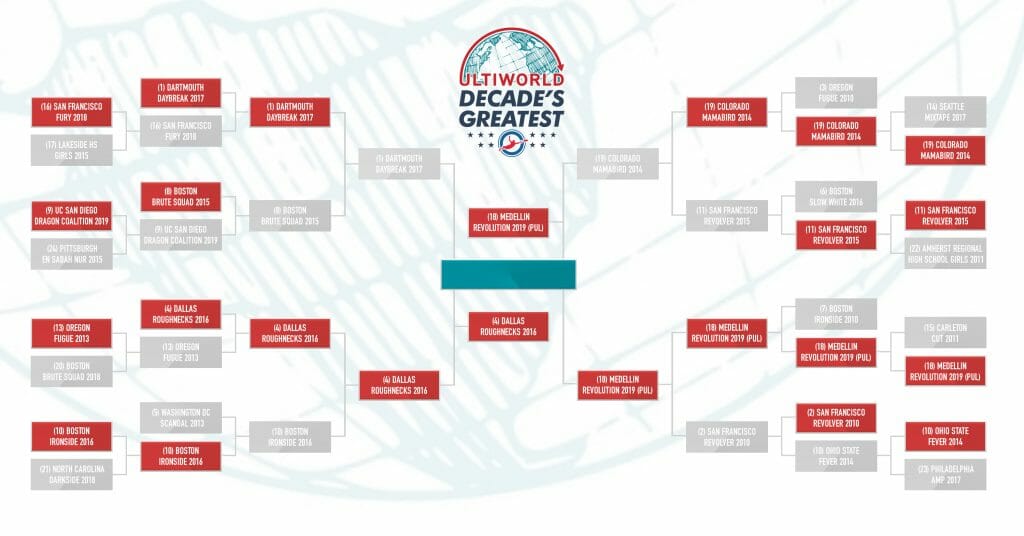 Ultiworld's "Decade's Greatest" series is presented by Greatest Bag. Get the greatest bag in ultimate at GreatestBag.com!
The decade had its share of dynasties with extended runs of excellence, while other teams had one or two outstanding seasons. The super programs are the ones you already know. But which team in which season was the best of the decade? We've culled the list down and are leaving it in the hands of our subscribers to decide.
We reviewed full-season results from every meaningful competition in North America from 2010 to 2019 to select 24 of the most dominant single-year teams of the decade. We excluded national teams — shout out to the 2010 WUGC Canadian National Team, the 2015 U24 Mixed US National Team, and 2010 WJUC US Boys National team — whose critical competition is simply too brief to really get a true sense of their greatness. Championships were highly valued, albeit not required for consideration. Our final field is composed of entrants ranging from high school squads to elite semi-pro outfits and nearly everything in between. The question is not who would win in a matchup between the two, but rather which team was more dominant and successful compared to their competition. Did Oregon Fugue's 2013 team crush their college peers to a greater degree than Boston Ironside did to their club men's opposition in 2016?
Our top eight seeds received byes, while the bottom 16 battled it out in a play-in round. We've arrived at the final matchup: the Dallas Roughnecks 2016 versus Medellin Revolution 2019 (of the PUL).
The Teams
For full write-ups of every team, head to the first post in this series.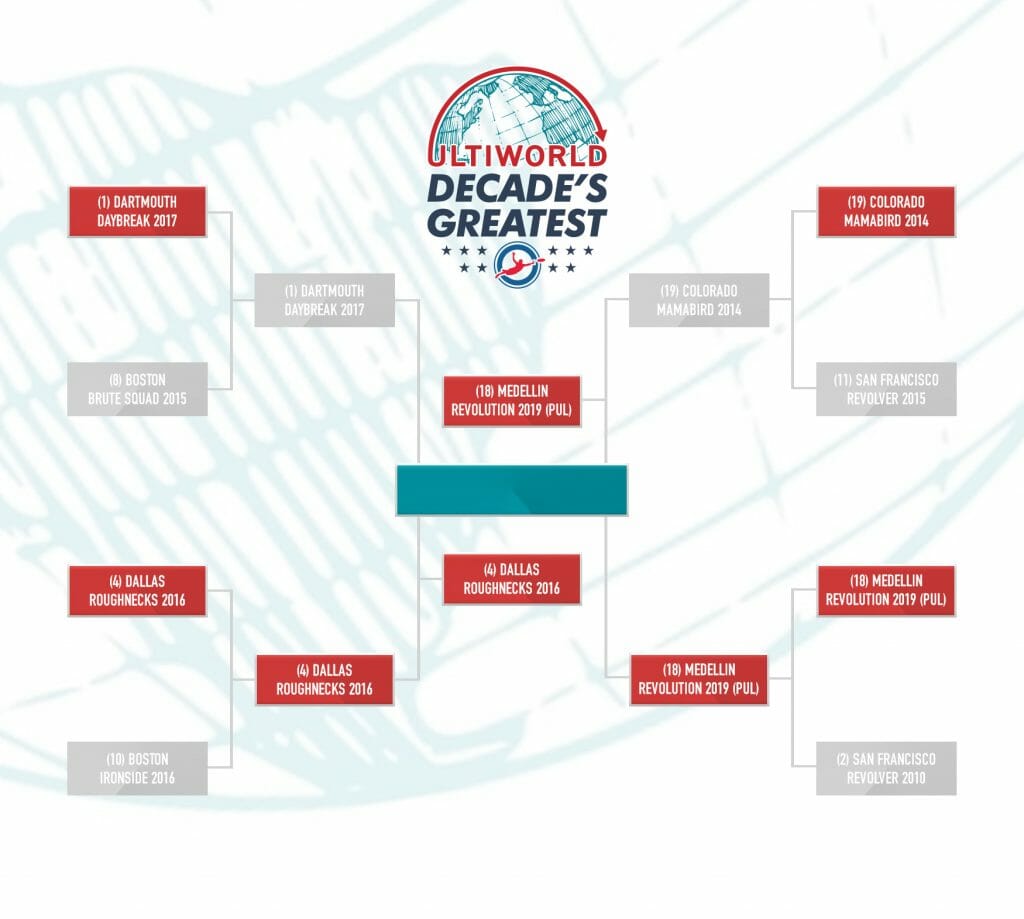 Final Matchup: Roughnecks '16 vs. Revolution '19
#4 Dallas Roughnecks 2016 (AUDL)
#18 Medellín Revolution 2019 (PUL)
It's time for the show down, and both of our entrants are cut from the same cloth: all-star semi-pro champions. The AUDL's champion of champions, the undefeated 2016 Roughnecks, waltzed past a Dartmouth 2017 team whose strange losses might have finally caught up to them. But the PUL's lone conqueror, Revolution, has been unstoppable, throttling Mamabird 2014 by an even bigger margin, with over 70% of the votes. Who will be chosen as the best team of the decade?
The Voting (Round 4)
With the bracket laid out, we now turn the decision over to our subscribers! Which team, relative to their peers, was the best of the decade? Voting for this round closes at 12 noon Eastern on Thursday, July 23.
Bonus Content for The Decade's Greatest: Best Single-Season Team Final is only available to Ultiworld Subscribers
Already have a subscription? Log in
Whether you visit Ultiworld for our reporting, our podcasts, or our video coverage, you can help us continue to provide high quality content with a subscription. By becoming a subscriber, not only do you receive benefits like bonus content and full article RSS feeds, you also help fund all of Ultiworld's coverage in general. We appreciate your support!