Celebrating the international players who defined the decade.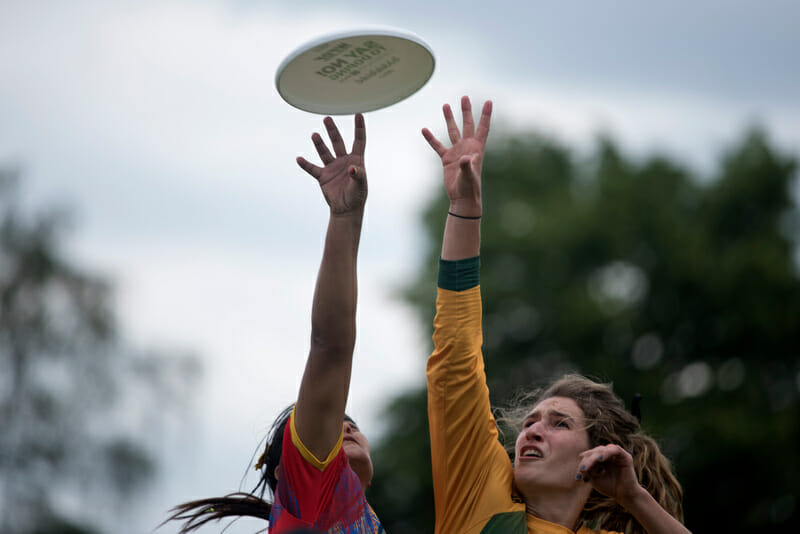 Ultiworld's "Decade's Greatest" series is presented by Greatest Bag. Get the greatest bag in ultimate at GreatestBag.com!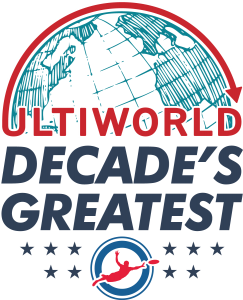 "Who are the best players in the game?" is perhaps the most fundamental argument in the coverage of any sport. It is often fiercely debated and is as much a conversation about the definition of "best" as it is about who should be in consideration.
As part of our Decade's Greatest series, we set out to figure out who were the 10 "best" players of the 2010s — who had the biggest impact and success within the sport over the course of a decade. After first building our list of American and Canadian stars, we also decided to tackle a Top 10 from outside North America.
With most of these players absent from the club and semi-pro competitions in the US, contributions at world events like WUCC, WUGC, and WCBU were the most important considerations, but contributions to continental and national tournaments were also taken into account. We eschewed hard metrics or point systems and instead tried to holistically debate each player's overall resume. Earning a spot on this list required a combination of both lofty peaks and impressive longevity.
Narrowing this list down to just ten names was hard enough without then parsing the particular ranked order. After plenty of internal debate, we landed on our final list1 then asked long-time teammates or opponents to help tell the stories of what makes these players so good.
Cardenas Twins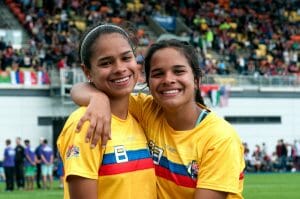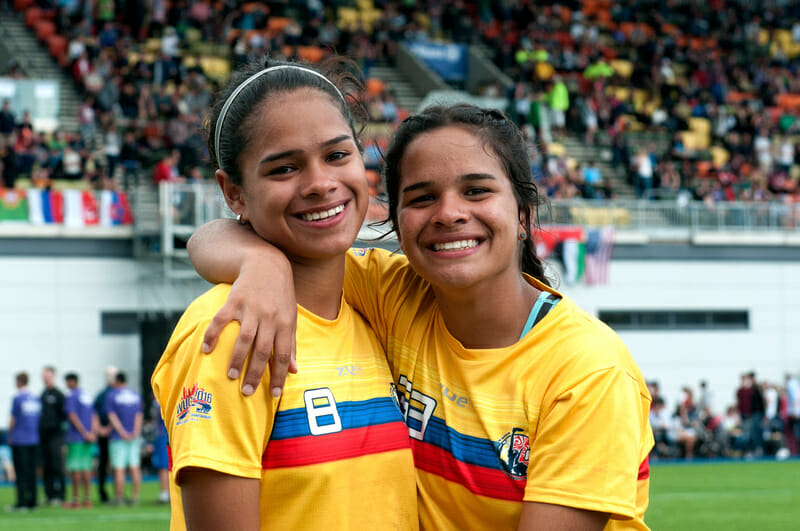 The Cardenas twins won the hearts of the world this past decade with youthful passion, charismatic presence, and, of course, amazing play on the field. The twins were only 11 years old when this decade began, but their play throughout the past ten years has transcended age.
The twins joined the U19 Colombian team in 2012 at the age of 13, and were major contributors to the team that eventually took gold there. They played with Revolution at the WUCCs in 2014 and in 2018 where they got silver. They were told in 2016 that it would be difficult to be selected for the senior national team at such a young age, but that just fueled them to prove themselves at tryouts and eventually led that team to a silver medal performance that included knocking out defending champions Japan in the semifinals. They repeated a similar feat the following year at the World Games, including landing a pool play win over the vaunted American squad. They have grown into two of the most iconic and lethal ultimate players in the world and the run through the 2010s redefined what young talent can achieve in this sport.
Manuela Cardenas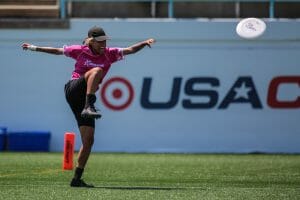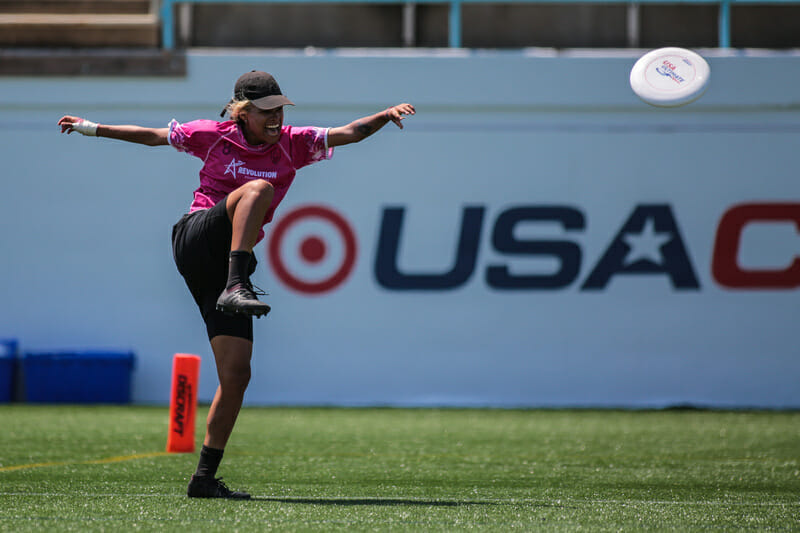 Though both sisters are great all-around players, Manuela is seen as the more athletic downfield player of the two. Her biggest impact may be on defense, where she seems to systematically get multiple huge blocks in every big game that she plays in. Her signature move is to give an under cutter a half step to seem open and then strike with a powerful layout block at the opportune moment. Manu has gravity-defying athleticism that has been seen multiple times over the decade, from when she burst onto the scene to earning a key block in the US Open final in 2017 when Revolution showed everyone that they were more than just an up-and-coming Cinderella story — they were perhaps the best club team in the world.
Manu is more than just a defender though. Her athleticism shines on offense as well. There are countless examples of incredible goals to rattle off here, but perhaps her most impressive catch was at the World Games in 2017 where she caught a game-winner under pressure from a laying out Mark Lloyd, grabbing the disc mere milliseconds before the Canadian star to secure control and the Colombian victory that put them into the final against the USA. Don't let her athleticism fool you though, Manu is also lethal with the disc. Her throws are aggressive and precise and she has shown her ability to handle as well as cut playing for the Molly Brown squad that she competed with for the last couple seasons of the decade.
Through it all, Manu has cultivated a style all her own, which occasional Revolution teammate Mish Phillips describes this way: "Manu is creative. We talk about creativity in fairly limited domains — music, art, words — but Manu is what you get when you combine a creative brain with athletics, with body movement. She does things that nobody else would think of. She does things that nobody else would do, because they wouldn't think to do it."
Valeria Cardenas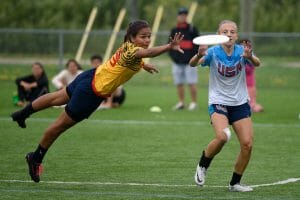 Just like Manu, Valeria is an athletic all-star and can make some heroic plays around the field, but where she shines most is her skills with the disc. Valeria's vision and skill make her one of the deadliest throwers in any division. Bladey pin-point hucks, cross-field scoobers, low inside breaks: you name a dangerous throwing weapon and Valeria is a master of it. She can literally do a split to pivot out for an inside break, and still stay balanced enough to make the throw perfectly into space where only her teammate can get to it. "She can place the disc anywhere on the field, regardless of weather. In one particular PUL game we played together, she threw me an almost full-field upwind forehand huck in an absolute downpour of rain and I caught it in stride," recalls Revolution teammate Kaela Helton.
However, Valeria is more than just a thrower. She got a key layout block in the World Games pool play game where Colombia took down the USA. If people over-commit under the disc on her, she isn't afraid to go deep and punish that decision. Luckily for her, she has a set of talented teammates who know her well enough to feed her the disc in the endzone when teams underestimate her deep game. She was crucial for every Colombian ultimate success this decade since she joined the Junior team in 2012. This makes her an easy pick for this 2010s All-Decade list.
Yina Paola Cartagena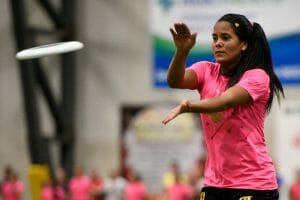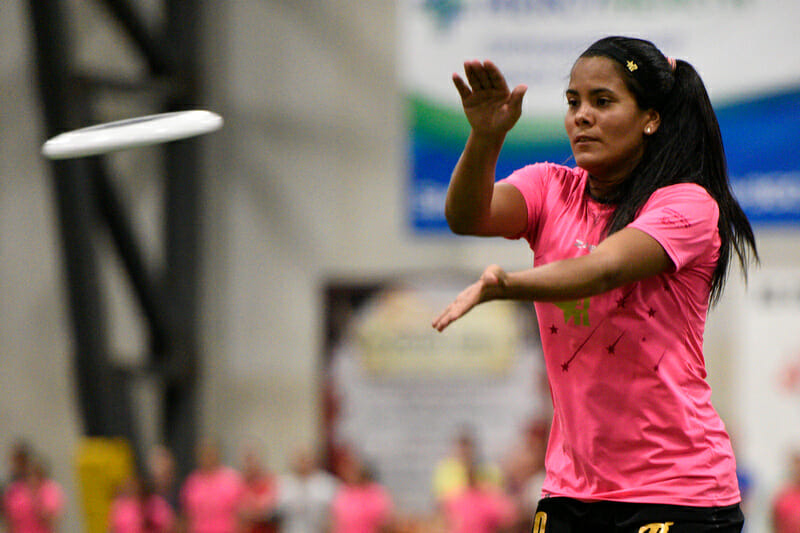 On a recent Send It Back stream by Ultiworld, Claire Chastain compared Cartagena to the great Alex Snyder and we think this is a very fitting comparison. At the 2012 WUGC in Japan, Cartagena was putting up numbers you might expect from a basketball player. Over 12 games she notched 52 assists and scored 27 goals. Those ridiculous numbers and a fourth-place finish for Colombia earned her the title of MVP of the tournament. She played on the World Games team in 2013 and 2017. Colombia wouldn't have been able to beat USA in pool play and secure a silver medal in 2017 without her.
Cartagena is an all-around talent, terrorizing opponents. She's like a quarterback that can throw anywhere on the field but can also gain lots of yards with her feet. "Yina is so dynamic, both with the disc and off-disc. She is able to play downfield and in the backfield so fluidly, which makes her incredibly difficult to guard," says Chastain. "She sees the field and moves in a way that, as a defender, makes it so you can't utilize the rest of the offenders, or even the sideline, to your advantage. Somehow she manages to make it seem like you are one-on-one in a 40 x 70 box without 12 other people on the field, that's how good she is at finding and taking space, and why it feels impossible to guard her. With a disc, her release points and speed of release make it difficult to prevent a breakmark throw."
When Revolution won the US Open in 2017, Cartagena was the anchor of the team. Unsurprisingly, she topped the leader board for assists at the tournament and was second for goals scored. At times Cartagena has looked like the best player in the world and you can include North America in that statement. At WUCC 2018, she helped her team to a second-place finish and you feel it's only a matter of time before she wins one of the major world championship events.
Ayumi Fujioka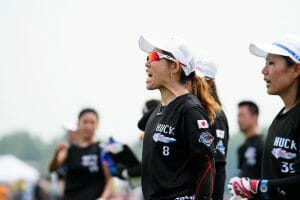 Ayumi Fujioka was a key part of that incredible Japanese team that won gold at WUGC 2012. The USA was stacked with the likes of Alex Snyder, Georgia Bosscher, Kaela Helton, and Cree Howard to name a few. But on that fateful day in Sakai, it was Fujioka and her teammates Akina Fujikawa, Madoka Ito, and Eri Hirai who proved themselves to be the best in the world. A long-time captain of the club team HUCK, Fujioka continued playing with the national team until captaining the 2017 World Games team, but has now taken on the role of coach for the Japanese women's national team.
Fujioka is now trying to pave the way for the next generation of top Japanese athletes. One of those players is Kaede Yoshida, who had this to say about her coach: "She is one of the most experienced players among the top teams in Japan. She has very powerful and precise flick throw skills. She is also a smart Commander for HUCK. She plays calm and confidently based on her experiences." Fujioka will be hoping to coach the next wave of Japanese superstars to the same glory she achieved as a player.
Eri Hirai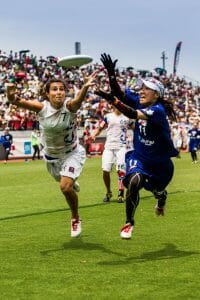 Eri Hirai is a legend of the game. She's one of the players whose career straddled two different decades, but she makes it on this list regardless. In 2010 at WUCC in Prague she made it to the final with her club team UNO. She was unbelievable all tournament long, but that wasn't quite enough to beat a stacked San Francisco Fury team in the gold medal match. Still, it was a warning shot across the bow to the US that the Japanese women were a worthy foil. Two years later, the Japanese women's team shocked the world by beating the USA in the WUGC final on their home turf in Sakai. Hirai, the captain, was the best player on the field that day earning a huge amount of respect from the ultimate community globally. She also made one of the most memorable catches in the back of the endzone, which was key to Japan's victory very late in the game. That victory was part of the last cycle where the United States let club teams represent the country at WUGC events, and perhaps Hirai's performance was one that woke the United States up to the fact that the rest of the world would have continued to snatch gold medals from them if they didn't take the national team selections more seriously.
Moe Sameshima, a long-time teammate of Hirai who was part of that triumphant team in 2012 had this to say about her: "Eri is not tall, but has a great range of skills in this sport — throwing, running, laying out, defense, and most importantly a strong mind to win. She has unique visions to conquer difficult situations during a game and it helped to win many important matches. I felt it many times when we played together during 2008-2013."
Hirai is now the Cultural and Sport Ambassador of Kasugai city, which is her hometown.
Elizabeth Mosquera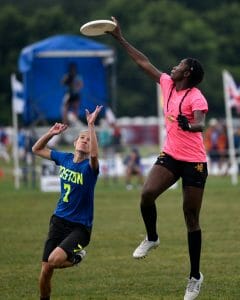 Elizabeth Mosquera is an incredibly powerful athlete. She runs like she is angry at the ground. Her stride length and speed make her one of the best deep threats in the game. According to Mish Phillips, she is "the best pure athlete we have in the sport. Hands down. Probably the best puller too."
In an interview taken at the most recent PAUC — which, of course, Revolution won — Mosquera told a reporter that she was raised in a poor area of Medellín, where there was an initiative to get ultimate into the schools as a way of keeping kids out of trouble and perhaps even providing them with opportunities to travel the world with a professional team, as Mosquera has now done with Revolution and the national team. Ultimate changed her life. She won a WJUC gold medal in 2010 to start the decade off in style. At the age of 21, she had already made it on the Colombian World Games team in 2013 and was pivotal to their success at the 2017 World Games as well.
Mosquera was the MVP of the Premier Ultimate League in its inaugural season.  She led the league in blocks and had the highest plus/minus contribution overall. At the moment, there's a strong argument to be made that Mosquera has the best pull in the game regardless of division. This often overlooked skill has been key to Revolution's success in recent years. Not only have her pulls improved as the decade has gone on, she has added a massive backhand huck to her arsenal. After the Colombians success and domination at WUCC in 2018, Mosquera has made a compelling argument to be considered the best player in the world right now.
Laura Ospina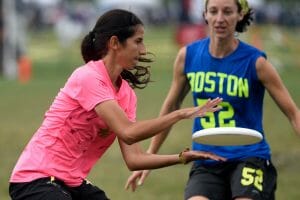 Laura Ospina started off the decade with back-to-back world junior titles in 2010 and 2012. The Colombians were sending out warning signals for what was coming down the line. Ospina was arguably the best player on both outings, controlling the flow of the offense with quick passes and deep cuts.
A ten-time national champion, Ospina is known as "Capi" by her Revolution and Colombia teammates. Her leadership as well as her play has been instrumental to Colombian ultimate success throughout the past decade. She was another part of the lethal female contingent of the World Games squad that took silver in 2017 and was, again, key to that success.
Ospina lives for the big moments, something that Mish Phillips knows all too well. "What's it like to line up across from Laura Ospina in a do-or-die situation? Two times at world championships I've done exactly that, on match point. Both times, Capi scored the winning goal."
Ospina is an all-around player and can kill you with the disc in hand or as a cutter in space. She stole the show at the WUCC in Cincinnati after making a sensational layout grab during the semifinal against Brute Squad. The play of the tournament was viewed tens of thousands of times online and made it on to the SportsCenter Top 10.
Cat Phillips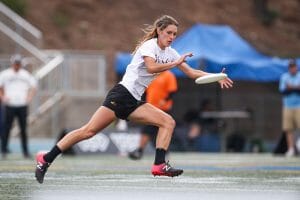 Cat Phillips started off the decade with a bang, winning the first-ever U23 World Championships in Italy alongside her equally talented sister Michelle. She was just a teenager at the time but already one of the top players in Australia. In 2012, she topped the stats sheet for her country at WUGC, a trend she would continue through much of the decade. Phillips has been monumental for the Crocs, the Aussie World Games team, throughout the years. In 2013 she was a goal-scoring machine when they won a silver medal in Cali. For the 2017 rendition, Phillips showed her athletic dominance often playing the majority of points in a game with no signs of slowing down.
Melbourne Ellipsis made a big statement for Australian ultimate in 2015 when they turned up and won the US Open. It was Phillips who scored the winning goal in a very exciting final against Seattle Mixtape. This wasn't to be her only outing in the States. In 2019, she made it to the final of USAU Nationals with Toronto 6ixers, leading the team in blocks.
"Cat, despite all of her achievements, has an insatiable desire to improve herself and help improve those around her," says Ellipsis and Australia teammate Tom Tullett. "Within Australian ultimate she has been a key driver of development and success, helping take ultimate to a whole other level. Cat is responsible for constantly redefining what is possible and achievable, constantly pushing the boundaries — she is an inspiration and role model to the whole Australian ultimate community."
Not only is Phillips an awesome ultimate player, she is also an Australian rules footballer and co-captain of the St Kilda Football Club in the AFL Women's competition. It's clear to anyone that has seen her play she's one of the best athletes in our sport. She is also now a member of the WFDF athlete's commission.
Aleksandra 'Sasha' Pustovaya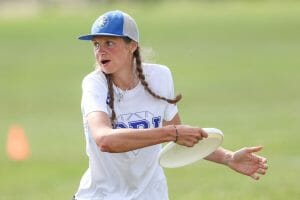 Dubbed 'Russia's best handler' by Get Horizontal in 2013, Sasha Pustovaya has long since established herself as a surgeon with the disc in hand. She has spent most of her career slicing apart defenses across the world. At WCBU 2015, she led the division in assists and won a silver medal in the women's division. Unfortunately for Sasha, she had to bow out of the final early after a defensive bid left her injured and unable to play in one of the last points of the game and USA went on to beat Russia on double game point. Sasha was able to get her revenge two years later at WCBU 2017, beating the US in the final after a fantastic comeback that prevented the Americans from sweeping the tournament. At WUCC 2018 she played for Russian women's team Brilliance. Rather predictably, she had the highest assist tally in the division, totaling 42.
Since then, Pustovaya has moved her talents to the mixed national team for Russia. She was on Russia Mixed in 2019 for both the gold medal squad at EBUC and the bronze medal earners at EUC. On both teams, she was a lethal presence with her handling, and at EBUC she led her team in assists with 23. Pustovaya is famous for her IO flicks and pin-point hucks. Teammate Dina Dumanskaia gives us insight as to why she is such a great thrower: "It is very inspiring that no matter how good her hucks are, she is practicing a lot. A lot. Every time, she reminds me that talent is just a small part of big results."
Pustovaya's size and athleticism helps her to get open at will, throw around any mark, and launch discs into her attacking end zone with seeming ease. Indispensably expansive with her vision, Sasha delights in luring opposing defenses into hubris before ripping them open. There are few players who throw a disc with such power and finesse, making her a joy to behold for all disc lovers.
Alejandra Torres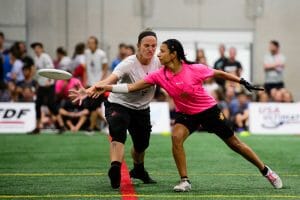 Alejandra Torres is the captain of Revolution and a fundamental part of the team's assembly. The engineer from the National University of Colombia started playing ultimate 20 years ago and has been playing with Revolution for 13 years. She has a vast array of great break throws. In 2010 she actually played with Seattle Riot at WUCC, earning a bronze medal with her American friends.
"The memory from her year on Riot that stands out most in my mind," according to Sarah Griffith, "and best represents Aleja, is how she would yell 'Yes!' and do a little fist pump every time she got called onto a line. Every. Time. Even in practice! Though she had been playing ultimate for many years before coming to Riot, what she brought to the team was a pure joy and love for the game. When she celebrated being called onto the line, it was 100% genuine, and it was contagious. To this day, 10 years later, when I get called onto a line, I still hear her voice in my head and think 'Yes!' Because she's right, it's pretty awesome to get to play ultimate with my friends."
Torres later reunited with some of these teammates to win a World Masters Club Championship with iRot in 2018. She was one of the captains of the 2017 World Games team that finished with a silver medal. The talismanic leader played a big part in beating the US in pool play, a major landmark victory.
Over the last ten years, Torres has also done a lot to develop the sport, from coaching youth team to helping set up the Premier Ultimate League. Her experience, poise, and calmness provides a needed balance to the youthful energy and dynamism brought by some of her other Revolution and Colombia teammates that also show up on this list. Torres has been a rock through all of the success for Colombian women's ultimate, both on and off the field.
---
Presented below alphabetically. ↩