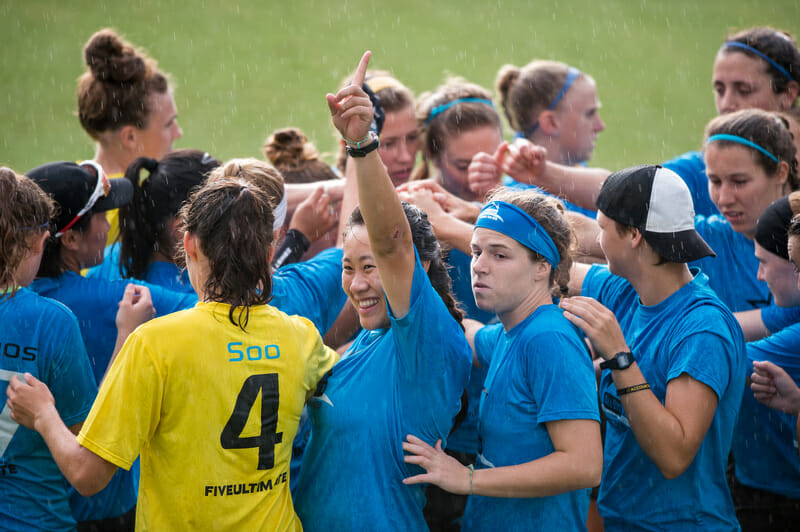 The Mailbag is now for subscribers only. That's going to do a few things: it will keep me committed to writing it every week. It will reward subscribers with a weekly column they can count on. And it will allow us to offer a free one-month Mini subscription for the best email or comment we get and publish in the Mailbag. If you're already a subscriber, you get a free extra month (or a discount). If you're not, you can come in and check out the benefits.
You can email me anytime at [email protected] with questions, comments, ideas — whatever you've got.
Q: Long-time reader, marginal mixed handler, terrible disc-golfer, & D3 college ultimate coach with an idea on how to make the Sunday at both D1 & D3 nationals more fun.
The biggest reason, in my opinion, that Sunday at college nationals is a bit of a let down is because of how insanely charged the environment is for the Saturday night semifinals. None of the teams in attendance have left & they're all packed into the showcase venue, creating an energized crowd that club & semi-pro competition has never been able to replicate. Come Sunday morning, a lot of those college teams are en route to the airport/too hungover to make it out to the field site for the finals. It all feels very anticlimactic. So how do we get more of the eliminated college teams to attend the finals on Sunday to help boost the environment surrounding the two biggest games of the year in ultimate (sorry club nationals, not as cool)?
We create an all-star game either before or between the college finals. We already have a player selection process for the game in both the D1 & D3 divisions – each teams' Callahan/Donovan nominees. People love all-star games & it would give each program a chance to highlight their team leader one final time. I think a lot of college teams would come out to watch/support their individual all-star & hang around for the college finals.
The game could be a mixed showcase game with a draft of all the award nominees to select teams. The highest placing male & female Callahan/Donovan finalists, not playing in the title game, serve as captains and then select teams by alternating genders. Simple.
I also think that this could turn into another event that USAU could broadcast alongside the national championship games.
I genuinely feel like this would drastically improve attendance at the college championship games & thus improve the environment around the games themselves.
P.S. I'm biased because I coach D3 & think this would be a great way to showcase the best D3 players on the same field & increase exposure for the division.
Mailbag: All-Star Game at Nationals, Top End v. Depth, College Nationals 2021 is only available to Ultiworld Subscribers
Already have a subscription? Log in
Whether you visit Ultiworld for our reporting, our podcasts, or our video coverage, you can help us continue to provide high quality content with a subscription. By becoming a subscriber, not only do you receive benefits like exclusive articles and full article RSS feeds, you also help fund all of Ultiworld's coverage in general. We appreciate your support!