Compete to win a golden Ultrastar!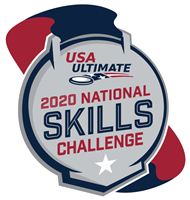 In the absence of organized ultimate this fall, USA Ultimate has launched a new virtual event: the National Skills Challenge.
The contest — open through next Sunday — calls on contestants to complete a series of disc and athleticism skills events, like a cone race, maximum distance throwing, and throw/run/catch. The top three finishers in the individual "Discathlon" and Team event in each division will receive gold, silver, or bronze Ultrastars as a prize. All participants will be entered into a raffle to win prizes from USA Ultimate and VC Ultimate.
Signing up costs $5 for individuals and $20 for teams with the option to add on a disc for $10. Individuals and teams can register via their USA Ultimate accounts. 20% of revenue goes towards USA Ultimate's Equity, Diversity, and Inclusion initiatives.
Tutorial videos for all of the skills competitions are available on the USA Ultimate website.