After 10 years, USA Ultimate's web site got a fresh redesign.
December 16, 2020 by in News with

0

comments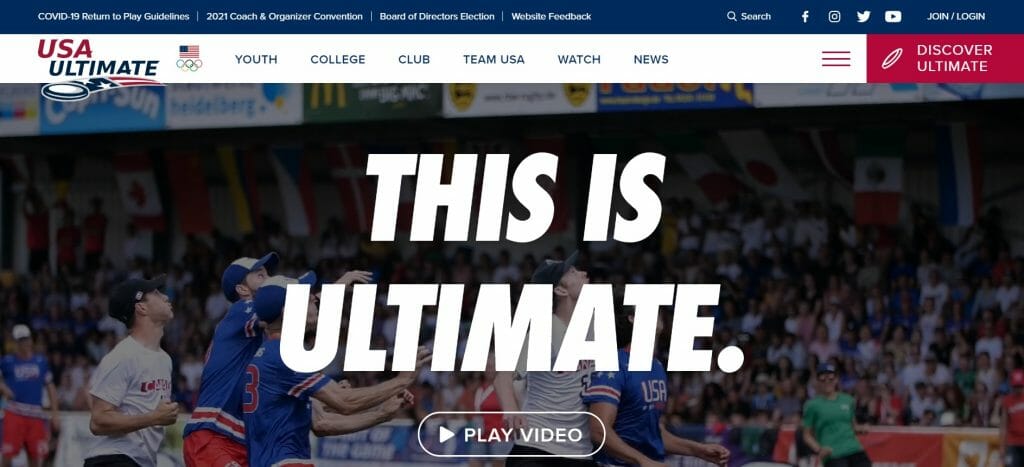 Returning visitors to usaultimate.org will find an unfamiliar page when they arrive. USA Ultimate launched their new website, bringing a more modern look and feel to the organization's web presence.
The new front end of the site focuses heavily on multimedia presentation of the sport. Seven different videos adorn the home page at the time of launch, as well as images and an interactive map to help users find their local ultimate community. The more energetic approach to content is geared towards introducing new players and spectators to the game. The previous version had been something of a running joke since it's 2010 launch.
"We thought a lot about what it means to put new users first: kids, parents, and spectators who have never heard of ultimate, or are completely in the dark about what it is. Taking a step back from the internal politics and machinations of the sport reveals a lot of opportunities to attract new players and fans," said Andy Lovseth, who took the lead on the site's development.
Lovseth, a web developer best known in the ultimate community for his roles coaching Seattle Riot and the US National Team, and The Good & Simple Co. co-designed the site, which he envisions continuing to develop and change.
"The site isn't a static artifact cast in the amber of 2020. It will be iterated and improved upon in the months and years to come," said Lovseth in USAU's public announcement, which included a feedback link in an effort to help guide further development.
This is a promising start, although the back end of the site has yet to receive the same treatment. However, this front-end redesign is welcome, serving a much different audience than those back-end tools do.
The new site's mobile-friendly design portends a brighter future for the accessibility and ease of use of USA Ultimate's online offerings.
"I hope the site can be something people in the community can feel proud about sharing when their relatives or friends ask what they do with all of their free time," said Lovseth. "When they ask what is ultimate? Is that the one with the dogs? You can send them this link and tell them, 'No, this is ultimate.'"