KFK has taken a long, deliberate path to the elite tier of Danish ultimate, but with the dissolution of their Copenhagen rivals Ragnarok, the club could finally be poised for national and European success.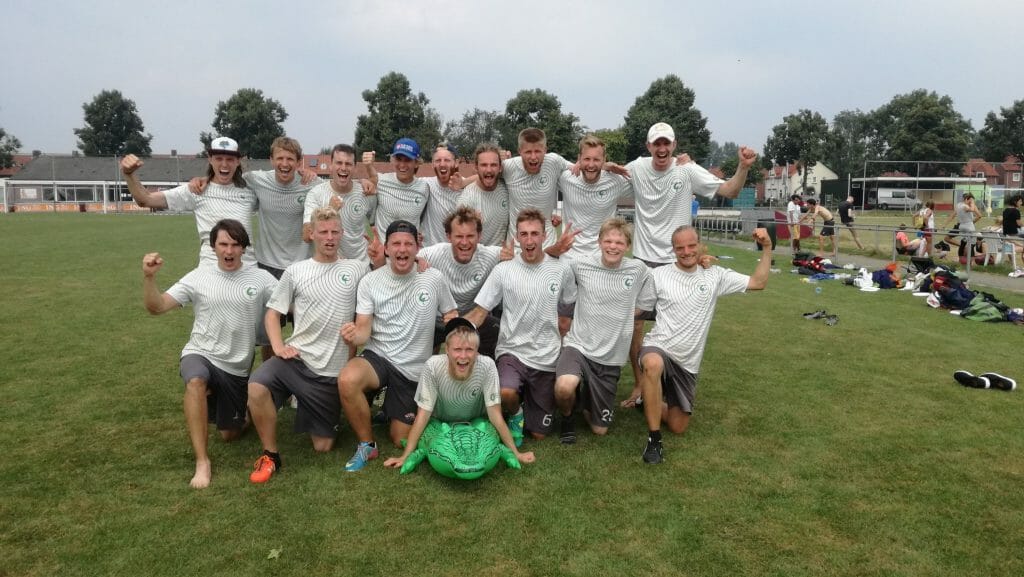 After longtime Danish powerhouse Ragnarok folded earlier this year, questions were asked and jokes were made about the future of ultimate in Copenhagen. Perennial national bridesmaids KFK remain, but so much of their identity has been cultivated in opposition to that of the former champs.
I sat down with KFK president Tuf Krenchel and longtime member Sverre Stütz to piece together the history of KFK, their rivalry with Ragnorok, and the club's vision going forward. The picture that emerged was that of a club with all of the fundamentals in place for long-term sustainability and a focus that goes well beyond their results on the field.
Social Foundations
Krenchel describes Ragnarok's folding as losing the Yin to their Yang, like losing the great motivator and measuring stick by which they've defined themselves for the past decade. But it wasn't always this way. KFK actually predates Ragnarok, having been founded in 1983. They weren't strictly an ultimate club at the time, but a club for all disc sports. Ultimate, disc golf, freestyle, guts, maximum time aloft, and more were all under the KFK umbrella. Even now, disc golf remains an active part of the club. Traditionally, the two sides of the club have gone about their business separately, but Krenchel is working on increasing the cooperation between the two. In this, he has perhaps been aided by the pandemic. Like so many ultimate players around the globe, that side of KFK has seen its players increasingly turn to disc golf over the past year.
In some ways, this overlap and new cooperation is typical of the club. Both Stütz and Krenchel stressed that to be a part of KFK, everyone needs to be "more than a player." You sign up to be a member of the club, not just to play ultimate. Everyone needs to contribute to KFK's well-being, as well as its atmosphere as a club. Before it became a European-level team, they were first and foremost a social club, a community. Whereas a team like Ragnarok attracted players who first and foremost wanted to win and focused almost entirely on the elite level, KFK has always attracted people with a more social mindset, as well as providing support and structure to new and young players. Even now, they organize three or four club-wide parties a year, trips to summer houses, pickup tournaments to get new players involved, and youth outreach. But they're not simply a social club, they have five separate ultimate teams under KFK's umbrella: a first team, a second team (the Pirates), a developmental team, a junior team, and a women's team.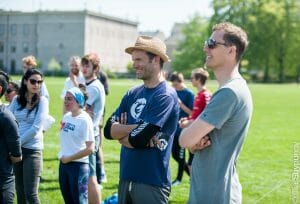 Stütz gives Krenchel a lot of credit for developing this program, calling him "the godfather of KFK." While KFK did win a national title in the 90s and had a spate of second-place finishes in the early 2000s, Ragnarok were far and away most dominant team in Denmark. That is, until KFK finished second in 2012. All of a sudden, they started to believe that they could compete at the same level as, or even one day surpass, Ragnarok. In Stütz's telling, Krenchel had the vision and belief that they could be as good as Ragnarok, but not be like Ragnarok. In other words, to play great ultimate and retain the community-minded ethos that permeates the club.
In the years since, there has been steady progress made by the club's first team. They qualified for the EUCF for the first time in 2016. After a series of close calls against Ragnarok in national finals, Krenchel and Stütz firmly believe that they were on track to finally overcome their rivals and claim the top spot in Denmark this year. Now it seems likely they'll be the undisputed top club in the country when play resumes.
If You Can't Beat Them, Eat Them
With Ragnarok out of the picture and only some of their veterans being given a seat at the table in Valhalla, the remainder are set to join the ranks of KFK. Given how different the identities as clubs are/were, it's not a foregone conclusion the merger will go smoothly.
Krenchel believes it's a good idea to take the former Ragnarok players in, but noted that even if he didn't, he can't officially refuse them entry into the club. Danish law guarantees everyone membership as long as they pay their club dues. That said, a lot of deliberation has gone on inside KFK around how to best acclimate any former Ragnarok players to the club's culture, as well as how to best reconcile any lingering differences between them. Ultimately, everyone wants to play at a high level, but the more difficult aspect of the merger will be how the new players adjust to the club's "more than a player" philosophy, and whether or not they can buy into the mentality of contributing off the field.
KFK went so far as to send an official contact group out to discuss next steps with the Ragnarok youngsters. On this, Krenchel is of the opinion that them joining is a good option for them, the club, and for Copenhagen ultimate — especially if the alternative is for them to stop playing altogether. He would have preferred for those players to try and pick up the pieces of Ragnarok and try again, but, he adds: "if you can't beat them, eat them."
Stütz is less bullish on the idea of the merger. He too thinks it's a good option, but that, perhaps, some from Ragnarok might struggle to adapt. He emphasized the idea that KFK are not necessarily willing to do whatever it takes to win in the short term, that the idea of the club and its future are always more important than immediate gratification or gain. On that, he means everything from recruitment, off-the-field commitment, and player development, to how KFK players should conduct themselves on the field. These are things that Stütz places huge importance on, and it's clear that he is a firm believer in the club's ethos. He told me time and again that KFK is about more than just ultimate, that members of all the club's teams get together outside of the ultimate context, and that he and others have formed close friendships because of the club. It is that philosophy that former Ragnarok players need to buy into, not simply being a member of another European-level ultimate team.
Both expressed their disappointment in Ragnarok's collapse. Krenchel admitted that he'd thought many times about what he would have said in the spirit circle after winning the national title. The rivalry has been a part of the club's identity for a long time, but they need to move on. Beyond not getting the satisfaction of finally beating Ragnarok, Krenchel's disappointed by what, to him, seems like the older players giving up, instead of breathing life back into the club and rebuilding. Perhaps, building something lasting was never part of the Ragnarok mission all along. Stütz too described it as an abdication of their responsibility to sustain the club, especially in the midst of a global pandemic.
What the Future Holds
As club president, Tuf Krenchel tells me he and the rest of the club's leadership have been using the time COVID-19 has afforded them to take a step back and evaluate KFK's direction from afar. They have identified four priority areas: maintaining and improving the social aspect of the club, facilitating even greater unity between all teams within the club, encouraging greater off-the-field involvement in giving back, and becoming a more competitive team. On that last part, both he and Stütz are targeting their Danish championship as well as a quarterfinals place at the EUCF.
As the elder-statesman of Danish ultimate, Krenchel is also looking at how he can use KFK's resources to develop ultimate in Copenhagen, as well as in all of Denmark. Being the largest club in the country comes with responsibilities, especially now that there's no Ragnarok. They have already used their resources to help other clubs secure practice spaces and brought them into their "Frisbee and Friends" event to help them recruit, but he's increasingly focused on figuring out how he can use his position to strengthen the foundations of other clubs, to help them create sustainable models for themselves. He's also increased his focus on developing youth ultimate.
Sverre Stütz, too, is determined to make sure that they don't fall into the trap of being complacent and resting on their laurels. He is committed to continuing the club's outreach and development work. That KFK retains the identity that's gotten them where they are now is paramount to him. But I did make sure to ask him what it would be like to finally win the Danish title. "I've waited nearly 4000 days for this," he said. "Every year [after losing to Ragnarok] I would wake up and think, okay, well, 365 more days to go. [Winning my first championship without having beaten them] is going to be the biggest disappointment of my life, but, but, my club's going to live forever."
And I believe him.