Marquee player moves and division realignment set up an exciting 2021 for the AUDL's tenth season.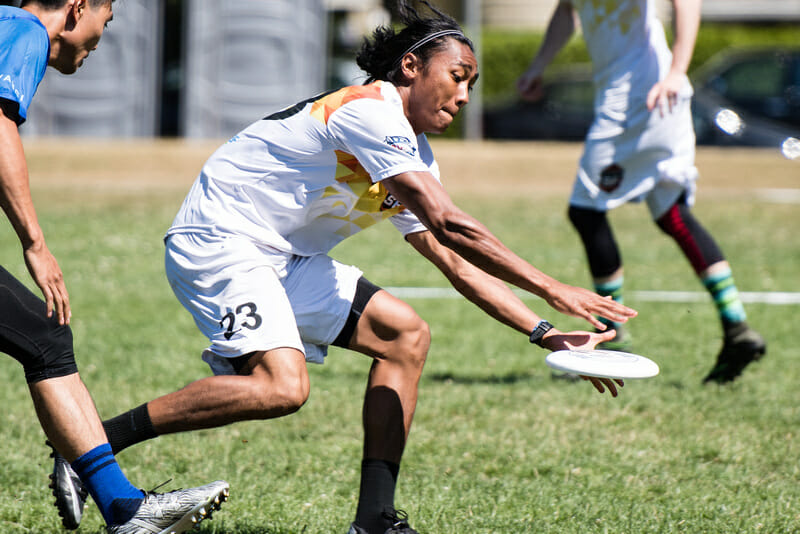 Our coverage of the 2021 AUDL season is presented by VII Apparel Co., who provides premium performance apparel for the active world, featuring our proprietary GreenLine fabric made from 100% recycled plastic bottles.
While the AUDL hasn't played an official game since Championship Weekend 2019, that doesn't mean all of its franchises have been standing pat for the past year and a half. Between 2020 roster moves that never had a chance to show up in competitive play last summer and additional player movement during the long layoff leading into this season, plenty of squads will have a different look in 2021 than the last time they took the field.
As teams begin to release their 2021 rosters and opening weekend is just over a month away, here is a roundup of everything you need to know about the key acquisitions and swapped allegiances in the AUDL ahead of the league's tenth season.
West
Adding: Chase Cunningham, Chris Mazur (returning), Matt Jackson (returning), Michael Matthis, Kyle Henke, Rory Orloff, Hunter Taylor
Losing: Kurt Gibson1
Key Returners: Jay Froude, Abe Coffin, Kaplan Maurer, Carson Wilder, Dalton Smith
This team expects to compete for the championship this season and has the firepower to win the league. Jim Davis — the Roughnecks' defensive assistant coach for the last two years and a college champion at Stanford in 1984 — is the team's new head coach, following the departure of Wes Nemec. Team captain Dalton Smith is planning to continue playing with the team despite moving to Michigan in the offseason.
Adding: Khalif El-Salaam, Greg Cohen, Jeff Silverman (returning), Lior Givol, Zac Shakner, Paul Lally, Nate Pettyjohn
Losing: Sam Fontaine
Key Returners: Goose Helton, Travis Dunn, Dom Leggio, Steven Milardovich
The Growlers have the talent to defend their division title, but a new challenge looms as perennial favorites Dallas joins the West division. The Growlers brought in some notable talent in the offseason and know that every game will matter in a compressed season. Kaela Helton joined the coaching staff in 2020 and will make her sideline debut this season.
Adding: Sam Cook, Sam Fontaine, Jake Coleman
Losing: Tyler Bacon, Aaron Weaver, Zach Theodore, Eric Lissner
Key Returners: Michael Kiyoi, Daniel Landesman, KJ Koo, Calvin Brown
The team has not secured a stadium yet because of LA County restrictions and the reluctance of local high schools and colleges to rent to outside groups. The Aviators are considering playing the season in Santa Barbara if that is their only feasible option. 2019 All-Star Sean McDougall has not confirmed yet if he will be playing this season, but he is set to practice with the team before deciding. Former player Jake Baumer officially joins the coaching staff as an assistant.
Adding: Jordan Kerr, Jake Thorne, Sat Ishii
Losing: Antoine Davis
Key Returners: Justin Norden, Jackson Stearns, Marcelo Sanchez, Mark Lin, Keenan Laurence
Jackson Stearns, who has been playing with the team since 2016, stepped into the General Manager role, and Dan Silverstein, who also coaches the Cal men's team, is the team's Head Coach this season. Mark Lin and Scott Xu are flying in from Maryland but expecting to play each game. This is a young and exciting team combining talent from many local colleges and club teams; while they may not be the on-paper favorite, the team is aiming to make the playoffs.
Adding: Garrett Martin, Toni Venneri, Brad Houser (returning), Ben Snell (returning), Manny Eckert, Jake Steen
Losing: Sam Cook, Alex Duffel, Will Coffin, Peter Geertz-Larson, Qxhna Titcomb, Steph Lim, Joe Sefton
Key Returners: Mark Burton, Jay Boychuk, Marc Munoz, Dennis Casio
Seattle brings in some members of the 2019 club championship Sockeye team and features their usual array of young talent from local universities. If their roster is consistent throughout the season, this will be a very fun team to watch, even if they don't win too many games. This season there is no overlap between the Cascades and Tempest (the WUL team that used to play under Cascades name) roster.
Adding: Joe Sefton, Jake Radack
Losing: Chase Cunningham, Michael Matthis, Kyle Henke, Rory Orloff
Key Returners: Elliott Moore, Ryan Purcell, Mick Walter, Evan Swiatek
Austin lost a lot of talent to its "big brother" in Dallas but still retains some key players and leaders and expects to compete in its new division.
Atlantic
Adding: Everyone!
Losing: Ryan Dinger, Ben Field (listed on 2020 roster but not planning to play 2021)
While a brand new addition to the league, the Glory will benefit from the experience of MLU championship Head coach Sam Rosenthal. The ultimate community in Boston has been more conservative about its return to play plans, and some Glory players who are expected to play in games this season have not yet practiced with the team.
Adding: Ryan Osgar, Elliot Chartock
Losing: Tristan Yarter, Chris Kocher
Key Returners: Ben Jagt, Jack Williams, Marques Brownlee, Ben Katz, Conor Kline
Even without commitments from some key PoNY players, the outlook for this Empire team is clearly positive given the talent they've confirmed already. Bryan Jones stepped down as head coach and was succeeded by David Blau, Charlie Hoppes, and Anthony Nunez. New York is the only team that has no doubleheaders this season.
Adding: Matt Gouchoe-Hanas, Elijah Long
Losing: Bobby Ley, Mischa Freystatter
Key Returners: Noah Saul, Sol Yanuck, Henry Fisher, Eric Taylor, Jacob Fairfax, Allan Laviolette
This team has the obvious goal of making it to Championship Weekend now that their bogeyman (the Dallas Roughnecks) moved to the West Division. Returning the bulk of their roster and adding in some North Carolina area talent, this will be one of the most cohesive teams in the league. While other teams are working out the kinks of a long offseason, expect Raleigh to hit the ground running.
Adding: Jasper Tom
Losing: Unknown
Key Returners: AJ Merriman, Xavier Maxstadt, Jacques Nissen, David Bloodgood, David Shields
The DC Breeze aren't adding any super-star names, but another year of continuity for this largely homegrown team might be enough to boost the team into the playoff picture in what is sure to be a competitive division.
Adding: Tristan Yarter, Myles Cooper, CJ Colicchio
Losing: Jasper Tom
Key Returners: Max Sheppard
For a team that at one point in 2019 won nine out of ten games, the Thunderbirds don't get a lot of attention. 2019 All Star Game MVP Max Sheppard signed a two-year contract and Pittsburgh is focused on building the kind of depth that will be needed to sustain another run of wins in a new division after moving over from the Midwest in 2019.
Adding: Antoine Davis, Michael Fairley, Parker Bray (returning), Tyler Kunsa
Losing: Unknown
Key Returners: Matt Smith, Eli Jaime, Kelvin Williams
This team is aiming for the playoffs and in a wide-open Atlantic Division has the capability of getting there. With one of the most dedicated coaching staffs in the league and a marquee signing to boot, expect big things from the Hustle in 2021.
Adding: Eric Sjostrom
Losing: Unknown
Key Returners: Andrew Roney
The Cannons were not able to have traditional tryouts and are not planning to have fans at home all season. Despite these limitations, this will be one of the most fun teams to watch in the league as it pulls talent from all over the southeast and schemes for upsets in a loaded division.
Adding: Alex Thorne, Matt Ellis
Losing: Unknown
Key Returners: Sean Mott, Eric Nardelli, Dustin Damiano, James Pollard
Philadelphia was one of the most active teams in the offseason while hosting high school clinics. The Phoenix are a pretty young team with a handful of veterans guiding the ship towards what they hope is a playoff spot.
Central
Adding: Unknown
Losing: Peter Graffy, Pat Shriwise, Dave Wiseman, Colin Camp
Key Returners: Rami Paust, Logan Preuss, Kevin Pettit-Scantling
There's no way around it: the Radicals have lost some big time talent since they last took the field. Madison knows it is an underdog in the division this season and must be excited for the new challenges ahead. Expect to see some unheralded names step up into bigger roles as the Radicals compete to retake the division crown they lost for the first time in 2019.
Adding: Unknown
Losing: Keegan North, Cam Brock, Keenan Plew, Brett Matzuka
Key Returners: Travis Carpenter, Rick Gross, Levi Jacobs
Two franchise mainstays (Keenan Plew and Cam Brock) retired this offseason, while some key talent departed to other Central Division teams. Indianapolis wants to defend its division crown, but that's a tall task for a shorthanded team looking at the moves Chicago made this offseason to bolster their roster.
Adding: Kurt Gibson (returning), Peter Graffy, Pat Shriwise, Keegan North, Joe White
Losing: Seth Weaver
Key Returners: Pawel Janas, Nate Goff, Ross Barker, Jack Shanahan
The Chicago Union (nee Wildfire) made the biggest splash of the offseason, signing a slew of Machine players to make a run at the division crown. Additionally, Pawel Janas and Nate Goff each signed three-year deals, cementing their commitment to the Union for the near future.
Adding: Nick Vogt, Cole Jurek, Charlie McCutcheon, Charles Weinberg, Tony Polletto, Brett Matzuka, Colin Berry (returning)
Losing: Ryan Osgar
Key Returners: Brandon Matis, Brian Vohnoutka, Josh Klane, Matt Rehder
Minnesota made all the headlines before the 2020 season, but may struggle to see some of their players on the field because of travel restrictions. Matt Rehder is planning to play with team despite living in Seattle, and the team's Winnipeg-based players are training on their own and planning to join the team as soon as the border is open.
Adding: Unknown
Losing: Kegan Carroll
Key Returners: Joe Cubitt
While many teams took time off after the 2020 season was cancelled, the Mechanix have been meeting weekly throughout the offseason online and recently at outdoor team retreats. While they likely won't end up on top of the standings, the Mechanix are focused on building a strong team culture that could lead to success in the future.
Canada
The league's three Canadian teams — the Toronto Rush, Montreal Royal, and Ottawa Outlaws — begin their season in July. While they are still at work planning for the season, expect an update closer to the start of the Canadian Division schedule.
---
While not a member of the 2019 team, was announced on the 2020 roster before the season was canceled. ↩