An ejection, some sketchy refereeing, and an unforgettable turnover.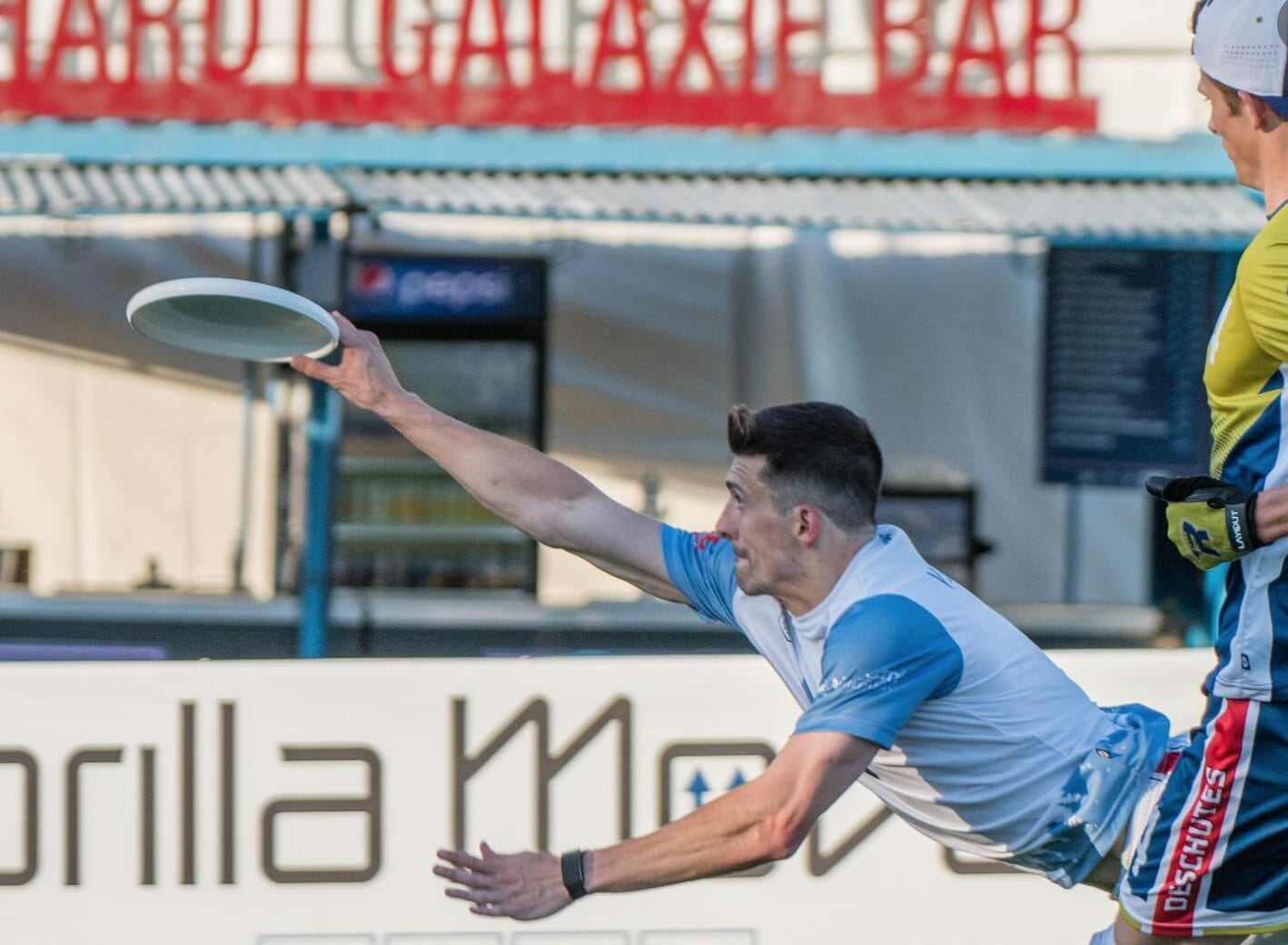 Our coverage of the 2021 AUDL season is presented by VII Apparel Co., who provides premium performance apparel for the active world, featuring their proprietary GreenLine fabric made from 100% recycled plastic bottles.
Breese Stevens field is no stranger to crazy finishes, but on Friday — live on the DraftKings Twitch and YouTube stream and in person in Madison — over three thousand people watched one of the most wild finishes in AUDL history. Here's a brief oral history of the still-hard-to-believe opening night game.
Coming into the game, each team was looking to make a statement: Madison that the stories of their demise were overblown, and Minnesota that their offseason pickups could propel them to Championship Weekend. 
Ben Feldman, Minnesota Head Coach: "We knew it was going to be a scrapper and we knew it was going to be a big crowd. Nobody's played a game in 21 months, it's crazy atmosphere, first time back, we have some younger players, first time AUDL guys, and we knew just getting through the first quarter was a big focus for us."
With quarterback Josh Klane out with an injury and new pickup Brett Matzuka unavailable, Minnesota turned to the unproven tandem of Andrew Roy and Tony Poletto in the backfield to battle Madison's vaunted zone defense. 
Andrew Roy, Minnesota Handler: "I was definitely excited, both for playing in this new environment, but also obviously having not been able to play for 15 months or so, the prospect of playing high level ultimate period, and having a game and a season arc to look forward to is extremely exciting.
"Especially with Klane out for the time being, I really wanted to step in and provide consistency. When the offense is slowing down or stalling or we don't have motion, I want to be able to generate that by being a consistently available reset option and by moving the disc early…There was definitely a bit of nerves for me coming back and not having played in the AUDL before–it's a different stage. I was just curious, especially coming in to a fairly large role on the offense. I was fairly nervous." 
The first half was chippy and Minnesota held a slim 8-6 lead heading into the break. 
Kevin Pettit-Scantling, Madison defender: "It felt like a midwest brawl. These two teams have gone through a metamorphosis of change and it felt like we were both having moments of clarity as to each of our teams desired outcomes…we each wanted to explore what our new team identities were and when those shone I think each of us looked really powerful, and we definitely saw some shortcomings of each of our strategies." 
Madison held out of half, and on the ensuing pull, Radicals rookie Daniel Garlock booked it down the field, interrupting the centering pass with a run-through block that he nearly caught for a Callahan. 
Pettit-Scantling: "Dan's whole story is really freakin sweet. He met me in the spring of 2020 right after things got cancelled and he told me that he wanted to get better and that he wanted to make the Radicals this year. So we trained together for almost a year. He wasn't Radical material a year ago, and he showed up to tryouts and he made the team and he's just been crushing it at scrimmages, at practices, at trainings, and he showed up and he made the starting D-line. 
His sprint galvanized the Radicals, who won the third quarter 7-3 to take a 13-11 lead. In the fourth, Minnesota clawed its way back and found themselves down 17-16 with 1:39 remaining. 
Feldman: "We were trying to get the disc in the endzone. As you saw, it was quite the challenge in that environment with the crowd and the jitters of it being the final point, and going against that defense. It was a process getting the disc up the field. We were really patient on offense, maybe at times too patient with our movement, trying to hit stationary targets where they wanted us to throw it…eventually we made our way down. There was not a stalling tactic by any means. We trust our defense a lot and we want to make sure we tie that thing up without having to go down to the wire."
Roy: "Those last few minutes of the game, I was really thinking, 'Hey, this is what we came here to do.' The reason we're so excited about all of this is to play in exciting, tense games, and this is where we are…this is what we play for — these types of moments."
With 0:26 on the clock, Pettit-Scantling got a run-through block that was quickly called back as a foul, returning the disc to Minnesota amidst the premature celebrations of the Breeze Stevens crowd. 
Pettit-Scantling: "They called it back. They said I drew contact on the foul. That one hurts the most; that one feels like a hole in the chest. It felt super clean and from a game where I think the reffing was super controversial, and there were a lot of no calls, to have there be a call on a play where the receiver was practically milking the throw and it wasn't really contested as much as it was me getting to the space first, it felt really bad. What I'm trying to focus on is that we had what like 1:40 left when that point started and our defense was just relentless and it wasn't our zone which we typically rely on in those situations to drain time. It was just really hard person defense. We put our seven best defenders out there and we did a really good job." 
Cole Jurek received the disc on the trap sideline with time running down. He was fouled on the 10.5 yard line, which brought the disc 10 yards up, right to the corner of the end zone, but not centered on the field of play as it would have been had he been within 10 yards of the goalline. Jurek reset the disc with just a few seconds remaining.
Roy: "Cole [Jurek] has it there, and he's being double teamed. Cole gets it to Tony [Poletto], and he's still on the sideline–he's not in a great spot. Because of the double team, I was fairly open in the middle and he got the swing to me. I know I'm getting the disc with like five or six seconds left and I know if there's someone wide open underneath I could hit them, but I know that I probably need to throw something to the end zone and look for someone who's open, because the defense knows that time is running out."
One additional quirk to this game is that teams share a sideline at Breeze Stevens Field. When teams share a sideline, they are each given a player box on opposite halves of the sideline. All team personnel needs to stay in their player box or they could risk getting an unsportsmanlike conduct penalty. Coaches can leave the player box to call a time out, but in a situation like this one, in which Feldman wasn't sure if he could end up calling a time out or not, he was stuck screaming from the other half of the field.  
Feldman: "When it's super noisy and the play is down at the opposite end zone line, we had a timeout left — and from the 50 yard line, there's nothing I can do to get a ref's attention from 45 yards away. They're not looking at me, they're focused on the game, and the sideline judge is on the goal line."  
With just a few seconds on the clock, and as Feldman is running through the Madison player box to call a timeout, Roy throws a hammer out the back of the end zone. The clock stopped automatically because there was less than a minute left in the quarter.  
Roy: "I saw MJ (Michael Jordan) in the corner — I thought he was my most open option because there was a lot of congestion in the right half of the end zone and the left half was wide open because we had just swung it. I see him and I felt good about it. I initially thought about throwing a backhand, and I thought it might float too much — it wouldn't get there quickly — so I kind of set a backhand pivot and I dropped back and threw the hammer. I don't quite set my foot and between the adrenaline and the backhand pivot I just float it a little too much and it goes over his head.
"At that point I was so sad. I knew I threw it with a few seconds left so I was like, 'I just lost us the game.' There's no way we won and I was very sad about it. I was like, 'I can't believe it,' I had my hands on my head like no way, not like this…that's where I was at after throwing that." 
Once he is seen in the Madison player box, having been unable to call the timeout he was looking for, Feldman is ejected after receiving his second unsportsmanlike conduct penalty. He can be seen on the video slamming his clipboard against the ground.
As the stoppage is being sorted out, Max Longchamp, a Minnesota assistant coach, tells the referee that should Minnesota get a block, it wants to use its last timeout immediately. Without the commotion caused by Feldman's ejection, it is possible that Longchamp wouldn't have had time to pre-communicate the time out to the referee, and it's unlikely they would have heard him in time to call a timeout from the Minnesota player box half a field away. 
Madison picks up the disc, up by one, needing not even a completion to end the game. With under a minute left in a quarter, the clock starts on the release of the first throw. Garlock could have thrown the disc as high as he could and chances are two full seconds would have elapsed before it could be touched by Minnesota. But the rookie Garlock attempted a scoober throw over the defenders, and he was handlocked by a leaping Brian Vohnoutka. Minnesota was granted a timeout with less than one second remaining. 
Pettit-Scantling: "[Garlock] had a killer first game, a killer three quarters and 9/10 of a quarter…It's not a timeout, it was a referee call, so we can't make a player substitution, so he was the tallest handler we have on the line and he had the hot hand, so we put him in. His job was to complete one pass and if not just to put the disc somewhere else, not in our end zone, and it just didn't turn out…It was the one thing that couldn't happen, and it's unfortunate that it did happen, but hindsight is 20/20. I would put Dan in that position again moving forward in every game because I trust him." 
After a stoppage for Minnesota's timeout, the Wind Chill set up on offense. 
Roy: "I didn't even hear that we called a timeout. So we're huddling and I realize there's still a second left on the clock, and they're calling an offense. There had been very little communication to this point and the crowd is confused and loud. We're in the huddle calling an offensive play…I'm just going along with it thinking 'there's no way we actually have the disc right now. If we're still playing it must be because the Madison scoreboard didn't start on the play or they started too early or something like that'…but I went along with it. In the back of my mind, I don't even know if this is real if we actually have the disc. And then Tony and I were talking and I asked, 'you want me to pick this up?' and he was like 'I got this.'
Poletto picks up the disc and throws an around backhand to Roy with inches to spare on the front pylon to tie the game and force overtime.
Roy: "They tap it in. Cole to my left makes a bit of a jab and a move, Garlock takes a step towards that and the mark jumps because he thinks Tony's going to throw something high. And it was really a perfect storm. He knew that I was the bailout at that front cone the whole time and they left me wide open, he was ready, he saw it, and made a great split second decision. He throws it right to me and I have an easy goal.
"It felt like a miracle for me after like a couple times that I was sure I had lost the game and then I get the goal to tie the game and send it to overtime. It's a clap catch right into my hands on the end zone line, so the roller coaster of emotions that I went through was quite considerable."
Minnesota rode its momentum to outscore the Radicals 3-1 in overtime (which amazingly covered the Stall Seven/Deep Look picks contest spread of Minnesota -1.5), despite a 3.5 minute opening point.
Roy: "To be honest, there was no talk of this, but at least personally and I think a lot of people on the team would say it: once we scored that goal to send it to overtime, we have all that momentum…all of us were feeling great. We did this, we can win this game…we clawed tooth and nail to get here and we had the most improbable of sequences to get us to this point — there's no way we're letting this slip away."
The Wind Chill escaped with a win in Madison for only the second time ever as a franchise in its only game there this season–Minnesota will host the remaining two meetings between the Radicals and Wind Chill. After all the Week 1 games, Minnesota is tied for first place in the Midwest with Chicago; those two teams meet in Week 2. 
Madison crushed Detroit 34-10 following this game, seemingly taking their frustrations out on the Mechanix. Their next game is a rematch in Minnesota during Week 3. 
Pettit-Scantling: "If there's one part of this that's really keeping me together is like how can I be mad about a game when we haven't played in 700 days. That was the only thing keeping me going; it was so much fun to be out there and to be part of this again."