Roughnecks Air broke down, but another jet was scrambled from New Mexico. Players still showed up late.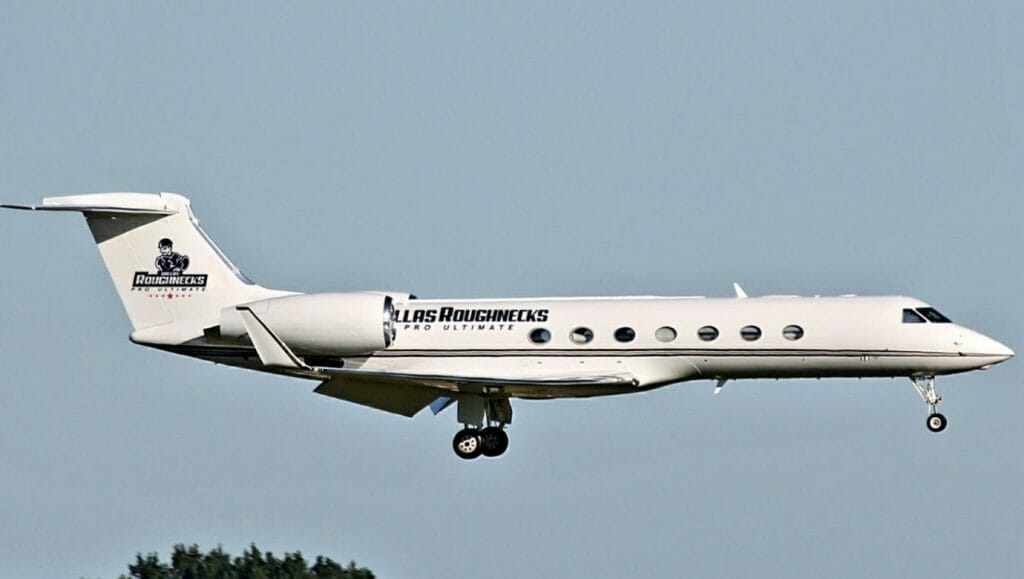 When Matt Armour got the text that he could cancel his Austin-to-Los Angeles flight, he was thrilled. There was extra room on the private jet that the Dallas Roughnecks had chartered, and if he could drive up to Love Field airport in time, he could have a seat. Armour had never been on a private jet before; neither had any ultimate team.
Before the season, when it was clear that Dallas would be playing in the vast West division but still unclear what the travel situation might look like with COVID-19 vaccinations still not available to everyone, Roughnecks owner Jim Gerencser secured use of a business partner's private jet for the team's plane trips.
"The private plane was something we wanted to do to be able to show our guys that we appreciate them being around," Gerencser said, "to be able to do something that a lot of people never get a chance to do. I'm fortunate that I have a lot of good contacts. I have a contact in that space and I was able to work a pretty darn good deal."
Chartering a private jet is about more than simply getting a good deal, though. Gerencser is always looking for ways to bring more legitimacy to ultimate through his role as an AUDL owner. Plenty of other professional leagues fly commercial — Major League Soccer only increased its charter flights from four per season before the 2020 Season when a new CBA was signed and many WNBA teams still fly commercial and are subject to travel delays — but the majority of what American fans consider the highest level of professional sports fly exclusively by private charter, and the Dallas Roughnecks are the first ultimate team to enter that territory.
"I'm fortunate enough to be able to provide this opportunity," Gerencser added. "It wasn't cheap, but it is something that I've been wanting to do and I was hoping that we could even get a larger one–but it didn't work out–so we could have more people to fly, because it was really a fun experience."
There was a bit of strategy involved, too, in order to bring the strongest roster possible for a daunting road trip. "Going to the west coast for the first time," Gerencser said, "I had a couple guys that had some really tight deadlines where they might not be able to fly commercial, so I thought this was really a great opportunity to make it happen, so that was really my incentive."
The plan for this trip was for the Roughnecks to arrive at Dallas Love Field airport at 11 AM for a 12 PM departure. "At this point, I was still blissfully unaware of these circumstances," Brandon Malecek, a Roughnecks handler, wrote in an email to Ultiworld. "Hanging out with teammates in the private terminal with no TSA and lots of amenities."
"It seemed like everything was going to go off without a hitch," Armour said, "but pretty much as soon as we got there Big Jim's business partner, who hooked up the flight for us, told us that the plane that we were supposed to go on was malfunctioning and they were going to take some time to fix it."
The original plane was not able to be fixed in time, so "the owners began scrambling since all commercial departures were full for the day," Malecek wrote. "Apparently, there was a 'scavenger' private plane in New Mexico that was willing to come pick us up and taxi us over to LA just for the day. So we drove to the local Addison airport and anxiously awaited this second plane." That plane had originally been intended for Phoenix, but the person waiting for it indicated that he could handle a delay, and the plane ferried the Roughnecks to Los Angeles before heading back to Phoenix.
While waiting for the second plane, a few players managed to log on to the courtesy computers in the private terminal and metaphorically made their way to the west coast in a game of Oregon Trail as they joked about whether they'd complete the virtual trip to Oregon before their actual trip to California.
Waiting for our private plane still, found a computer, trying to make it to Oregon before California. Get well soon Ben's mom pic.twitter.com/fo3rqBqPWx

— Dallas Roughnecks (@DRoughnecks) June 25, 2021
The team finally boarded the plane, but it wasn't long until they were calculating how late they would be and how much of the game they would miss. "The pilot and crew were aware we were last minute pickups, but didn't quite understand our timeline," Malecek said. "It was probably 20-30 minutes into the flight before we mentioned to the stewardess our timeline situation and her reaction was of surprise when she did the timezone math to realize we would be arriving in LA after the start of the game at 6:20pm. When she went back to the front, I was able to feel the acceleration as the plane went higher and faster."
Despite the growing anxiety, the players were still able to enjoy the unique plane ride. "It was pretty sick," Armour said. "It was a little bit harder to enjoy because everyone was antsy because we knew we were going to be late for the game. Definitely a fun trip; I've never had seats that face the opposite way on a plane. That was fun. A ton of room, a ton of space, drinks, some snacks, it was a good time." Players alternated between playing poker and stretching, and made sure to change into their game gear.
Once the plane landed, the team was able to get the rental cars quickly from the tarmac and made it to the game just at the close of the first quarter. The original plan was to fly to Van Nuys airport, 25 miles through traffic to the Aviators home field. Instead, the plane was able to land at LAX's private terminal, just a 15 minute drive from the ongoing game. "We landed at 6:10pm," Malecek wrote, "raced through the terminal, grabbed the rental cars and jetted over the stadium — watching most of the first quarter in the car on the way over. There was definitely some trepidation for starting the game with less than 12 players ([which has] consequences that are not defined in the rulebook)."
Indeed, the Dallas players and Los Angeles coaches and managerial staff were in touch with the league office to make sure that the game could even start. While the AUDL rulebook suggests that a team needed 12 players to start, knowing that the rest of the team was on its way, the game was permitted to start with Dallas's 11.
On the ground in Los Angeles, the AUDL production crew was getting set up for the DraftKings Friday night livestream. The teams agreed to delay the start of the game 15 minutes to help the Roughnecks field their full team for as much of the game as possible, but could not push it later than that. Evan Lepler and Megan Tormey did their usual pregame production meetings with each team and listened in to the Dallas huddle as Chase Cunningham and Chris Mazur walked through their adjusted strategy with the players who were there–those who flew commercial from places like Austin, Arkansas, and El Paso. Mazur lives in Los Angeles and had the easiest commute of any of the players–a simple drive down the 405 freeway. The Aviators, meanwhile, went through their normal warmup while glancing at the handful of Roughnecks casually throwing across the field.
Dallas survived its opening quarter with its 11 players, including Jay Froude, whose commercial flight was delayed. Froude arrived in the stadium minutes before the opening pull but made it to the line for the first point. Cunningham played all seven first quarter points–the Roughnecks led 4-3–and most of his teammates were on the line for six. In past games, Los Angeles relied on extensive use of zone defenses and short, sideline trap pulls, but went to a more traditional matchup defense to force Dallas to exert its legs across the full field.
With 38 seconds left in the first quarter, the delayed Roughnecks jogged into the stadium.
"We knew that we were gonna get there and ten of our guys were going to be pretty gassed," Armour said. "Most of us wouldn't be able to warm up, so it would be hard for us to go 0 to 100 as soon as we got there. I think Jim Davis had a bit of strategy for us. We threw the D-lines out the window. We were running zone for the first couple points to get our legs under us, so we don't have to transition from jogging from our cars to playing 100%."
The Roughnecks ended the first half tied 7-7 with the Aviators, but with a full roster scored nine 3rd quarter goals to take a commanding lead. "Second half comes around," Armour continued, "Everyone was settled in, and we just kind of like got together in the huddle and there was some reassurance that hey, we're all here and it's time to kick it into gear and we went back to the original game plan and it worked out for us."
Dallas went on to win 21-16, buoyed by a 9-5 3rd quarter advantage and a string of Los Angeles execution errors in the red zone. They drove down to San Diego for their next game against the Growlers, a dramatic 21-20 loss.
With their private jet still grounded in Texas, the Roughnecks needed to find a way to get their players out of California. Owner Young Byun and cutter Thomas Slack took the lead on booking flights out of San Diego for the players who had planned on flying back on Roughnecks Air, and while it was tough finding flights for the same day, everyone made it back safely.
Despite the troubles, Gerencser is sure it was worth it. "It was a great experience; I think everybody had a great time," he said. "You know considering we were all together…experience of a lifetime. The reason I did it was because Ultimate Dallas has a big youth movement; I'm trying to build the future of ultimate. It would be nice to grow from within; we haven't really done that before, so this is the start of that. To build some energy locally, and we want to continue this."
For players new to the sport, the allure of the word professional and all of the perks that entails is enticing. Gerencser is integrating that into his team building strategy, hoping that the players' positive experiences will trickle down to the youth players for whom they act as role models. At the very least, there is potential for more youth players to stick with the sport as the rewards of making a professional roster increase.
"This is part of what we want the league to get to," Gerencser said. "I've always been–from the very beginning–trying to get everybody to step the level of the ownership up. Not that the level of the ownership is down, but let's step it up." Gerencser acknowledged that other owners might not have the deep pockets he is fortunate to be able to share and doesn't expect any owner to spend above their means, but he hopes that his mindset to continue to push the boundary for what a professional ultimate league can offer takes hold in other AUDL cities.
The Roughnecks travel to Seattle and San Jose the weekend of August 16-17. That may be enough time to get their private jet fixed so the team can travel in luxury without the anxiety caused by this weekend's delay. Gerencser wouldn't commit to using private plane travel for that trip, but he said it remains a possibility.