Who will take home the inaugural prize?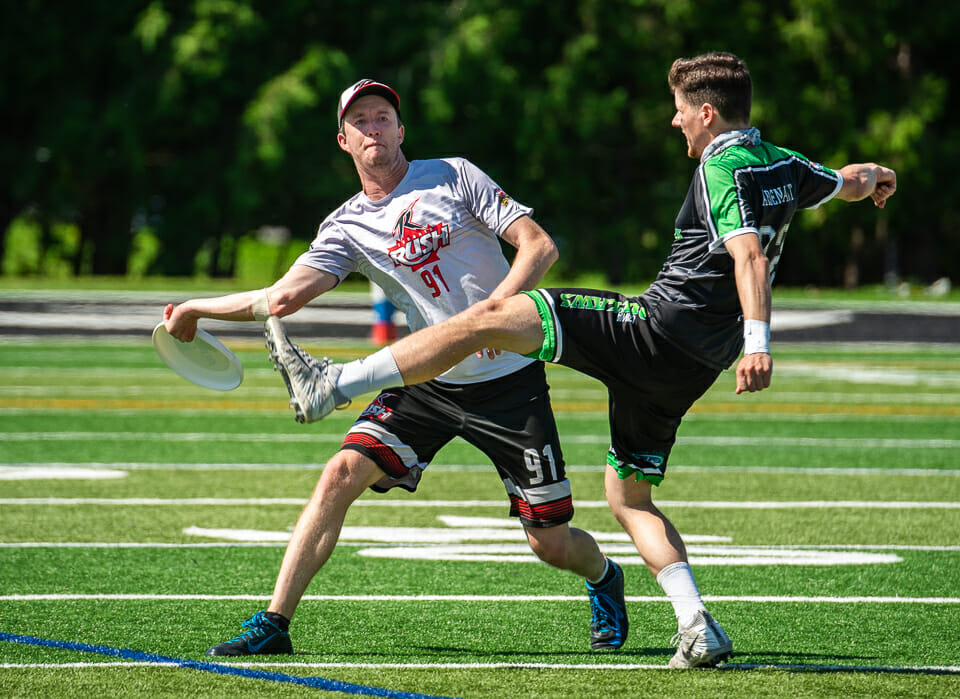 Our coverage of the 2021 AUDL season is presented by VII Apparel Co., who provides premium performance apparel for the active world, featuring their proprietary GreenLine fabric made from 100% recycled plastic bottles.
While the rest of the AUDL heads into Week 8, the teams north of the border are set to finally kick off their own 2021 seasons with a three-team series in the Canada Cup. The Toronto Rush, Montreal Royal, and Ottawa Outlaws will play each other four times with each team playing four games on the road and four games at home.1 The top two teams from the "regular season" round robin will then compete in a single game playoff to earn the inaugural Canada Cup at a to be determined location.
Let's take a look at the major storylines that loom as the season in Canada gets started, then run through the roster and outlook for each team. For more Canada Cup preview coverage and to hear from members of each team, check out this week's Huckin' Eh podcast episode.
Major Storylines
How will the lack of practice affect the two Ontario teams?
Just as has been the case in the US, Canada has given local authorities some leeway in how they've dealing with the ongoing COVID pandemic. The province of Quebec, for example, opened up a lot sooner than Ontario — which has allowed the Royal to get a head start on practicing.
The provincial restrictions in Quebec eased up at the end of May and the Royal took full advantage. They began practicing in small groups of eight as early as May 18, which was then expanded to groups of 25 in the middle of June. The province is now in the green level with minimal restrictions. The Royal have already played together at a one-day club tournament winning all their games and gaining some much-needed chemistry along the way.
In Ontario, teams weren't permitted to be outdoors in groups until June 11th, though that quickly expanded to groups 25 as of June 30th and up to 100 as of July 16th. Both Toronto and Ottawa have been practicing since the week of June 15th, but that's still a shorter turnaround time for the teams to gain chemistry with a lot of their teammates and the full-game dynamic that Montreal has already experienced.
This extra month of practice and competition time could allow the Royal to more quickly shake off a lot of the post-pandemic rust every team will be facing. It will be interesting to see if the Royal can take advantage of their head start and steal some of the early games based on their lengthier preparation and potentially tighter chemistry.
How will the condensed schedule affect players and teams?
A unique wrinkle to the Canada Cup schedule is that the condensed schedule will result in the frequent use of the doubleheader weekend. In years past, a team may experience one or two back-to-backs in a season while most of their games were one-off affairs. With the 2021 season starting in late July and ending in early September, each team is going to be playing eight games in a six-week time span.
But the burden of the back-to-back weekends are not spread equally. Toronto will play two doubleheaders, and are lucky enough to hosting both at home. Montreal faces three double-booked weekends, all of which are split home and away. Ottawa is also looking at a pair of split home-and-away back-to-backs, but have the unenviable task of playing a doubleheader on the opening weekend of the competition.
Many of the players in the Canada Cup will not have experienced the toll an AUDL back-to-back can take on the body so it will be fascinating to watch how teams adjust their active rosters on these busy weekends. This condensed schedule could potentially exacerbate the risk of injuries as players work their way back into mid-season form after almost a two-year layoff.
Will the Rush continue their Canadian dominance?
The ultimate storyline that will continue to play itself out during this Canada Cup series is who is going to come out victorious. More directly, can anyone stop the Rush's continued dominance over their Canadian counterparts?
Toronto head into the Canada Cup with a career record of 15-0 against the Outlaws and a 13-5 record against the Royal. Based on those past results, it would be easy to expect that this is an open-and-shut case and the league might as well start carving "Toronto" into the trophy right now.
However, looking at the 2019 results tells a much closer story. The Outlaws lost a nail biter to the Torontonians 25-24 after Cam Harris caught a buzzer beater; Montreal squeaked out a 23-22 victory over the Rush in June. These results show the Rush can't just simply put it on cruise control and expect their opponents to accede to a series-long coronation.
With the condensed schedule and doubleheaders galore, any team that is caught napping or taking things lightly may find themselves filling up the loss column.
Are we bound to see a coming Canadian youth movement?
After the long pandemic hiatus, it's time for the youth to shine. That's been a theme in the first half of the AUDL season south of the border and there's no reason to expect anything different in the Canada Cup.
Each Canadian squad has a bevy of young players that are hungry to get their first taste of semi-professional ultimate. While many of them have played club tournaments for their respective cities, playing in front of big crowds on the large AUDL field is something these players may not have experienced. In some ways, this wonky "season" provides a great opportunity for these rookies to get their feet wet and learn the semi-pro game. Time will tell on how the coaches deploy their young players and what strategy will work best. Is it better to have them jump right into the rigors of doubleheader weekends or is it better to work them slowly into the rotation and ease them in?
Either way, if you want to see the next batch of Canadian stars then you have to tune into this Canada Cup series. Each team is able to field rookies from the Team Canada junior program, infusing some much needed youth into the franchises. Keep an eye out for names like Eliott Heloir of the Royal, Thomas Stanton of the Outlaws, and James Lewis of the Rush as they hope to carve out large roles for their respective squads.
Each game presents not only an opportunity for these rookies to gain experience, but for fans of Canadian ultimate to see their future stars.
Roster Outlooks
Montreal Royal
Key Departures: Caroline Cadotte (Head Coach), Jacob Saunders, Kevin Groulx, Laurent Faye, Mathieu Bosser, Quentin Roger, Steve Bonneau
Additions: Jon Hayduk (Head Coach), Isabelle Lemay (Assistant Coach), Eliott Heloir (U20 & U24 Team Canada), Thomas Duplaix (U24 Team Canada), Vincent Genest (U20 Team Canada), Ywan Cohonner (U20 Team Canada), Antoine Rousseau, Felix Leonard, Jacob Duquette, Julien Sénéchal, Olivier Bastien, Raphael Salvas, Samuel Bisson, and Thomas Lalonde-Landry
The Royal finished 4-8 in 2019 and ended up fourth in the East Division — only one spot but many games away from a playoff berth. Still, Montreal was in many of their losses and their record could have easily been 7-5 if they had flipped three close defeats. Losing one-point games to Ottawa, Philadelphia, and DC definitely took a bite out of their 2019 campaign and will be something they hope to rectify this summer.
A strategy the Royal has leaned on in the past is bringing in French imports to help bolster the squad. Unfortunately, multiple French impact players will not be suiting up for the blue and orange this year, as many of them moved back across the pond for work and family reasons during the pandemic. Kevin Groulx, a Royal original who is seven assists and four goals away from 100 of each in his regular season career, will be taking this season off. Vermont import and starting O-line handler Jacob Saunders will also not be playing for the Royal in 2021, with border restrictions still in place preventing his return.
Montreal will hope to counter some of these departures with the additions of U20 athletes Eliott Heloir, Vincent Genest, and Ywan Cohonner along with other players from the juniors scene in Quebec. Filling out a roster alongside the rookies, the Royal bring back standouts André Arsenault, Kevin Quinlan, French import and 2019 All-AUDL Rookie Second Team Sacha Poitte-Sokolsky, and Quentin Bonnaud, their 2019 All-Star. One player to watch out for with the Royal this season is Vincent Lemieux, who broke out as a strong handler for Team Canada's U24 squad that won a silver medal in Germany in 2019.
The person charged with getting the team's rookies up to speed is Jon Hayduk. Hayduk has coached many Team Canada junior teams and was a successful juniors coach in British Columbia before making his way over to Quebec; he'll be hoping to continue building a strong program in Montreal. Joining Hayduk on the coaching staff is Isabelle Lemay who has previously coached for Quebec Iris, helping the team win a gold medal and silver medal at the Canadian Ultimate Championships in 2018 and 2019 respectively.
Can this new-look roster and coaching staff help Montreal take the next step in their development and dethrone the Rush?
Ottawa Outlaws
Key Departures: Adam O'Donnell, Derek Alexander, Jeff Lindquist, Karl Loiseau, Ken Alexander, Paul Mensah
Additions: Thomas Stanton (U20 Team Canada), Alex Cameron, Brandon Adibe, Cameron Kennedy, Curtis Campbell, Dan Benvenuti, Desmond Staples, Ian Wallace, Jake Lochhead, Jonah Munoz, Kyle Hunter, Rhys Toogood, Ryan Poloz
Let's address the elephant in the room. The Outlaws have not beaten the Rush in their existence, going 0-15 in that span. With four games against the Rush on their schedule in 2021, there is plenty of opportunity for them to get the proverbial monkey off the back. The Outlaws have been close in the past, losing one-point games and pushing the Rush to the brink, but they should see the repeat opportunities in this condensed season as their best chance to finally knock off Toronto. Ottawa has had better success against Montreal, with a career record of 7-8 against the Royal — building quite an intense rivalry along the way. They'll be hoping for at least an even split in this year's matchups as well.
In the past, the Outlaws have leaned on their veterans, having players like Derek Alexander and Karl Loiseau carry much of the load on offense. Those players are gone, along with Adam O'Donnell and Paul Mensah who defected over to the Rush. Captain Nick Boucher noted that Matt O'Brien and David Colic are veterans of the squad who will get a much larger role this season. Still, the rebuild continues for the Outlaws as they hope to nurture a significant new core of players that can develop together for years to come.
To mitigate their personnel losses and to build for the future, the Ottawa Outlaws are bringing in a whopping 13 rookies. Many of the additions come from the Ottawa juniors system with a couple coming from the Durham region pipeline. Thomas Stanton was Ultimate Canada's 2019 Junior Male Athlete of the Year and was selected to be part of the U20 Team Canada team. Other young players to watch out for on the Ottawa squad include Alex Cameron, Curtis Campbell, Ian Wallace, and Jonah Munoz.
Ottawa fans have lots to be excited about as they see this promising group of young players take the field. Keep your eyes glued to the Outlaws because you could be watching the next young Canadian star blossom before your eyes.
Can Ottawa use their youth to propel them to a Canada Cup final appearance?
Toronto Rush
Key Departures: Akifumi Muraoka, Ben Pries, Bretton Tan, Jeremy Norden, Sachin Raina (Coach)
Additions: Adrian Yearwood (Coach), James Lewis (U24 Team Canada), Adam O'Donnell, Eli Park, Daniel Wong, Kelvin Huang, Matt Kishi, Paul Mensah
The 2013 AUDL champions and six-time East Division regular season champions are retooled and ready to go in 2021. In 2019, things did not go Toronto's way as they finished with their worst record in franchise history going 7-5. Multiple losses to Philadelphia and one-point losses to Montreal and DC sunk Toronto's bid for a seventh regular season divisional title. The Toronto squad squeaked out a victory against DC in the first round of the playoffs before falling to eventual AUDL champions New York Empire in the East Division final.
2019 All-AUDL Rookie Second Team member Akifumi Muraoka is gone, along with his 28 assists and 26 goals. Joining Akifumi on the key departures list include three defensive players who have moved away in Ben Pries, Bretton Tan, and Jeremy Norden. On the other side of the ledger, Toronto brings in two Ottawa players with years of AUDL experience along with a couple junior stars like James Lewis and Eli Park. Overall, the Rush didn't have as much turnover as the other Canadian teams, so this consistency could help them in their pursuit of the trophy.
The 2021 season also marks the debut of Adrian Yearwood as the head coach for Toronto. Yearwood is a Rush original who brings more than ten years of high-level ultimate experience to the coaching clipboard. The head coach noted through the different roster announcements on the Rush social media channels the flexibility he hopes to implement this year. Don't be surprised if you see some mainstay D-line players get a chance to flex their offensive prowess on the O-line this year.
The Rush has an intriguing mix of veteran players who have been-there-done-that alongside young players who are ready to make their mark in the Toronto ultimate scene. Both the coaching change and lack of traditional season preparation could lead the Rush to feel less chemistry in the early going.
Will the Rush continue their Canadian dominance and take home the inaugural Canada Cup?
Canada Cup Power Rankings:
The AUDL Canada Cup season starts on Saturday, July 24th with the Toronto Rush traveling to play the Ottawa Outlaws at 6 pm ET. The Outlaws then play the Montreal Royal on Sunday, July 25th at 1 pm ET. You can catch all the Canadian Cup action on AUDL.TV.
---
Montreal is currently scheduled to have fans at their home games right from the start. Ottawa and Toronto are taking a wait-and-see approach and have not yet announced when they would have fans. ↩