Youth club teams returned to Blaine, Minnesota for a shot at a championship title.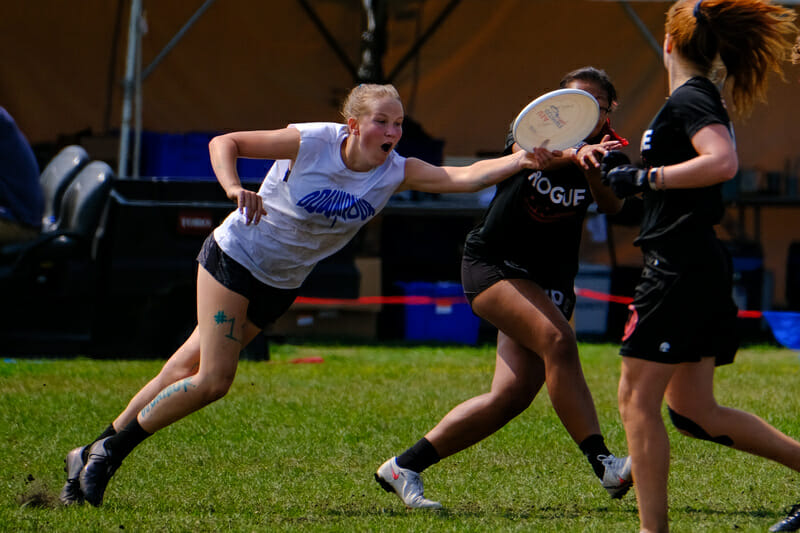 BLAINE, MN — High school players crowded between the fields, hoping to cheer on their friends in the championship games. Gaggles of girls bounced along the sidelines, giggling and approaching other fans. "Who are you rooting for? Do you want some glitter to show your support?" floated between interested spectators. Groups of boys flocked around each other and traded jerseys, hoping to snag something cool. Assorted pop music pumped from at least three different speakers while team flags flew high and proud.
The Youth Club Championships were back.
Every one of the teams who finished as co-champions in the U20 divisions during the last edition of YCC in 2019 chose not to attend this year, opening things up for a new batch of up-and-comers.
Oregon Downpour Overwhelms Girls U20 Competition
The girls division this year consisted of just the U20 division, as Minnesota were the only program to bring a U17 team. In the end, nobody was able to challenge Oregon Downpour, who claimed blowout victory after blowout victory on their way to a title.
During pool play, most teams held seed. Washington DC Rogue and Downpour emerged on top of their respective pools. The quarterfinal round largely stuck to the same trend, with only one upset: no. 4 seed Texas Tango beating no. 3 Minnesota Superior 9-8.
In the first half of their semifinal, Rogue took turns claiming the lead with Texas Tango. The Texans' zone defense proved difficult to break through. But DC rose to the challenge, with help from Paige Dillion's big moves on offense and defense. Rogue took half 7-6 and scored every goal in a short second half for an 11-6 win.
Downpour played their most competitive game of the weekend against Utah Swarm during their semifinals. Swarm showed up with three defensive looks that challenged their opponents to adapt their offense. Their offense also came out strong, constantly breaking their marks and attacking the dead side of the field. However, Downpour started the game pushing their long throws, scoring five out of their first six points with their hucks, with many exceptional looks coming from Elsa Weybright. When Swarm adjusted their defensive strategy to stop the deep throws, Downpour played their under game. With a final score of 15-7, Downpour's offensive strategy came through, securing them a spot in the final.
Downpour started strong in the final, going up by a series of breaks against Rogue. Oregon used Soju Hokari's versatility as a driving force on both offense and defense. Downpour's Weybright continued to have a range of solid throws, helping the team extend their lead, 8-2. Anna Fisher Lopez was the key to Rogue's play on the field, but her team had trouble capitalizing on their chances. Throughout the second half, Downpour continued to go on scoring runs with Acacia Hahn taking control of the field, almost always bidding for the disc. Rogue was not able to catch up with the score and Oregon won the Girls Division 14-5.
"We're just happy to be here and to play ultimate and to have this competition," said Downpour coach Rachelle Depner. "I wanted them to play well, I wanted them to show what they can do and they did that."
Seeds Broken In Mixed, But Pi+ Reigns Supreme
Out of all of the youth divisions, the mixed cohort saw the most movement. Three teams rose to the top, breaking seed along the way: no. 4 Lexington Pi+, no. 5 Atlanta flATLine, and no. 7 Dallas Skyline. Both Skyline and Pi+ beat top seed Madison MUFAbots. No. 2 Minnesota Superior also emerged victorious over MUFAbots in the crossover game, winning 12-11 on an intense double game point. Dallas Skyline took on Oregon Rapids, winning 15-9 for a spot in the other semifinal. But the Lexington group sprinted all the way through the finish line with a 12-2 win over Atlanta in the final.
In the first half of the semifinals, Superior was only able to put up one point against Lexington Pi+. Minnesota's Brandon Else and Leo Dungan-Seaver commanded the downfield space, but their efforts couldn't bring their team to score. Pi+ took advantage of their throwing prowess, led by Carter Hawkins' deep looks. With their clean offense, Pi+ won the game 15-4.
Skyline brought the fight to the other semifinal game against flATLine. Dallas utilized their biggest deep threat Trace Cabaniss to help earn some points. But Atlanta's defense put on enough pressure that the Texas team could not quite make it. flATLine ended the half up 8-4. Skyline fought hard to get back in the game, bringing the score to 12-10, but they brought the energy a little too late and lost 15-11.
Lexington Pi+ dominated the field throughout the final game against flATLine, not allowing a single score from the team from Georgia until the eighth point. Pi+ coach Paul Dutille attributes this to their zone, which made sure the disc didn't get more than halfway down the field before a turnover. In addition, Kentucky relied on their clean offense and big throws that almost always ended in completion. Coming out of half, with a score of 8-2, both teams rallied to make scoring attempts. In the long point, players maintained patience, proving a closer game than reflected by the score. More than 20 minutes and one timeout later, Pi+ punched it in, increasing their lead 9-2. Atlanta never got another goal and the game ended at 12-2.
"[Atlanta] was never fully able to break our zone and the credit to that goes to our founder and coach Dave Wu," said Dutille.
Oregon Trainwreck Emerges from Tight U20 Boys Bracket
The two leaders of the U20 pools were DC Foggy Bottom and Oregon Trainwreck, who both went undefeated preceding elimination play. Utah Swarm started off well in pool play with their win against no. 2 seed Chicago Red Hots, 15-4. Swarm used that momentum to collect wins from every other team in their pool aside from a 13-10 loss to Trainwreck. In the other pool, Foggy Bottom rolled through their competition, with sizable leads in each game. These standings gave both Foggy Bottom and Trainwreck a place in the semifinals.
In the semifinals, Minnesota Superior took on Trainwreck. Superior tried working through Oregon's zones, using their swings and the deep throwing of Bryan Fuglestad. Yet, when given consistent pressure by their defenders, Superior were unable to connect. Defensively, Superior used strategic brackets and switches, but could not hold up to Trainwreck's fast and explosive offense. With a final score of 15-4, Trainwreck came out on top by a wide margin.
"I'm most proud of when we've had super clean offense, been able to work it down the field, and just run our end zone sets," said coach Vinh Bui. As a captain on Portland Rhino Slam!, Bui's goal for his boys is to train them to become his future club teammates. "The strategy is to play elite club-level ultimate, not just really good high school ultimate."
The other semifinal set Foggy Bottom against Utah Swarm. At the start, Foggy Bottom had a strong offense. Miles Grovic got open easily, while Aaron Bartlett proved time and time again that he was a deep threat for the Washington DC team. Foggy's offense helped secure a lead to take half at 8-5. Swarm refused to give up and scored a series of breaks. With a throw from Max Dehlin to a bidding Elijah Watchalotone, Swarm tied things up at 9-9. Both teams went neck and neck after that, going to universe point. Swarm ended up punching in the goal, winning 11-10.
Intensity was high in the final game, as Swarm and Trainwreck took turns exchanging holds. Oregon threw several defensive looks, forcing turns that allowed them to capitalize and pull ahead 6-4. Yet, Swarm's zone offense held up, patiently working the disc through their handlers. Utah kept a calm offense, as handler Oscar Graff maintained great control of the disc, giving an opportunity for Swarm to catch up and take half 8-7. Watchalotune and Trainwreck's Mica Glass both had great vision towards the deep space, maintaining a good awareness of the field. Oregon's D-line held up with a poach block as they broke to retake the lead. Trainwreck stayed ahead thanks to their star player Felix Moren. In the end, Trainwreck won 15-12 and claimed the championship title.
"The key I wrote down on the whiteboard today was grit and discipline," said Bui. "I think it's easy to throw 50/50 balls; we had to be gritty because we knew that they were going to punch back. And that's what we prepared for was to bounce back and be resilient."
Swarm Descends on Boys U17
The top-seeded teams, Utah Swarm and Minnesota Superior X, held seed in pool play both going undefeated. But despite big defensive plays by Superior, they proved to be no match for the Utah team, and Swarm won 15-4.
In their pool, Portland clear/cut were the only team to challenge Minnesota Superior X, losing by giving up the game's only break. Superior won their pool and went on to play in the semifinals against Texas Double Trouble in a tough game. At the half, Superior led 8-3. Double Trouble came back, bringing the game to universe point. Superior won and advanced to the final.
Utah Swarm dominated their pool. Throughout the weekend, they threw several offensive and defensive looks on the field, contributing to their success. During the entire weekend, no team came close to beating them, with all of their wins coming by seven or more goals. Swarm played against clear/cut in the semifinals. clear/cut put up a fight, especially thanks to Leo Renzema, who proved to be a top deep threat. Swarm won 15-8, clinching the other spot in the final.
Swarm attributed part of their success to their unique zone, which was difficult for teams to break. Players Dan Kelly and Grayson Rettberg were valuable for Utah's defense. Swarm created a sizable lead and kept it, winning 15-4. Coach Alex Walker attributes their victory on their deep roster, whose energy persisted until the end.
Other Notes
It's no surprise to learn that spirit seems to remain at the core of youth ultimate. Still, spirit circles and time-out games were always a good sight to see. Teams respecting each other and competing to win the spirit award made for a nice change in pace compared to the Men's club games that occurred at other spots of the complex.
A dividing line can be drawn between the way top teams approached the event and preparation for it. The top teams came out disciplined, some even having tryouts before the end of the high school season. Teams like Trainwreck chose to run their team like an elite club while Pi+ players couldn't practice unless they did 1000 throws a week. Other teams, like Superior U20 Mixed came to have fun and made it their goal to have goofy warmups and "dance party points."
Due to varying levels of COVID-19 across the nation, some states did not have a high school season this year, meaning this is the first tournament in two years for some players. This was reflected in the attitudes of many players and coaches who were happy to be back and excited to play again.