The organization also addresses criticism around communication, threatening sanctions.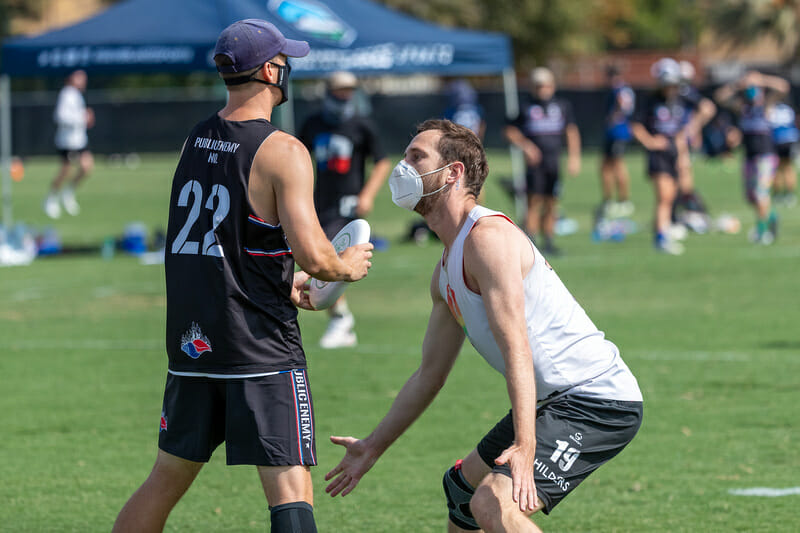 Following the first known case of COVID-19 at a USA Ultimate sanctioned event last weekend at the Select Flight Invite West in California, USA Ultimate, on recommendation of its medical working group, has updated its COVID guidelines.
Moving forward, all close contacts1 of a known COVID-positive person "will be removed from the event regardless of vaccination status." At SFI West, only unvaccinated close contacts were removed from the tournament, and vaccinated players that had been in close contact were permitted to play, per USA Ultimate's previous COVID policies formed with CDC guidance. The CDC does not recommend that fully vaccinated people quarantine following close contact with someone infected with COVID-19 unless they have symptoms.
RELATED: Public Enemy's Megan Tormey talks about the team's positive COVID test
Additionally, "players who are removed from an event for infection or exposure will be required to provide a negative PCR test prior to returning to any future events."
"The medical working group is focused on player safety and the safety of everyone in their communities, particularly in the context of COVID," said medical working group member and infectious disease specialist Dr. Bill Rodriguez. "Based on evolving data of the Delta variant and the possibility of transmission from vaccinated individuals, especially to vaccinated people, as well as the first known case of a player at a USA Ultimate-sanctioned event, the group recommended a change to our COVID policy.
"With this update, the group is comfortable that the risk of exposure to the competing players at the event will be just what it was when competition resumed. We can never reduce the risk to zero, but the updated policy maximizes player safety while enabling people to play ultimate. There will still be risks associated with traveling and playing ultimate and players will need to make their own personal decisions about whether or not to attend events. The group believes that as long as players self-monitor and commit to protecting each other's safety, our current policies will help significantly mitigate the risks."
USAU Addresses Criticism over Communication, Threats of Sanctions
As Ultiworld reported earlier this week, players and teams were critical of USAU's handling of the positive COVID case at SFI West. Teams were not told about the Public Enemy player testing positive, and those that expressed hesitance in playing against Public Enemy due to concerns about COVID transmission were told they could face sanctions for forfeiting games, per USAU's standard club guidelines.
In today's update, USAU addressed both points.
"When dealing with a sensitive medical issue such as this, we deliberately erred on the side of caution to protect the privacy of the individuals in a way that is consistent with legal advice we've received about communicating personal health information," read the statement. "As a result, we did not communicate more widely information regarding the positive test and the status of Public Enemy and its players. In hindsight, we understand that a broader, general communication notifying teams of the situation and describing the actions taken and their rationale would have been appropriate and helpful, and could have been done in a way that still adheres to best practices."
USAU also stated that no teams have been or will be sanctioned for forfeiting to Public Enemy.
As the event progressed and participants became aware of the situation through word-of-mouth, some of Public Enemy's opponents voiced concerns about competing against them. Some of those teams expressed a desire to forfeit games against Public Enemy. Following normal procedures, teams were informed that forfeiting games could result in removal from competition, which is consistent with our guidelines on forfeiting. Because additional sanctions are typically considered for forfeits, it was also communicated to teams that those were a possibility.

Those communications, which were occurring in real time and in a stressful, emotional and sensitive environment, were in no way intended to be a threat or otherwise pressure or coerce teams into putting their safety at risk. We realize that our words and actions did not reassure our participants, even if it was the understanding of event and USA Ultimate staff that, as a result of following CDC guidance, a baseline level of safety and reduced risk was being met, and that it could allow for the event to proceed under normal competition rules.

As tournament organizers, there is a degree of responsibility we have to inform teams of the possible consequences for forfeiting, and the reasons why those rules are in place, including considering how those forfeits affect the experience and expectations of other teams. It's also important to consider how an event might proceed if teams are determining individually, on a case-by-case basis, the safety conditions other teams must meet in order for them to continue playing. We realize that we need to reevaluate this for future sanctioned events, so that we can navigate these situations that are equally stressful and difficult for organizers, attendees, athletes, and coaches alike.

We sincerely apologize for not communicating clearly that there would be no sanctions or other negative repercussions later in the season. We also apologize for any actions that led to feelings that participants' health and safety were being threatened.

It's important to clarify that no teams have been, or will be, sanctioned as a result of forfeiting to Public Enemy for health and safety concerns, or any other actions due to an apprehension to compete in a way that made them feel unsafe.

As with our communication procedures, we intend to review our forfeit guidelines, particularly as they relate to valid health and safety concerns around COVID-19. We will clarify how those rules will be implemented prior to the start of sectionals next month.
USAU also said that having just a single positive COVID case after months of competition involving thousands of athletes is a "remarkable achievement" that "speaks to our community's conscientious approach to the pandemic."
Vaccination Rates Have Been High
USAU also released data about vaccination rates at marquee events so far this season. Here are the vaccination rates among participants, as reported by the governing body:
USA Ultimate Masters Championships: 96%
Pro Elite Championships: 91%
U.S. Open (Club Division Only): 97%
U.S. Open (Club + Youth Division Combined): 88%
Select Flight Invite (East): 92%
Select Flight Invite (West): 94%
The US vaccination rate is just over 51% as of this writing.
---
within six feet for more than 15 cumulative minutes in a 24 hour period ↩