The UK's first club tournament in two years kicks off on Saturday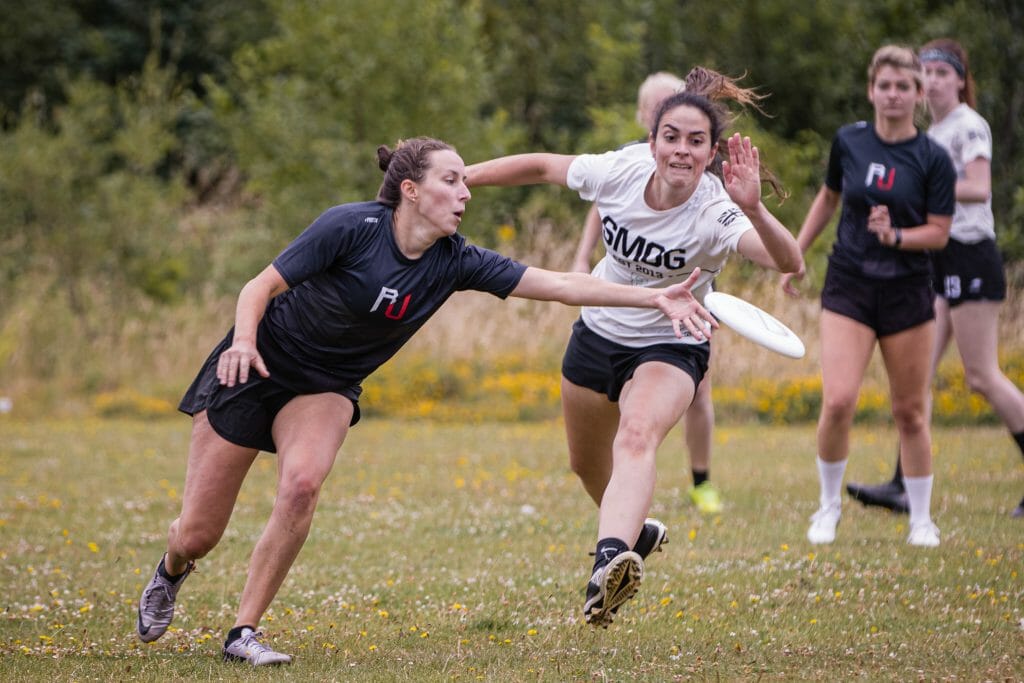 A very different season in the UK will end in familiar manner this weekend. The national championships in Nottingham will be the first weekend event for club teams since the same tournament in 2019. The new venue1 will see eight teams from each of the three divisions fight it out for national titles, and coveted WUCC spots. The number of WUCC bids are still unknown but teams are planning for the same number as last cycle – three places in each division.2
All three divisions are using the same format. Two pools of four will play round-robin games on Saturday and go directly to semi-finals on Sunday: no back-door brackets, no second chances. All teams and players have been asked to take rapid COVID tests within 48 hours of the tournament starting in an effort to minimize the impact of the virus as much as possible, and UKU has an infection control policy in place laying out what might happen in several different circumstances.
Tournament Profile
Date: August 28-29, 2021
Location: Nottingham, UK
Weather: Warm and humid, highs in the high 60s, light wind
2019 UK Nationals Teams: 5 open, 4 women's, 5 mixed
Filming Schedule & How to Watch
The tournament will be filmed and streamed by Ulti.tv with four games streamed on Saturday and five on Sunday. Full streaming schedule (all times British Summer Time):
Saturday
10:35 am: Chevron Action Flash vs Smash'D (open)
12:10 pm: Leamington Lemmings Mixed vs SMOG 2 (mixed)
3:20 pm: London Masters Ultimate vs SCRAM (women's)
4:55 pm: Alba vs Bristol Open (open)
Sunday
9:00 am: Women's semi-final #2
10:40 am: Mixed semi-final #1
12:20 pm: Women's final
2:00 pm: Mixed final
3:40 pm: Open final
Women's Division Storylines
| Pool C | Pool D |
| --- | --- |
| Iceni | Bristol |
| SYC | London Masters Ultimate |
| Spice | SCRAM |
| SOUL | Reading |
The top team in the country during the regular season will not be playing at nationals. The SMOG Women (Durham) players will be playing on SMOG 1 and SMOG 2 in the mixed division instead. That means the number 1 overall seed is Iceni (London), who lost to SMOG in a universe point game earlier in the season.
The other team seeded at the top of its pool is Bristol Women. Bristol lost on universe point to Iceni earlier this season, coming back from 12-6 down to 13-13 to send the game to a final point. These two teams have battled for top spot in the UK for several seasons, with Bristol winning its first title in 2018 to break Iceni's seven-season stranglehold over the division. The two teams look to be favorites to reach Sunday's final, with neither playing a competitive game within 5 points against anyone other than SMOG and each other this season.
London's second team, SYC, went to WUCC in Cincinnati in 2018 but faces a battle to try and secure third place and a potential bid in 2022. SCRAM (Glasgow) beat them at nationals in 2019, Spice (Nottingham) are a new team built out of the women's under-24 team that went to Heidelberg in 2019, and London Masters Ultimate features some of the best players in the division from the last 10 years. The battle for spots 3-6 will be a tight one. SYC plays Spice in the second round of pool play on Saturday and a lot will be riding on the result.
Mixed Division Storylines
| Pool A | Pool B |
| --- | --- |
| Reading | SMOG 1 |
| Lemmings | Deep Space |
| SMOG 2 | Thundering Herd |
| Cambridge | Oxford |
Reigning champions SMOG 1 and two-time winners Reading have had dominant seasons against the rest of the division. Both beat the fourth seed, Deep Space (London), by five points in the regular season and have brushed aside other teams when at full strength. Reading beat SMOG 1 at the end of the regular season, and all indications are we'll see that game again on Sunday.
Third seed Leamington Lemmings has had an unexpectedly brilliant season, dominating all comers in the Mixed Cup to qualify for nationals. They are a relatively young team with close ties to a local school, and have earned their spot at the top of the draw. The game between Lemmings and SMOG 2, which finished third in 2019 and qualified for EUCF, will be one of the main games to watch on Saturday.
Deep Space made the final for the first time in 2019, finally breaking through at nationals after several strong regular seasons, and went on to make semis at EUCF. While they lost to both Reading and SMOG in the regular season, a recent warm-up against Reading went Deep Space's way on universe point. With a strong, deep roster they stand as favorite for third place overall and will be targeting a semi at minimum.
Open Division Storylines
| Pool E | Pool F |
| --- | --- |
| Clapham | Chevron Action Flash |
| Alba | Smash'D |
| Bristol | Devon |
| Lemmings | Ka-Pow! |
Clapham (London) is heading into a landmark season. They have won 19 consecutive UK titles, and has been so untroubled this season that a 20th seems almost certain. Only one game within five points all season was against Alba (Edinburgh). Clapham did their usual trick of dominating the second half. However, Clapham's ambitions are always as big as possible. Clapham is also sitting on 9 European titles, having had their streak snapped by CUSB (Italy) at EUCF 2019. The whole squad is focused on hitting a 20th consecutive UK title and a 10th EUCF title this season.
Chevron Action Flash (pan-UK) has been the second-best team in the UK for about a decade, and one of the best teams in Europe for about as long with a third-place finish at EUCF 2019 confirming that. However, they face a challenge for the first time in several years with the rise of Alba in particular. The Scots have played Chevron twice in competitive play and have lost twice, both on universe point despite having had the disc to win. Both teams will have a potential semi-final against each other circled and it will be fascinating to see if Alba can finally get over that hump. Chevron has seen a lot of roster turnover from 2019 and will be unusually young, with several under-20 players added for this season. Alba will be ready to capitalize on any slip.
Devon (Bristol – don't ask) are seeded fifth but have looked like the fourth best team in the country this season. Standing in their way of a semi spot is new team Smash'D (Cambridge), which won the Open Cup after defeating several teams that have played at nationals in recent years. Smash'D is a young, athletic team with a number of Great Britain under-24 players but has never been on this stage before. Devon usually plays best under pressure, having qualified for EUCF and WUCC tournaments in the recent past, and has a deep squad of talented players. The two teams play in their final game on Saturday in what is likely to be a de-facto quarter-final, and all indications are that it will be an electric game.
Leamington Lemmings have qualified in the open division as well, capping a great season. They are one of only four clubs to have qualified two teams, and the other three are among the biggest and most successful in the country (SMOG with two mixed teams, Reading in mixed and women's and Bristol, whose open and women's teams are more loosely affiliated).
---
The venue was to be used for WUCC 2022 before the pandemic changed those plans ↩

Bids to the XEUCF are also technically on the line at this tournament. However, the only teams that are keen to go are Clapham and Smash'D given the strict entry requirements for people from the UK in Belgium. ↩