Scotland unites to form a new elite club!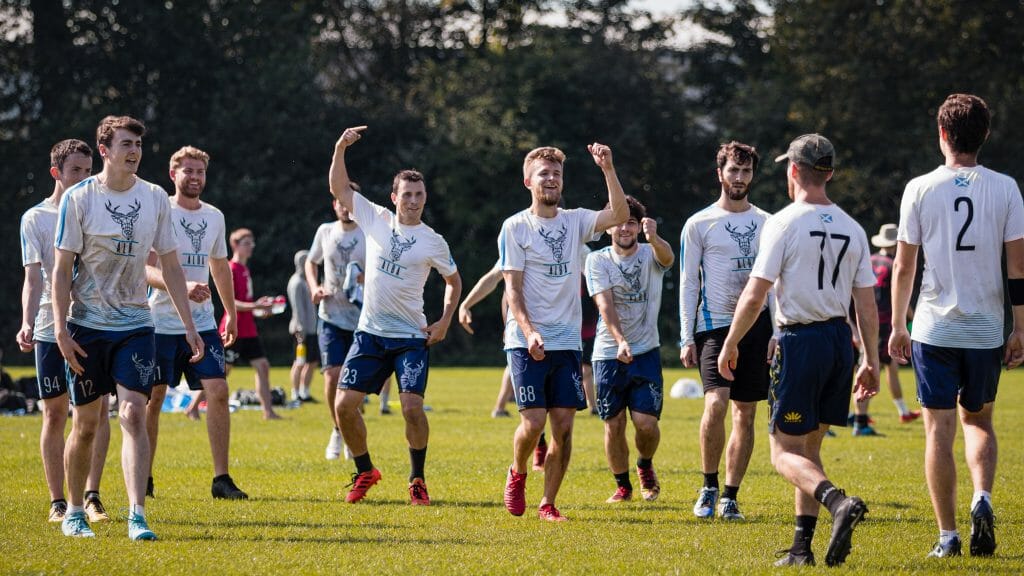 The top of the men's division in the UK this season featured plenty of familiar names: perennial champions Clapham, their long-time foil Chevron, Ranelagh, and Devon were all in the top five of the rankings come the end of the season. There was one unfamiliar name though – Alba, a team of Scots that started the first tournament of the season seeded 20th.
The team has made UK nationals once before but not in its current guise. Many of the players on the team come from mixed backgrounds, either with two-time UK champions Black Eagles or with Glasgow, a geo-team built up over a number of years that still competes at a high level.1 Alba represents a significant change in Scottish ultimate, as does its counterpart women's team SCRAM.
Both these teams moved away from mixed competition in an effort to make a real challenge at the top of another division. Many of these players have succeeded at a high level in mixed, so the next challenge is breaking the stranglehold that southern teams have had on national championships in the UK.2
After the first year of this change, both clubs are in the top five in the UK. SCRAM finished fifth at UK nationals, just outside the EUCF qualification spots. Give them a couple of years and there could well be an EUCF preview for them. Alba scrapped their way to fourth, and a spot among Europe's elite. They defeated teams including WUCC teams Devon and PELT, the latter of which has played twice at EUCF in recent years. Alba pushed Chevron to a double-game point, the closest game Chevron have had outside the final at nationals in years. Alba have made a statement that they're here to stay and ready to compete. So, who are they?
Filling a void
Alba was formed in 2016, with the aim of forming a high-level men's team in Scotland. Fusion had been an elite team that had competed for European and World championships spots but folded after 2012. Glasgow had made a push for a few years in the men's division. They finished second in the regular season in 2016, a year after they would have won the title if they hadn't skipped the third event of the season. Glasgow qualified for EUCF in 2016, finishing fifth at nationals and tenth in Europe. However, their focus switched to mixed for the WUCC cycle, leaving a void in the men's division.
A young group of players came together to form Alba, led by ex-Stirling and Glasgow player Matt Tomlinson. In the first season, an inexperienced team made nationals and finished 12th – a pretty good performance, but certainly nothing spectacular.
"Black Eagles and Glasgow were focusing on mixed," says captain Cameron Mackie of the first season. "Alba wasn't prioritized."
After a season where both those teams played at WUCC and some of the players were ready for another challenge, Tomlinson, coming off a season playing for Glasgow mixed at WUCC and with Chevron in the men's division, again gathered all of the best players in Scotland together with the aim of becoming the next great Scottish men's team.
Tragically, Tomlinson wasn't able to see his efforts come to fruition. He passed away in December 2018 in a car accident. His death affected almost everyone in Scottish ultimate. Scotland is very tight-knit, as small and isolated communities tend to be, and he was a loud, active presence.
"Matt was so important to Scottish ultimate," says Mackie. "He organized two annual tournaments and was a driving force behind pushing us towards elite ultimate."
Regrouping and rebooting
In the wake of such a devastating shock, a new group of leaders needed to step up. Mackie and fellow former Black Eagle Cameron Agnew were named captains, supported by a committee of other experienced, engaged players, and the team began to build on what Tomlinson has started.
The team had some outstanding players – both captains were among the best players in the Black Eagles squad, as were handlers Danny Strasser and Andrew Boxall. Adding the Glasgow contingent gave them even more talent, including the veteran nous of the Webb brothers: Shaun and Phil. One of the hurdles that the leaders of the team have had to manage, though, is that a lot of these guys have been used to competing hard against one another for years.
"The atmosphere has been great, definitely better than we thought it would be," laughs Agnew. "We have known each other for a while and pretty much all of the team have been playing each other since their university days. So, while there have been some tense match ups between Glasgow and Black Eagles [in the past], it's [only] a small sample size compared to all the other times we've played each other."
Alba's youth is notable. While the Webbs add some experience3, the average age of the players who finished fourth at nationals was just over 26 years old. However, when you remove the Webbs that average drops precipitously to just over 23. Despite that, they have a number of players who've competed for Great Britain at under-24 level, plenty of WUCC-level players, and a GB mixed gold medalist in Boxall.
The development effect
Alba and SCRAM are both helped by a thriving Scottish university system. In the last three years, Scottish universities have won 11 of the 18 national titles4 on offer, as well as six silvers and seven bronzes. The pipeline of new talent is seemingly pumping out several players capable of playing on an elite team every year at the moment.
"Four-year degrees are the norm in Scotland5," says Benji Haywood, the director of ultimate at St Andrews university in Scotland. "That's why the universities tend to be strong despite being unable to recruit much of the young GB age-group talent. Someone at nationals in their fourth year has been playing maybe 40% longer than someone at nationals in their third year. I think the fact they're playing in stronger teams and with stronger, older players does probably help them to develop."
That final point is a crucial one, as players with talent can often rise to the top when thrown in at the deep end.
"Newer players to the sport can match up immediately with high-quality players," agrees Agnew. "The players with potential improve quickly that way."
The coaching in Scotland has also been a factor. A number of club players coach young players, something that has been rare in the UK until very recently. Haywood has coached for many years, GB players Oli Browne and Rachel Turton have just moved to St Andrews to coach the teams there, and former Black Eagles player Nicola Shaw has contributed her expertise to Strathclyde's women. The best examples, though, might be the Webbs, who were also the driving forces behind Glasgow.
"The Webbs are very good, Shaun with Strathclyde and Phil with Glasgow university," says Haywood. "Glasgow [club] was also well run from the start and the Webbs did a great job of developing players for that."
The future of Scotland
Alba is in an excellent position to build over the next few years. They have a deep, young roster with excellent coaching and leadership. Alba boasts several stars that are good enough to compete with the best in Europe, and a few young players with that kind of ceiling. They also have excellent team chemistry and understanding, built up over only a single season. It's the kind of foundation that allows them to think big.
"Our aim is to upset the current order in men's ultimate," says Mackie. "We want to have a nationals that doesn't end with Clapham first and Chevron second.
"This has been a successful season, we wanted to qualify for EUCF and push ourselves close to the top two. Our aim at EUCF is the top 10, but it's a tough schedule and really hard to predict who you'll get in the bracket.
"We want to qualify for WUCC in 2022, and to win nationals within the next five years."
Such a goal is setting the bar extremely high – no team has stopped Clapham from winning the national title this millennium, but this is a team that believes in themselves.
"We'll be focusing on internal development in the offseason," adds Mackie. "We aren't foreseeing losing too many people so we should have a stable squad. Our O line was only together for regionals and nationals, so we'll be looking to build some chemistry there. The established teams have had a core group together for five years or more, which really builds cohesion and is something we'll be aiming for."
As for additions to the squad, Agnew had some interesting things to say: "Chris Habgood, who used to play for Black Eagles and GB under-24s, has returned from a year in Australia. Andrew Dick [formerly of Black Eagles and currently with Furious George in Vancouver] will return home in November and if he stays in Scotland he'll be keen to play.
"We might also be able to poach some players from rivals. Watch this space!"
No matter where they go from here, no one on Alba will forget where they came from, and how they came together. At the regional championships in York, near to Tomlinson's home town of Leeds, his family came to watch the team he started and to spend time with his friends and teammates.
"While Matt is no longer with us, we'll always be thankful to him for getting this team together," says Mackie. "Hopefully this team will continue to improve and honor him."
---