San Diego surpassed Dallas, putting an end to their run of playoff success.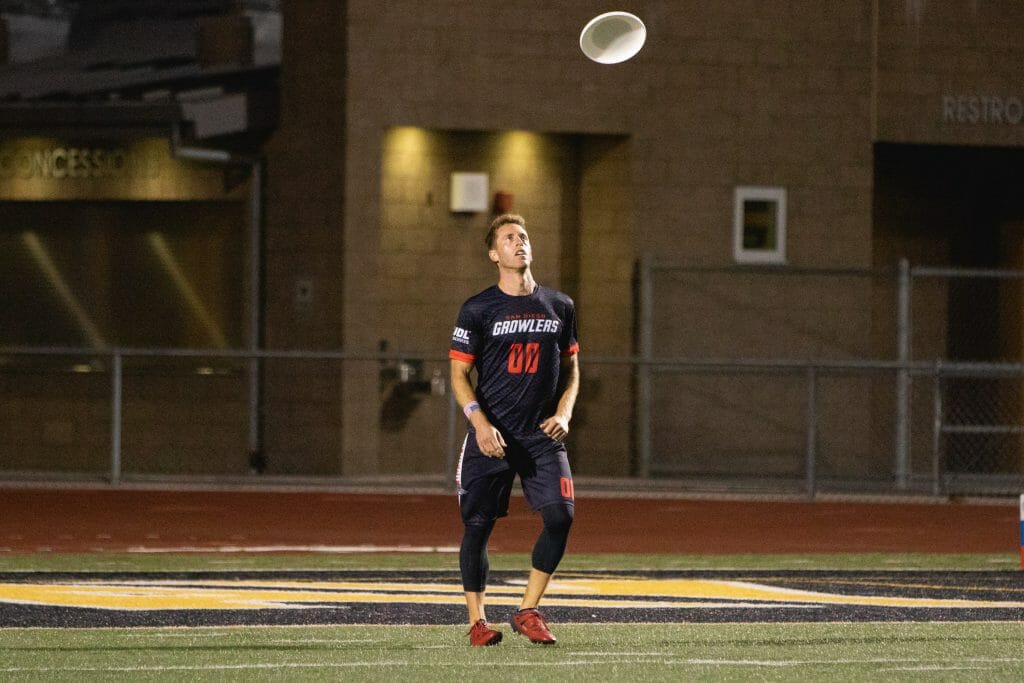 Our coverage of the 2021 AUDL season is presented by VII Apparel Co., who provides premium performance apparel for the active world, featuring their proprietary GreenLine fabric made from 100% recycled plastic bottles.
In the matchup both teams had been building towards all season, the San Diego Growlers upset the Dallas Roughnecks in the West Division playoff matchup, 22-18. Coming into the game, many were expecting this to be a close affair. The two teams had matched up well this season, and San Diego's home field advantage balanced some of the talent Dallas recovered from injury. Kyle Henke and Abe Coffin both played with casts on their non-throwing hands after undergoing wrist surgery. San Diego brought back Jonathan Nethercutt to their lineup, which already had plenty of star power to match the Roughnecks.
The Growlers were the better team early, putting in a testy hold to open the game before scoring the upwind-downwind break combo for a 3-0 lead. On the second point, Michael Tran caught up to a Henke hammer and San Diego burned an early time out to sub on its offensive unit to punch in the score. After three weeks off and without practice time, Dallas was still working out the kinks of its offense when its D-line finally put points on the board. A miscommunication from the Growlers' defense left Ben Lewis wide open to reel in a Coffin huck to close the gap to 3-1. San Diego's pressure was relentless and the Growlers completed all 41 of their first quarter passes on their way to scoring a whopping nine goals. Dallas meanwhile was 86/91 to get their four goals.
Growlers Lepler Perfect Quarter
Khalif El-Salaam dropped a wide open huck to open the second quarter that would have stretched the lead to six. With another chance, the Dallas offense punched in a much needed hold as Chris Mazur laid out for a goal. Dallas rolled the ensuing pull out of bounds and put heavy pressure on the resets. With Paul Lally standing a few yards behind him, the usually steady Tim Okita launched a same-third backwards huck-as-reset to Nethercutt that was easily blocked by Connor Olson and the Dallas defense punched in their first break of the game to bring the score to 9-6. The Growlers held and Dallas needed three possessions and two time outs to hold serve, but Zach Marbach got a layout block and Dalton Smith dropped a hammer to Griffin Miller to bring Dallas within 10-8.
It seemed the Roughnecks comeback everybody had been anticipating was afoot, but each team held out with San Diego scoring last to take a 12-9 lead into halftime. Dallas looked like it might have scored the buzzer beater to add another goal to their tally, but a sideline timeout prevented Smith's huck to Gabe Hernandez from counting. With the defense able to set up coming out of the break, the ensuing effort was blocked by Steven Milardovich.
Dallas got a break back on a Hunter Taylor hammer in an otherwise fairly calm third quarter to bring the game within 16-14. Each team continued to hold and neither defense could make a significant adjustment to add more pressure until San Diego began to pull away with five minutes left in the fourth quarter. A Mazur huck to Kevin Richardson fell just out of reach and San Diego had a chance to go up four late in the game, but Jesse Cohen let a throw slip out of his hands before he caught it as he turned to look upfield for the next throw. Moving in for a crucial hold with under four minutes left in the game, Kai Marshall threw a hammer five yards in front of his intended target and veering out of bounds. Three throws through the Dallas junk later, the Growlers had their four goal lead with three minutes left as fans started chanting "I believe that we will win."
As the stands were turning boisterous, Henke misplaced a throw to Coffin and the Growlers worked the disc upfield. El-Salaam found Max Hume fading across the end zone and San Diego's 3-0 run gave the Growlers a decisive 21-16 lead with 1:51 showing on the clock. Dallas could score quickly after, but never put enough pressure on the Growlers to force a game changing turnover. San Diego played their normal offense rather than running out the clock, and the final score ran up to 22-18 as fans stormed the field once the final whistle blew and the enormity of the Growlers' success fell over the local crowd.
"It's hard to describe," Travis Dunn said on the AUDL broadcast after the game. "That was an incredible game and that's gotta be the best win we've had as a franchise, so to come up in this big spot and play our best game like that, you know from the opening pull it really felt like we took control of the game."
Dunn, who had two assists, three goals, and a block, thought about the meaning of beating Dallas, who hadn't missed a Championship Weekend in its short history as a franchise and defeated San Diego there in 2019. "It definitely means a lot," he said. "We've added a lot of new faces and everybody knows that. But we still have a lot of the same guys out here so to come back to a team that ended our last season and conversely end theirs, it means a lot to us."
Nethercutt, who lost to Dallas a few times in the playoffs as a member of the Raleigh Flyers shared similar feelings. "It feels good, it feels good," he said. "It's a team that I've been seeing in the playoffs for a long time so it's nice to beat them. That's a team that's always enjoyable to beat. They're talented for sure and they work hard. Also one of those things where they can get super physical and chippy at the end, especially if it's not going in their favor so it feels good to fight through that adversity and pull out a win at the end."
Team captain Jonathan 'Goose' Helton had his best game of the season, totaling five assists and four goals without a turnover to lead the team in both categories. Nethercutt finished 37/37 with three assists and a goal. The San Diego defense forced 16 Dallas turnovers and held Mazur without an assist.
At the other end of the field, the Roughnecks were coming to terms with an explainable, yet unexpected loss.
"We sucked. We sucked. There's no other way to put it," said captain Kaplan Maurer. "That was the worst game we ever played. We didn't show up. Offense didn't show up, defense didn't generate enough pressure. When we did get chances on the D-line we didn't convert, we didn't execute. We looked sloppy. That's on us. Credit to San Diego; they executed, they made the plays that they needed to do. But we feel like we didn't bring our A game – didn't even bring our B game. And that sucks, that's what sucks the most. If we came out here and we played our A game and they played their A game and they won, I think we could have pride in that knowing that we faced a lot of adversity this season and it was a lot to even make it here and to lose to a really good team like that, as long as you know you played your best, you know you left it all on the field, but that wasn't the case and that's what sucks the most."
Dalton Smith similarly wasn't giving any excuses for his teams loss. "Going in we were very confident," he said. "And then we had a few errors here and there, and kind of got ourselves in a hole, and they didn't make a lot of mistakes, and they made us earn every turnover, and we had just a few too many giveaways. That was the story of that game…Hats off to them, they played a great game, had a great game plan that really slowed down the offense. And their offense was clicking. Their timing was really good and I guess they figured it out at the right time."
When asked about the team's lack of practice and cohesion playing together, he still gave credit to San Diego rather than turning to circumstantial excuses. "Our team has always been like that, so that's a give-me excuse," he said. "I think they were the better team tonight hands down both offensively and defensively. And I think they had a really solid game plan coming in for us and they executed it well and all the credit to them."