The Royal punctuated their 6-2 season with a victory against the Toronto Rush.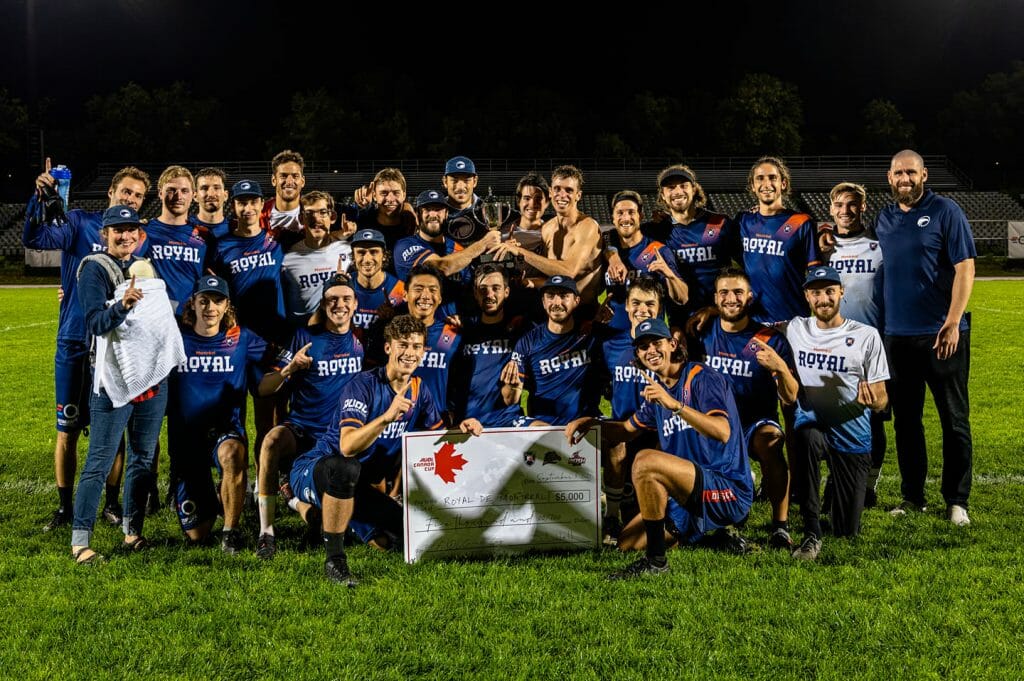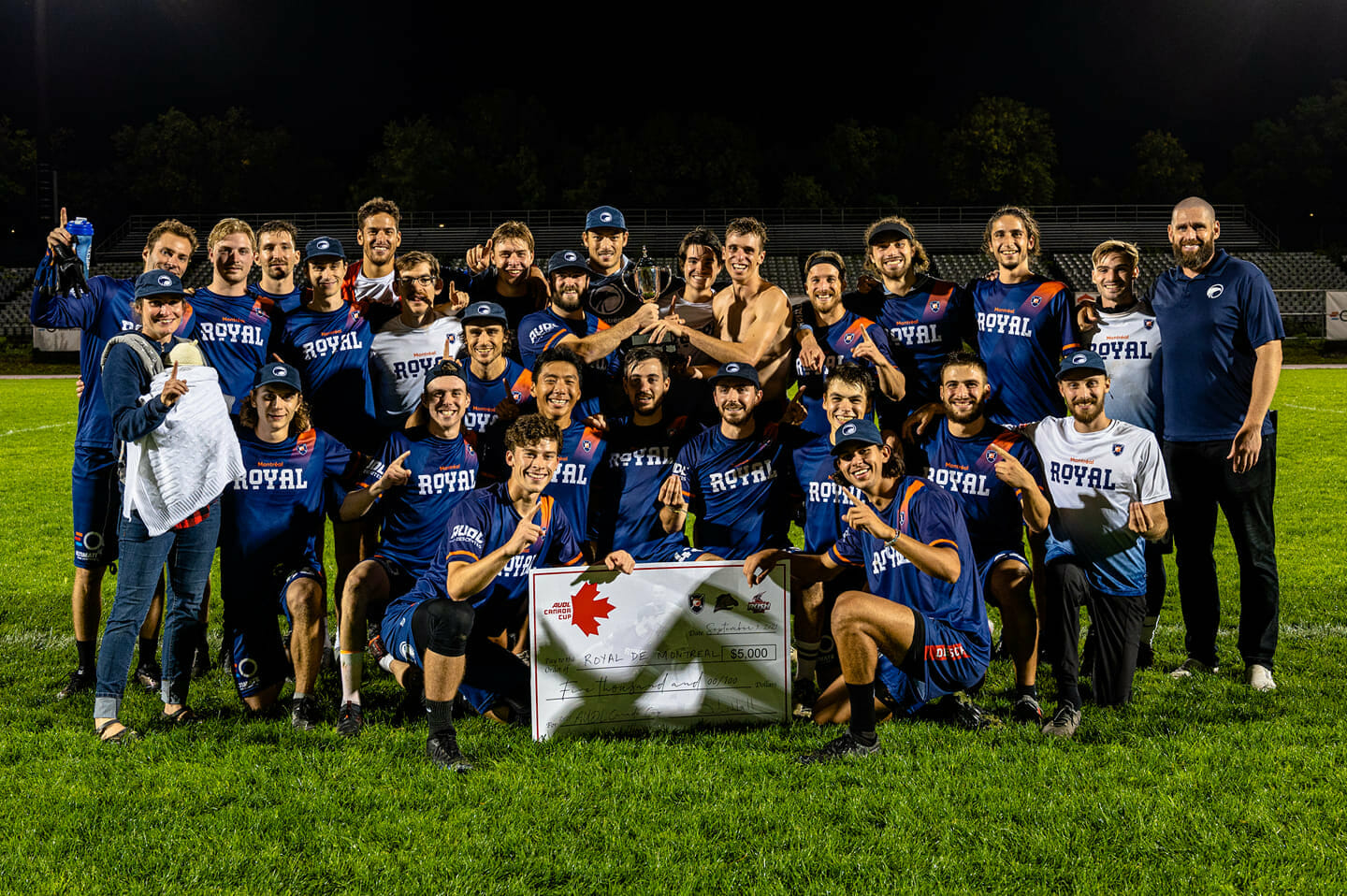 Our coverage of the 2021 AUDL season is presented by VII Apparel Co., who provides premium performance apparel for the active world, featuring their proprietary GreenLine fabric made from 100% recycled plastic bottles.
Montreal was home to the first-ever AUDL Canada Cup on Thursday and the first-ever championship game ended in exciting fashion. A controversial stall call late in the game was the catalyst for a Montreal break that ultimately decided the game. The Royal closed the game leading 19-18 to be crowned Canada Cup champions.
This matchup on paper heavily favored the Montreal side, who had yet to lose to Toronto all year and came in with the best record at 6-2. Toronto had to squeak into the final with a 3-5 record, beating Ottawa twice late in the season to get there. The Rush have not had all of their personnel at any game this season, and this championship contest was no different. Thomson McKnight, Isaiah Masek-Kelly, Geoff Powell, and Jaret Meron did not suit up for the team in red.
The Royal had the benefit of the raucous Montreal crowd firmly behind them, and this played a factor in their success. Montreal had all of their main performers active for this contest and were hoping to cap off a stellar season.
Montreal head coach Jon Hayduk said his club had some clear points of focus. "With the incredible crowds and pressure of a finals match, managing our emotions and attention was a clear priority. Beyond ensuring that we held true to our own abilities and identity, it was key to keep Harris away from the disc as much as possible to help the downfield defenders," said Hayduk.
The championship game lights were not too bright for either team in the early going. The two offenses were sailing smoothly. Montreal's offensive line has remained quite stable this year, with only one major change being the insertion of Nabil Chaouch in the second half of their season.
Montreal took advantage of the first Toronto turnover by scoring right away. Felix Leonard found Julian Sénéchal for a 4-3 lead. The Royal's defensive line was the story of this contest, generating only five break opportunities, but they cashed in on four of them for an 80% break percentage. Toronto, on the other hand, struggled to take advantage of multiple break opportunities and were not able to generate a break in the first quarter.
Chaouch continued his rise on the Montreal offense, collecting his fourth goal of the contest to give Montreal a 7-5 lead at the beginning of the second quarter. Another failed Toronto break opportunity allowed Montreal to leave unscathed. Kevin Quinlan was dialing up big throws all game and his huck to Jakob Brissette avoided Montreal giving up a break.
On Toronto's fourth chance at a break opportunity, they were able to take advantage of a Montreal overthrow. Cam Harris threw a scoober to JJ Edwards for his fourth assist and the 11-11 tie. Going into half, the Royal held a one-break lead and both teams were able to keep it close.
Unfortunately, a one-hour lightning delay ensued and caused both teams to get off the field. This was not unfamiliar to Toronto, who they faced a two-hour plus lightning delay on the 28th of August before dispatching Ottawa.
Christophe Tremblay-Joncas has had a strong season for the Royal, leading their defensive line as a strong puller for them and as a key deep defender. He took over on the first point out of half, getting a block, and making two big saving catches before Montreal's offensive line came on to get the break and the 13-11 lead. Montreal also made some key in-game adjustments, putting the athletic Tremblay-Joncas on Mike MacKenzie to prevent the Rush cutter from securing massive gainers throughout the game.
The rain played a big factor in the third quarter, as the frame ended with only four points scored total. In one particular point, Montreal had two drops and Toronto was able to get their second break in a row. It was their third opportunity of that point and Cam Harris continued his magnificent effort from the weekend with his fifth assist of the game. With those two breaks, Toronto had their first lead of the game and some much-needed momentum as they battled both the elements and the Montreal home crowd. The sloppy play from the weather continued to the finish of the quarter as neither team was able to score to end it. The Rush had their first lead of the game and were up 14-13.
Toronto continued their break party in the fourth quarter with a vital score early. Jason Huynh applied enough pressure on Jakob Brissette to generate the turnover and then he dialed up a hammer to Jacky Hau for the score. As they've done all year, Montreal's D-line continued to shine as they scored quickly on offensive and generated a break right after as Felix Leonard threw his second assist of the game to Ywan Cohonner.
What was evident was the influence of the crowd as their cheers continued to get louder towards the end of this game. A controversial play ensued when the Rush's Luc Comiré got called for a stall down which was argued by his coach, Adrian Yearwood. The referees stuck to their call and Montreal was able to work it up the break side as Quinlan found Miguel Goderre on a huge around for the 18-17 lead.
Toronto's Wilkie Lewis made a jaw-dropping play by saving an overthrown huck with a massive layout to tie the game at 18-18 all. Montreal's player of the game Quinlan had his Michael Jordan "the shot" moment, throwing a high arching cross-field hammer to Malik Auger-Semmar for the 19-18 lead. The Rush had 1:28 left to score but a throw to Comiré was too far which resulted in Toronto's 15th turnover of the game. From there, Montreal swung the disc around as Toronto attempted to get a block with massive bids everywhere. The end of the game was marred with an attempted block from MacKenzie which resulted in multiple players going down. The defensive effort was not enough to get the disc back and Montreal walked away with the victory.
Montreal capped off a historic season for them where they swept Toronto and defeated them five times. Quinlan had three assists including the game-winning assist while Chaouch had six goals.
"The win was huge. It was a validation of what we have been doing and the influx of youth we have had. Using our depth was helpful," said Quinlan. "Toronto are gamers and have a culture of winning. We knew this game was going to be different and tough. We knew we could run with our depth and do what we've been doing all season."
Hayduk expressed excitement about the future of the Royal. "I'm really looking forward to continuing to build this program. As a rookie coach in the AUDL, there was a steep learning curve, and it'll be great to have the opportunity to have a full season with the knowledge and lessons learned," he said.
Toronto played well down the stretch to even get to this point and relied on veterans like Andrew Carroll and Harris to get it done. In this game, Harris had five assists and JJ Edwards was the top cutter for Toronto this night collecting five goals.
Coach Yearwood was proud of the effort his team showed. "I was pumped we were on an upward trajectory. From the first game to the last game, it was the same guys but a totally different team. Every single week we got better and better and made adjustments. It really showed on the field with the way we retooled and worked with what we had," he said. "I was super proud of everyone. We could have packed it in after three games but we didn't."
The game was a hotly contested one with multiple lead changes in the second half. It was clear neither club was holding back as they made their claim as the best team in Canada.
Quinlan knows this is just the beginning for Montreal as they hope to continue their rise. "I don't think we we're satisfied with we're at. We know we still have things to improve on.
It should be interesting to see what happens next year in the AUDL as both teams look to make their way back into the East division. The future looks bright for Canadian ultimate as showcased through this shortened season.