Leads are not safe!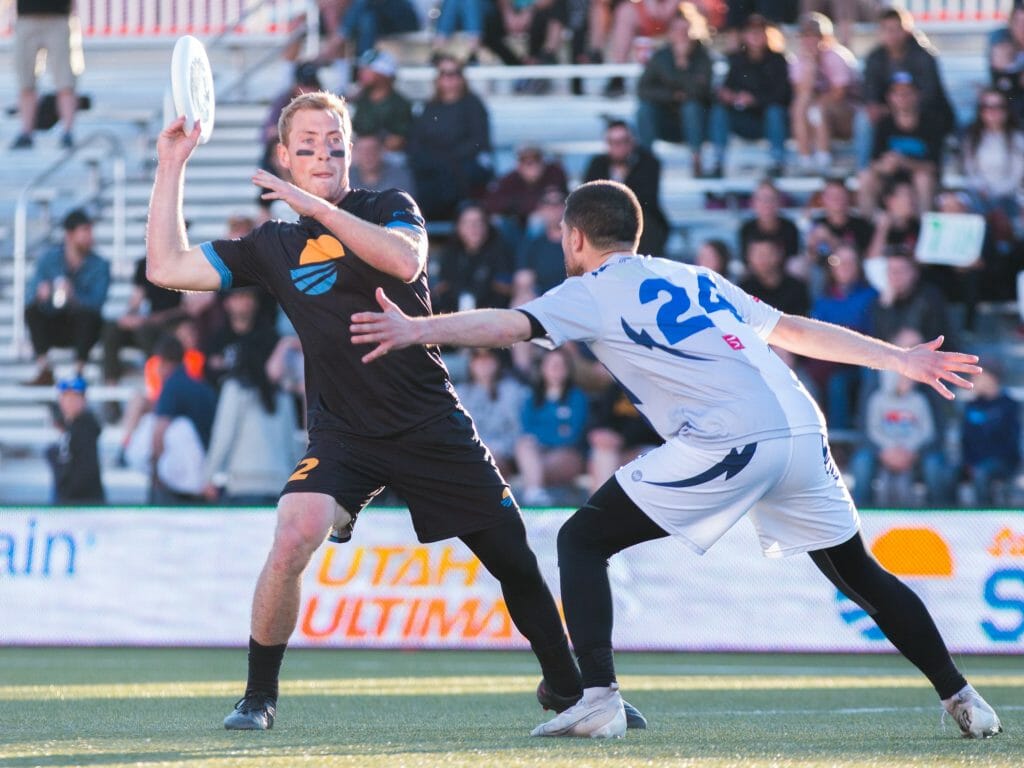 Our coverage of the 2022 AUDL season is presented by VII Apparel Co., who provides premium performance apparel for the active world, featuring their proprietary GreenLine fabric made from 100% recycled plastic bottles.
It was a good week for the favorites, with few surprises in Week 3. But we were only a few moments away from a couple of shockers. There was one: the young Rush scoring a home upset over Ottawa. What else went down?
Welcome to the AUDL Throwaround, where we discuss the top stories, players, and highlights in the league.
Results & Standings
Week 3 Scoreboard

Week 3 Standings

Week 3 Stories
Madison Comes Back to Take Down Indy
Games at Indianapolis' indoor Grand Park stadium do not typically feature stellar defense, but the Madison Radicals pulled out just enough stops to complete an impressive full game comeback.
The AlleyCats took advantage of huck throwaways on three consecutive Madison possessions to build a 5-1 first-quarter lead. Though playing indoors, which typically benefits throwers, the Radicals new offensive core centered around Kai Marcus and Kai DeLorenzo struggled to gel early on. Madison made a run to close the gap at the end of the first half, culminating in an acrobatic buzzer-beating grab from Jacob Wham against a poorly positioned AlleyCats defense. The Radicals scored three straight to end the third quarter and added three fourth-quarter breaks to earn the narrow victory.
In his debut for Madison — who was missing O-line mainstays Victor Luo and Sterling Knoche — Kai Marcus impressed with eight assists and two goals. His four turnovers are indicative of Madison's now huck-happy offense and reminiscent of his swaggering college days playing for UNC Darkside. Keegan North led the way yet again for Indy with six assists, a goal, and two blocks.
Philly Loses Another Close Matchup
It's another week in the AUDL and another heartbreaking, buzzer-beating loss for Philadelphia, losing three games so far by a combined four points. Despite going 50% on break opportunities, it was a second straight game finishing below 20 points.
The game started off with teams trading breaks and finishing the first quarter at 3-3. In their Week 2 matchup with New York, the Philadelphia defense struggled to generate offense, converting on only two of eight opportunities. This was not the case on Friday, as the Phoenix got multiple breaks in the second quarter. Max Trifillis generated a block on a short throw and then found the end zone to grab Philadelphia's first break; another Phoenix break led to an 8-6 halftime lead for the hosts.
Things started to unravel for the Philly offense in the third as numerous throwaways from tight handler defense led to Montreal breaks and a Royal lead after the third quarter. Trifillis continued to be a bright spot for the Phoenix with a block and immediate assist to keep things tied up at 15-15. With Montreal holding a one-goal lead with less than thirty seconds left, Paul Owens got a huge block on a reset to set up Philadelphia's offense to come in and score with seven seconds left. Unfortunately for the Phoenix, their luck would run out as Montreal connected on a buzzer-beater when Antoine Rousseau threw it into a pile and Christophe Tremblay-Joncas came down with the sky and the goal.
Trifillis finished with three blocks to lead the Phoenix defense, while Greg Martin led the team in scoring with one assist and five goals. For Montreal, they start the season off 3-1 thanks to the contributions from Tremblay-Joncas, who was all over the field for the Royal, dishing two assists, scoring three goals, and notching two blocks.
Philadelphia has a chance for revenge as they travel to Canada for a doubleheader weekend to take on Montreal on Friday and Ottawa the next night. A two-win weekend could get them back on track and back in the thick of the AUDL East standings.
Salt Lake Shreds Seattle
In their first-ever home game, the Salt Lake Shred put on a show for over 2000 fans. Feeding off the energy of a raucous crowd, the Shred jumped out to a 4-1 lead and never looked back en route to a dominant 32-21 win.
The young Cascades offense gave Salt Lake a number of unforced turnovers and struggled to connect on deep looks early, perhaps not acclimated to the higher altitude in Salt Lake. The Shred punched in a staggering 12 breaks in 18 chances (compared to Seattle's two-for-eight conversion rate), benefiting from fast breaks in transition and the steady play of Garrett Martin. Playing against his former team, Martin notched three assists and four goals from the D-line.
Jordan Kerr, who at this point is the league's MVP frontrunner, led the game with six assists and six goals; he did so with just 14 throws! Drew Swanson, usually known for his defensive contributions, stood out for Seattle, matching Kerr's six assists on 14 throws, and adding three goals and two blocks.
At 3-0, Salt Lake is in pole position out West. Their matchup against 2-0 Colorado in two weeks will certainly be fun to watch, as the two expansion teams battle for playoff positioning.
Around the League
Dallas dropped a doubleheader to Austin and Minnesota, in the first cross-divisional game of the season. They kept their home game close through the first three quarters, Dallas ran out of gas in the fourth as Minnesota closed the game on a 6-1 run.
San Diego added another win over a depleted Aviators squad and is now in playoff position in the West. The Growlers held LA to just two blocks and Travis Dunn tallied five assists and five goals.
Carolina easily handled Tampa Bay for the second week in a row. Carolina's Alex Davis was 28/28 throwing with four assists and six goals to lead the game in both categories.
Toronto earned its first win of the season, dispatching an Ottawa squad that played without all-star Nick Boucher. Luc Comiré was 64/64 with five assists for the Rush.
In a total team effort, the DC Breeze took down Montreal, who was playing the second game of a back-to-back. 19 of the 20 Breeze players recorded at least one goal, assist, or block.
Power Rankings
Highlight of the Week
There may have been more technically or visually rare plays this past week, but they didn't win the game at the buzzer. C'mon, a little love for the context. Montreal's Christophe Tremblay-Joncas came through in the clutch.