The league's annual final four showcase comes to DC for the first time. New York comes to town looking for a repeat of its 2019 title while Chicago, San Diego, and Raleigh are ready to earn their first titles.
Our coverage of the 2021 AUDL season is presented by VII Apparel Co., who provides premium performance apparel for the active world, featuring their proprietary GreenLine fabric made from 100% recycled plastic bottles.
Four teams are left standing after an amazing AUDL season that didn't dip in excitement for a single week. Chicago, San Diego, New York, and Raleigh will descend on Washington DC to battle for the AUDL Championship. While the Empire managed to be the last team standing in 2019,
Each team can credibly claim to be fighting for a championship. "One thing that's cool about this year is that I think every team that's going to Championship Weekend has the capacity to win two games," said New York's Matt Stevens. "There's not a team where going into it, it's like 'I wish we were playing whoever.' All these teams are really good and you're going to have to win two really hard games to win the championship."
Here's what to watch for.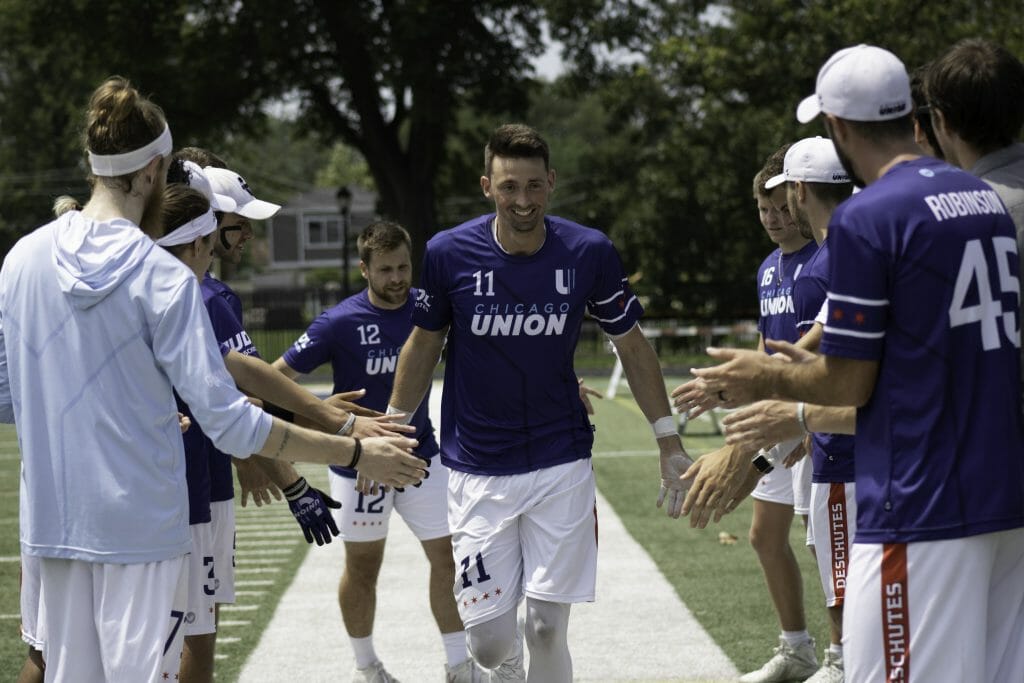 Chicago Union (11-2)
Key Players: Pawel Janas, Paul Arters, Kurt Gibson, Nate Goff
Season Arc: The Union were the stars of the 2021 offseason, completing a rebrand and signing a quartet of key contributors (Peter Graffy, Pat Shriwise, Keegan North, and Paul Arters), some of whom were taken directly from division rivals. Despite integrating so many new pieces, Chicago started the season with five straight wins. A midseason setback — back to back losses to Madison and Minnesota — did little to slow down the Central division front-runners, as the Union depth showed up to grind out wins even when the stars were away playing for Chicago Machine in USA Ultimate's club season. It took a massive comeback for Chicago to down Minnesota two weeks ago and earn their spot at Championship Weekend. Fresh off their first playoff win as a franchise, Chicago is coming to the final four with a lot of energy and a burning desire to prove that they can beat top teams outside of the Central, widely considered the easiest in the league.
Why They'll Win it All: Chicago doesn't have an obvious weak point. The top end talent is there (hello, Pawel Janas and "MVPaul" Arters), the role players are there (shout out Tim Schoch and Eli Artemakis), the defense is there (there isn't a jump ball Nate Goff doesn't like), and the tight game experience is there (albeit mostly with Chicago Machine not the Union). One X-factor is Kurt Gibson, who has been to Championship Weekend three times, winning two titles in that span. What Chicago lacks in AUDL finals experience, Gibson certainly can bring to the team.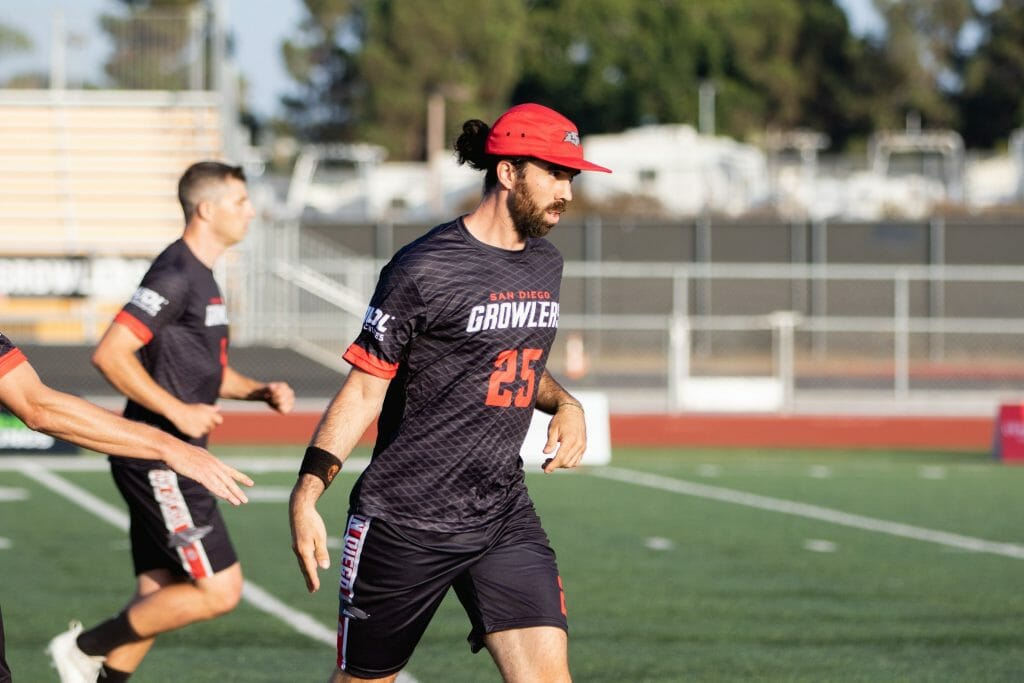 San Diego Growlers (11-2)
Key Players: Jonathan Nethercutt, Travis Dunn, Steven Milardovich, Goose Helton
Season Arc: The preseason division favorite, San Diego led the West division wire to wire this season. Aside from a fluke week 2 loss to LA and dropping a road matchup against Dallas, the Growlers have been perfect this season, even when their play hasn't been pretty. In a division without an easy game, the Growlers stood out for their consistency and their ability to get wins even when they had to rely on plans B or C to get the job done. Perhaps peaking at the right time, San Diego dominated a Dallas team that hadn't missed Championship Weekend in its existence two weeks ago. The addition of former MVP Jonathan Nethercutt to the o line opened up more options for a team brimming with athleticism and key additions like Lior Givol, Nate Pettyjohn, and Khalif El-Salaam have fit into a homegrown core that is out to prove that their cohesion and chemistry is as important as their high talent level.
Why They'll Win it All: San Diego is a team craving respect on the national stage. AUDL lifers like Dom Leggio and Steven Milardovich are the heart and soul of this team that also features all-stars in Goose Helton, Travis Dunn, Nethercutt, El-Salaam, and Givol. While they will likely be the least commonly picked team, the Growlers certainly have the talent to win two games and will not beat themselves. The SoCal squad showed their ceiling with an early lead and a perfect first quarter against Dallas; if they're able to replicate that form, the Growlers will simply be tough to beat.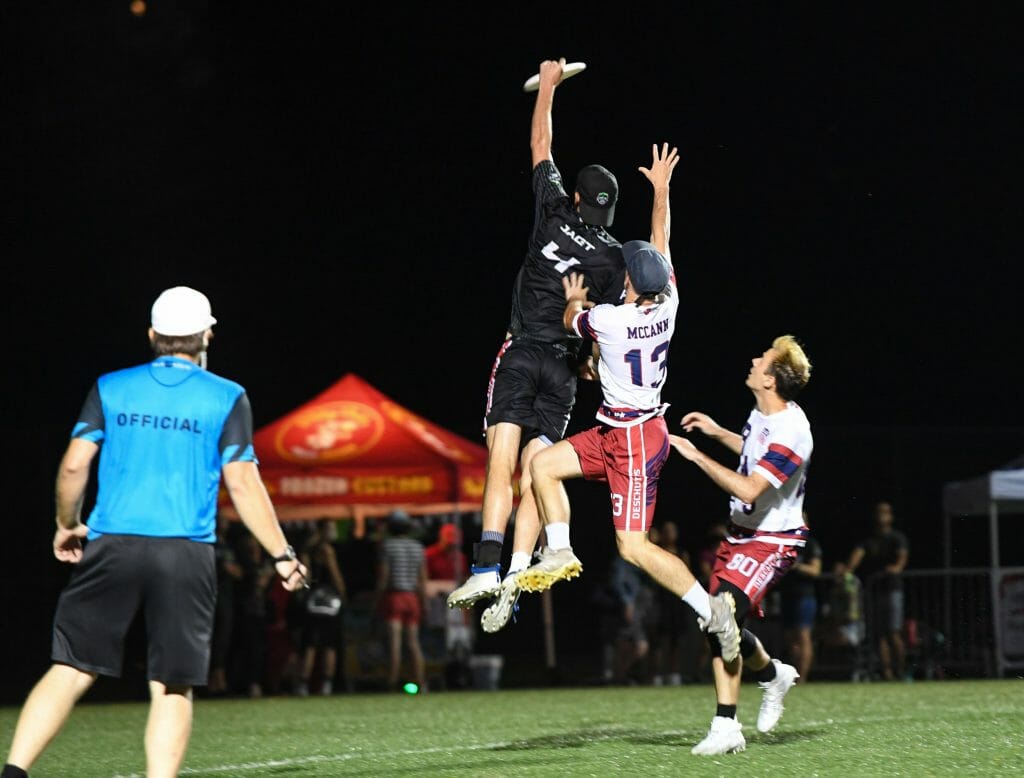 New York Empire (11-2)
Key Players: Ben Jagt, Ryan Osgar, Jack Williams, Jeff Babbitt
Season Arc: New York started the season off with a bang when Jack Williams came down with a buzzer-beating hammer to down DC in week 1. While the team dropped close games to DC and Atlanta, there was never any doubt about the quality of the Empire and they were playoff locks throughout the entire season. New players like Ryan Osgar and Elliott Chartock stepped into big roles for an Empire team weathering the loss of many key contributors from 2019. After a slow pace at the beginning of the season that saw a few games rescheduled because of weather, the Empire have won their last seven games including their five point comeback last weekend against Atlanta. While they rarely blow out other teams, there is a sense of comfort and control whenever the Empire take the field. They can't match the depth of the other teams present, New York will have the best player(s) on almost every point they play, and that knowledge fuels the team's confidence.
Why They'll Win it All: The Empire's issues with depth won't matter if they can get away with playing their stars for the duration of the game. With Williams and Jagt playing over 75% of the team's playoff points to this point, to say nothing of a regular season filled with buzzer beaters and fourth quarter comebacks, New York knows it can rely on its top players to get the job done. Jagt, the presumptive league MVP, is playing his best ultimate of the season and already willed the Empire to one playoff victory so far. If he can pull off two more superhuman performances, New York has a good chance to bring the title trophy back to New Rochelle.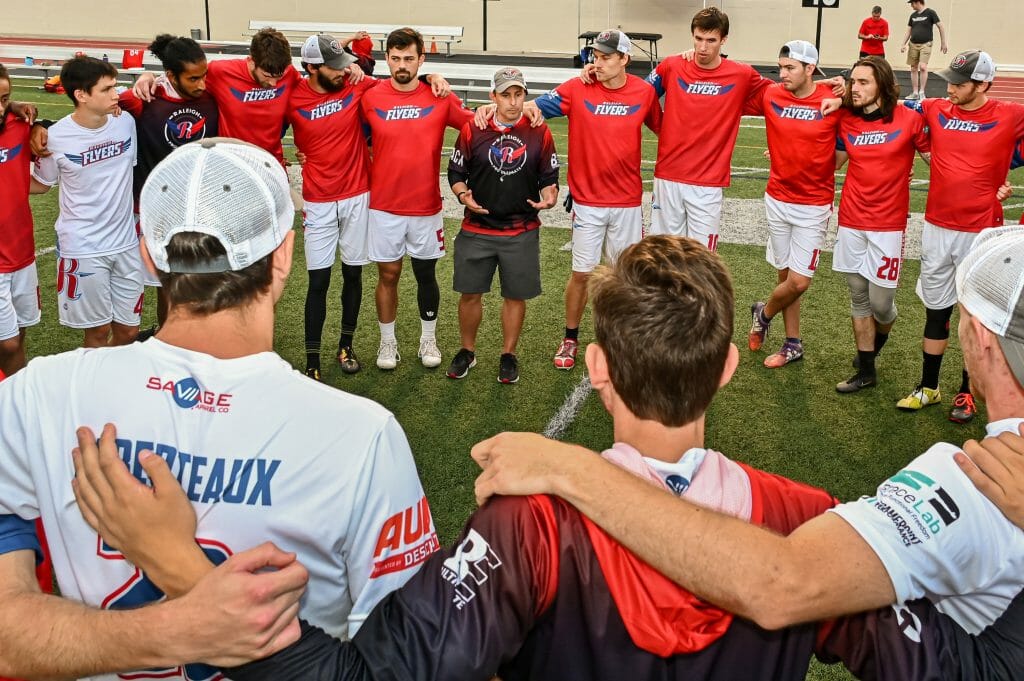 Raleigh Flyers (9-4)
Key Players: Sol Yanuck, Anders Juengst, Eric Taylor, Elijah Long
Season Arc: The Flyers felt like they were playing from behind all season long. One-point losses to Atlanta and DC to open the season put Raleigh on their heels, but seven straight dominating wins (and one squeaker in Boston) in the middle of the summer put the Flyers back where they belong: in the playoffs. Along the way, multiple key players emerged, but none were more important than rookie Anders Juengst, who led the team with 49 goals and finished third in the league in +/-. Though Raleigh lost two out of their last three games (to New York and DC), they came back from four goals down on the road against the DC Breeze last weekend to earn their first Championship Weekend appearance since 2015. After an up-and-down season, all that stands between the Flyers and a championship is two wins.
Why They'll Win it All: This is simply the deepest and most versatile team in the entire league. There are players on Raleigh's second defensive unit who would be starters on the other three teams. The Flyers beat DC last week in part because they were able to adjust their lines on the fly to keep the Breeze from setting effective matchups, and they certainly can do that again. One more key factor: Dallas isn't here. Raleigh has ended their season with a loss to the Roughnecks each of the past three seasons. Without their former rival hanging around, the Flyers should waste no time matching their PUL sibling, Raleigh Radiance, team with a Championship of their own.
Semifinal Previews
San Diego Growlers vs. New York Empire (Friday, September 10, 4pm Eastern)
San Diego handily dispatched Dallas, while New York had to claw its way back against Atlanta in each of their most recent games. While recent form might favor the Growlers, the Empire are still the defending champions and between Ben Jagt, Jack Williams, and Ryan Osgar will have the three best all-around players in this game. The Growlers offense can attack New York just like Atlanta did to build its five-goal lead: Nethercutt hucking to Helton, Dunn, Givol, and Jesse Cohen should be as effective as Austin Taylor throwing to Antoine Davis, Matt Smith, and Elijah Jaime. The Hustle faded down the stretch, but San Diego hasn't lost a late lead all season. New York knows it can escape just about any jam with the right huck to the right tall receiver, but if San Diego can start the game off strong and force New York's stars to win the game on their own, the Growlers can pull off the upset.
Chicago Union vs. Raleigh Flyers (Friday, September 10, 7pm Eastern)
Raleigh showed its strength in the playoffs against DC: the depth and versatility of this team is unmatched. The Flyers can trot out a full line of Team USA players and most of their top playmakers are threats in multiple positions. If the Chicago defense can match that versatility, or throw out zone looks that limit Raleigh's ability to move chess pieces around the field, the Union will have a great chance to advance. If they let the Flyers dictate the pace and style of play, Raleigh should be favored to move on to their first championship game.
Championship Predictions
| Staff | NY vs. SD | CHI vs. RAL | Championship | Champion |
| --- | --- | --- | --- | --- |
| Alex Rubin | SD (23-20) | RAL (21-20) | RAL (19-17) | RALEIGH |
| Chris McGlynn | NY (21-18) | RAL (19-17) | RAL (22-21) | RALEIGH |
| Keith Raynor | NY (20-18) | RAL (24-23) | RAL (22-20) | RALEIGH |
| Charlie Eisenhood | NY (22-19) | RAL (19-17) | NY (20-19) | NEW YORK |
| Theo Wan | NY (21-19) | CHI (23-22) | NY (23-20) | NEW YORK |
| Edward Stephens | NY (18-16) | RAL (22-18) | RAL (23-22) | RALEIGH |