Avenging a pool play loss, Molly Brown claimed a hometown tournament title and made clear they should be considered a real contender at Nationals.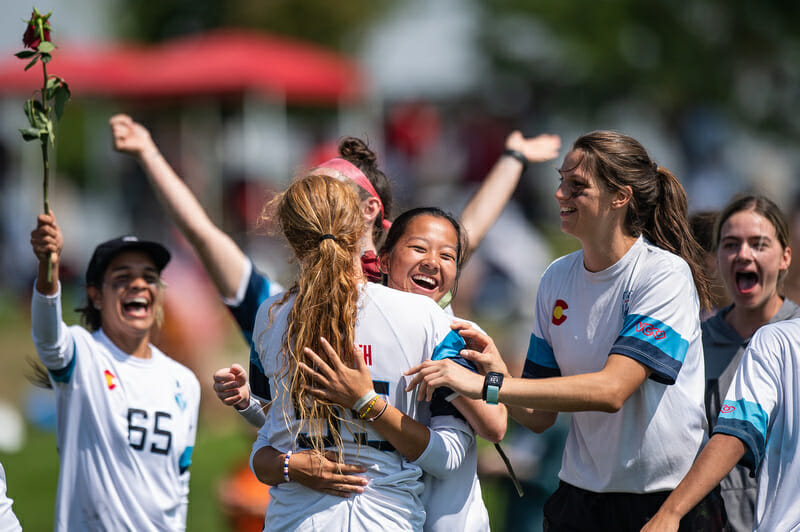 BOULDER, CO. — Pro Championships may have had a smaller lineup of teams than in the years before the pandemic, but attendees brought big athleticism and intensity to the aptly named Pleasant View Fields on Labor Day weekend. In this unusual season where few teams have gotten as many reps as they typically would have by September, this Triple Crown event felt more like an early-season tournament than the last opportunity to play competitive matches before the Series begins — and for many teams, it was only their first or second tournament appearance this season. Chemistry and team development were front of mind for teams in attendance, but the proximity to the Series seemed to up the stakes and intensity of games this past weekend.
The tournament was marked by swings of momentum across the board, making for many tight games and competitive play even in less evenly-matched games. But some elite teams across the three divisions — like Denver Molly Brown, Boston Brute Squad, Seattle Mixtape, Fort Collins Shame, Seattle Sockeye, and Washington DC Truck Stop — had more highs than lows while others — like Oregon Schwa, New York PoNY, and Denver Love Tractor — faltered despite flashes of greatness. The exciting final games perhaps best embodied this theme, as the ultimate victors of the tournament, Sockeye, Molly Brown, and Mixtape, navigated peaks and valleys of play throughout the weekend to swing momentum in their favor in the end and come out on top.
Molly Brown Carries Lessons From Saturday to Take Down Brute Squad for the Title
Speaking with captains and players on both teams in anticipation of their Monday face-off, it was clear that these teams were expecting to see each other again in the final and came ready to test their 2021 squad and strategies against a familiar rival. Both #2 Boston Brute Squad and #5 Denver Molly Brown had clear goals for full team development throughout the tournament. But the tone shifted in the final. They went from tinkering with player roles across the whole team to figuring out which combinations of their top players could execute the offensive and defensive looks they needed in make-or-break moments.
The matchup started off clean, but inconsistencies on offense and intense pressure on defense put a wrench in both teams' systems early on. For a moment, when Molly Brown fell down a break to put Brute Squad up 3-1, it seemed like this rematch would be reminiscent of their first game on Saturday. But Denver displayed strong resilience and was able to convert more of the break opportunities that abounded on both sides, and maintained all but one of their holds. Brute Squad tried to regain momentum before the first half finished with veteran matchups on Molly Brown's key offensive players, and were almost successful. But after trading turns, Molly Brown was able to maintain their hold to take half 8-6.
Out of half, Brute Squad was hungry to fight their way back on top, as they experimented with different combinations of their deep roster of stars to force and, most critically, convert turnovers. Despite many forced and unforced turns on both sides, Molly Brown's was the only D-line to punch in a score in the second half. Brute Squad never let their intensity waver, with standout performances by Liên Hoffmann and Claire Trop, the latter of whom was incredibly effective despite her arm injury. But Molly Brown was able to maintain their strong momentum from the first half to clinch the win 15-11 with strong performances from Nhi Nguyen, Lisa Pitcaithley, and flashy new addition, Valeria Cárdenas. The home team celebrated their upset and an incredible first appearance of the season, setting the tone for the upcoming postseason.
Although Brute Squad is a team that likes to win, as coach Rob Brazile described, they had a positive perspective on their loss since it presented a critical growth opportunity. Playing their first tournament of the year with a full roster, they were able to build better chemistry and figure out where to plug in their exciting new talent, like Laura Ospina Gomez of Medellín Revolution. They also got to experiment with new plays and sets they may need to retire or continue honing, as their end-game competitive strategy is still very much a moving target. A team who has sights set on defending their 2019 Nationals title, Brute Squad was understandably disappointed in the end result of the tournament. But with the pressure of rankings lifted, they were able to walk away with their heads held high after an overall strong showing playing the sport they love with their teammates and friends.
Molly Brown was clearly delighted at their win and many players changed almost instantly back into their cutoff jerseys that they had been disallowed from using in their televised game as they settled in to watch the mixed final together. Coach Joaquin Nagle expressed satisfaction that the adjustments they made in the second half of their first matchup and carried into the final delivered their desired result. They were pleased to compete against strong opponents who matched their physicality and intensity. And, similarly to Brute Squad, they will be taking the lessons from their matchups this weekend to fine-tune what worked and shift what didn't on offense and defense as they build towards their competitive apex during the Series.
If (or, more likely, when) these teams meet again at Nationals this year, having set systems and more reps under their belt may make play cleaner; in any case, it would no doubt be another exciting, athletic matchup to put their talented rosters to the test.
Favorites Get the Wins, But Underdogs Compete, Particularly in Bracket Play
Although the seeding painted a different picture than how matchups shook out in pool play, games went largely as many familiar with these teams' rosters and records likely predicted. #3 Portland Schwa held on to their spot in the semifinals by squeaking out a universe point win over #12 Chicago Nemesis but fell to the under-seeded Molly Brown and #4 Raleigh Phoenix squads. Brute Squad strongly defended their hold on the top spot of the division going into semifinals undefeated. #10 Washington DC Grit stayed firmly in the last slot going 0-5 in pool play, despite their valiant efforts and squirrely play.
Semifinals were scheduled later in the day at 3:00 and 5:00 PM on Sunday to accommodate filming. Teams who advanced had long byes after ending pool play around noon. It can be difficult to get back into competition mode after hours of huddling under tents in the shade trying to balance resting and staying fueled. But Molly Brown, Phoenix, Brute Squad, and Schwa came out swinging in the semis to play fast-paced games with athletic plays galore. Phoenix and Schwa played their best games of the weekend, but both were ultimately outmatched by powerful opponents Molly Brown and Brute Squad, setting the stage for the powerhouse rematch on Monday.
Grit and Nemesis played their consolation game rematch on Monday morning. Grit had their best game of the weekend, almost forcing an upset against the no. 5 seed, but ultimately falling short with a loss on universe point. Although Nemesis did not bring out the high level of play that defined their first win over Grit 13-6, Nemesis turned up the intensity in the end and came out swinging on defense on universe point to break and win 13-12.
External Challenges Test Teams' Roster Depth, Mental Toughness
Traveling across the country to run hard in the hot sun at altitude for several hours per day over three days is never an easy task. But it is even more challenging when significant portions of your roster are missing because they are resting injuries with hopes of recovering for the Series, or if you arrive to the fields tired with little sleep after travel delays cause you to arrive in Colorado mere hours before the first horn. These and more uncontrollables — such as slippery, overwatered fields, shifting schedules, and in-game injuries — tested the mental fortitude of elite players whom many forget are human just like the rest of us (though some of their plays may seem superhuman!). No teams went unaffected by these obstacles. Even Molly Brown, who had hometown advantage, needed to shake off some rust while facing their toughest rival in their first game of their debut tournament of the season.
Some teams displayed strong mental fortitude that helped elevate their play. Raleigh Phoenix shone particularly brightly in this arena. They made the best of having a shorter roster than usual by testing out new lines and player roles to deliver decisive wins and give strong opponents a run for their money even when Phoenix lost. Other teams experienced more difficulties bouncing back after tough moments. Portland Schwa seemed particularly impacted by externalities (from flight delays to hotel floods to key-player injuries), which likely contributed to their inconsistency on offense and difficulty maintaining momentum. While challenging at times, facing these obstacles was an important learning opportunity for all of these teams to test their capability to maintain mental and physical fortitude in the face of adversity, especially since they've had fewer chances to do so as a team than usual.
All-Tournament Line
Liên Hoffmann (Boston Brute Squad)
Valeria Cárdenas (Denver Molly Brown)
Kimber Coles (Portland Schwa)
Eileen Duffner (Chicago Nemesis)
Amanda Murphy (Raleigh Phoenix)
Sophie Hulbert (Washington DC Grit)
Nhi Nguyen (Denver Molly Brown)