Raleigh battled in a very narrow contest that could have gone either way.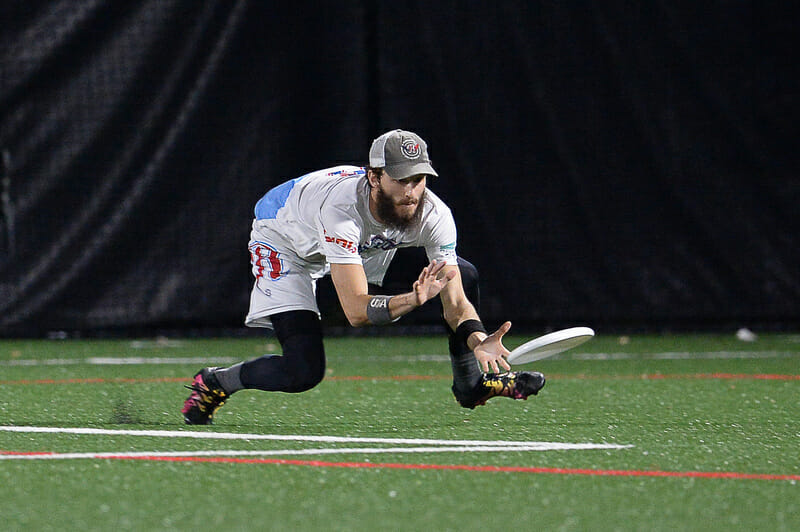 Our coverage of the 2021 AUDL season is presented by VII Apparel Co., who provides premium performance apparel for the active world, featuring their proprietary GreenLine fabric made from 100% recycled plastic bottles.
WASHINGTON, DC—On Friday night, the Raleigh Flyers beat the Chicago Union in overtime 21-20 to earn their place in the AUDL Final Saturday night.
Raleigh entered the game riding high off of its dominating comeback win over the DC Breeze last week, spoiling the potential for a home town appearance at Championship Weekend. Chicago likewise came into this game energized after coming from behind to win its divisional playoff game over Minnesota. Neither team showed an obvious weakness all season, and each coaching staff had their work cut out for them making in game adjustments.
Both teams worked to open up the deep game early. Despite some turnovers, each team held through most of the first quarter. Raleigh notched the first break when Ross Barker turfed an in cut and the Raleigh give-and-go end zone set went to work and gave the Flyers a 3-2 lead. After a Chicago hold, Drew Swanson laid out to block a potential score for Raleigh as the first quarter was ending, but Allan Laviolette elevated to earn the block back for the Flyers and the first quarter ended in a 3-3 deadlock.
Terrance Mitchell opened the second quarter scoring with tough grab on a flat huck sandwiched between two defenders.
Raleigh was leading, but fell into predictable offensive patterns. A few points later in an end zone set, Kurt Gibson intercepted a pass intended for Anders Juengst, but once again Laviolette earned a layout block to recover possession. His continue cut was spaced perfectly to milk a Mitchell throw to the end zone, and Raleigh led 8-7 as time ran out in the first half.
The second half marked a bit of a change from the back and forth first half. Play started well for Raleigh when Ethan Bloodworth boxed out Keegan North on a first point huck as the disc sailed over both of their heads, but Chicago's Nico Lake earned the disc back, laying out to block a reset. Janas fired a big around backhand that found Arters for a cagey hold. From there, Chicago took over: Eli Artemakis blocked a deep shot intended for Mitchell, but this time the Union D-line refused to give up the disc once they got. After a long possession, Nate Goff found Von Alanguilan alone in the end zone with just under eight minutes left as Chicago retook the lead 9-8. After getting broken, Raleigh sent out its D-line on offense and, after maintaining possession for nearly two minutes, the Flyers took their shot deep to Connor Russell. He jumped too early and the Union eventually scored — Gibson threw a long upline to Tim Schoch — to extend their lead to 10-8. Sol Yanuck's hammer to Mitchell stopped the bleeding, but the damage was done and the Flyers once again had to come from behind.
Raleigh patiently worked through Chicago's switching defense, but Anders Juengst broke off his in-cut as Henry Fisher was throwing to where he had been going and Gibson picked up another easy block as part of a 5-1 Union run to open the second half. Chicago went into the final twelve minutes up 13-11.
As it has the past few weeks, Raleigh found its footing in the fourth quarter. Eric Taylor crossed over to the offense and ripped a break side backhand to Fisher to open the fourth quarter scoring. Each team traded punches, dealing with sideline traps and rolling pulls along the way. Barker skied for a huck for Chicago, Mitchell legged out a huck for the Flyers. Pat Shriwise laid out to save possession for the Union, Laviolette chiseled cuts through the Union defensive switches. With just under two minutes left and Chicago leading 18-17, Raleigh scored their most decisive sequence of the game. David Richardson bodied Jack Shanahan off his route and Janas's throw sailed wide of his target. Raleigh called a timeout looking to tie the game and Laviolette found Matt Gouchoe-Hanas on the goal line to tie the score at 18-18 with 1:08 left.
On Chicago's ensuing possession, operating near their own back line after a beautiful Raleigh pull, Barker turfed an open in cut intended for Pat Shriwise. Saul picked up the disc immediately and squeezed a quick shot to Long with 36 seconds left. Suddenly Raleigh held a 19-18 lead. Facing a Raleigh defense putting a lot of pressure on downfield receivers, the Chicago offense moved methodically up the field. Not one to shy away from the big moment, Gibson found a diving Arters at the front cone with two seconds left to tie the game at 19-19.
Raleigh received to start overtime. Yanuck and Long, who joined the O-line rotation in the second half, passed inside flicks to each other to get around rolling Union defenders, before Yanuck found Mitchell alone in the back of the end zone with a blade. Chicago answered right back, with Janas running circles around his handler defenders. Raleigh worked the length of the field, again utilizing the inside lane to work around marks. In flow, Elijah Long flipped a lefty scoober to Laviolette on the break side, but Swanson launched himself at the disc and blocked it without a foul. Chicago picked up with 1:14 left and the game tied. Neglecting to use a time out, the Union D-line offense went to work and moved the disc up near midfield, but Jeff Robinson's late reset to Kurt Gibson was a bit behind him and tipped off Gibson's hand. With another chance, Yanuck's blade found Long in the end zone – almost to the same spot he hit Mitchell in a point earlier. The Flyers had a 21-20 lead with 19 seconds left in overtime.
Chicago received the pull and began racing up the field in the last few seconds of the game. Gibson's cross-field hammer deflected off an open Keegan North's hands, leaving Raleigh to run out the clock to close out their first semifinal win.
"I thought they played really good offense in the second half," Janas said after the game. "…I thought mostly in the second half it was our own mistakes that kind of sank us. Credit to them: I don't think we got a lot of defensive touches…we were trading for a long time there and you make a couple mistakes and that's the game in the playoffs, that's the difference."
For Chicago, Barker scored a whopping eight goals, but was just 11/14 throwing, with some particularly poorly timed unforced errors. Janas was 64/65 throwing with eight assists, more than doubling anyone else on his team in completions. Arters added to his stat-packed rookie campaign with six goals and two assists. Swanson and Gibson each came up with two clutch blocks, and the Union can bank this game as a memory to build from as they move on to the 2022 season.
"We just talked about this in our [post-game] huddle," Janas said. "I think this is a new floor. From now on we expect to make Championship Weekend and beyond."
On Raleigh's side, Yanuck was 69/71 throwing with five assists and a goal. Laviolette had four assists and a goal while Mitchell caught four goals and threw an assist. Long, vital to the O-line in the fourth quarter, had two assists, three goals, and a block.
Reflecting on the win, Flyers captain Eric Taylor was elated. "I definitely think that in terms of the team culture and what we've been trying to accomplish, it is super meaningful," he said. "Obviously it's vindicating to get the kind of win that we keep saying that we can get. The never-say-die, stay in it 'til the end, play the fifth quarter kind of situation. When we watch the tape back in the morning I'm sure we'll see a lot of things in the first half hopefully we can learn from, but it's super validating to know we can pull it out in the end."
Raleigh has a big test ahead in the New York Empire. The two teams played a close game already this season — New York won in sudden death double overtime on August 7 — and just came off impressive wins, albeit in different ways. New York will have to contend with a Flyers team that has a strong scouting report; Empire players Jack Williams and Ryan Osgar are playing with many of the Flyers on Raleigh club team Ring of Fire, and Raleigh's Carleton alumni are familiar with the Empire's stars — Osgar and Ben Jagt — from their time together playing club together in Minnesota.
If Raleigh plays a cleaner game, it's depth will shine through in this matchup. Against Chicago, the Flyers gave away six red zone turnovers, and they'll need to do better against an Empire team that just proved it punishes mistakes. However, if the Empire need to rely on the stars of their top-heavy roster too much to punish those mistakes early in the game, the Flyers might have another comeback in store against the potentially tired legs of their well known adversaries. You can watch the AUDL final live on AUDL.TV Saturday night at 7pm with Ultiworld's pregame show starting at 6pm eastern.