Molly Brown had one of their best-ever wins against an elite opponent in the Pro Championships final.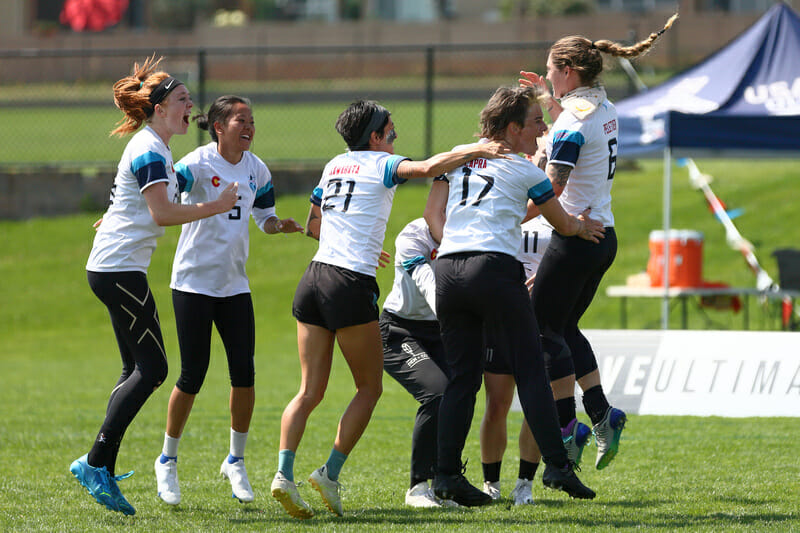 The stage of the Pro Championships Women's Division final was set with intrigue, as #3 Boston Brute Squad and #2 Denver Molly Brown took the field on Labor Day. A number of uncontrollables — swirly wind in the valley in which the field was situated, compounded by the exhaustion of playing in the heat across the long weekend — seemed to have evened out the playing field in the previous game: the men's final between Seattle Sockeye and Washington DC Truck Stop. As the crowd buzzed from the exciting twists and turns of that match, many wondered: would Molly Brown bring the same kind of potent underdog energy to their final as Truck Stop had? Would Brute Squad be able to stay collected and execute as dominantly as they had all weekend to clinch the title they were favored to win?
Results from Saturday's matchup of these familiar rivals might have forecast a close game, but one where a disciplined Boston offense — from both O- and D-lines — would have been in the driver's seat all the way to a decisive win. Early in the game, it appeared that history might repeat itself when an unforced misthrow by Molly Brown set up Brute Squad for their first break by Claire Trop. Molly, though, turned things around in a big way. Not only did they manage to pull ahead to take half up 8-6, but they also widened their lead and upset Boston to clinch the Pro Championships title 15-11.
How did the hometown underdogs emerge victorious in their rematch against Brute Squad? Looking at the pivotal moments of the game with the context of both teams' trajectory through the weekend can offer some insights into why this game defied expectations and what a future rematch may bring for both of these elite teams.
From the first point, Molly Brown seemed to make defensive adjustments based on scouting Brute Squad's style of play. Molly Brown's marks were flatter, making the IO flick throw Brute Squad's handlers used to shred the field in previous games significantly less viable. Boston was able to make quick work of this defense at first, with clean holds on their first and second offensive possessions, where they took advantage of the steps that Molly Brown's defenders were giving them to work it swiftly up the force side.
Molly's Game: A Complete Performance in the Pro Champs Final is only available to Ultiworld Subscribers
Already have a subscription? Log in
Whether you visit Ultiworld for our reporting, our podcasts, or our video coverage, you can help us continue to provide high quality content with a subscription. By becoming a subscriber, not only do you receive benefits like exclusive articles and full article RSS feeds, you also help fund all of Ultiworld's coverage in general. We appreciate your support!