The Irish have arrived, but the Italians keep them at bay.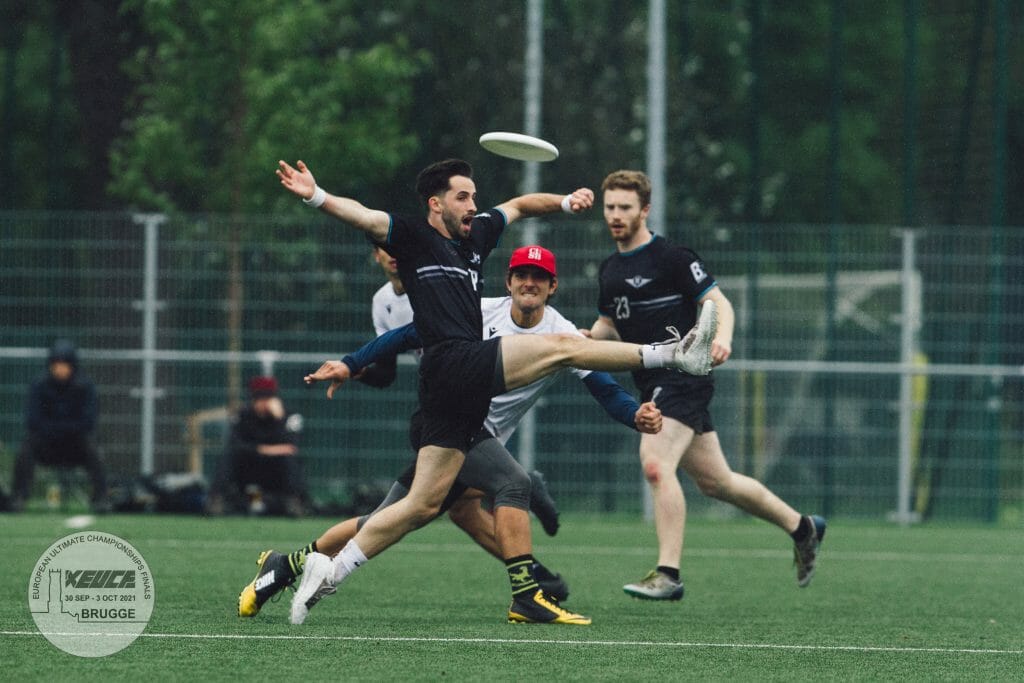 In an intense semi-final CUSB La Fotta (Bologna) have put an end to Ranelagh (Dublin)'s impressive run 15-13. The momentum shifted more than once, but La Fotta was held their edge in the end.
Although experts had high expectations of KFK (Copenhagen) ahead of their quarter final match up with CUSB, La Fotta were up comfortably from start to finish. Ranelagh had to put more effort into their universe quarter against a tough Bad Skid (Heilbronn, Germany).
Ranelagh came out razor sharp going on a fast two point run against the Italians. The opening was messy with lots of turnovers for a semi-final. Both teams opted for an deep game, which was often intercepted or miscalculated. The Irish lads put heavy pressure on the CUSB offense, but Bologna still managed to turn 1-2 into 3-2 with a double break. Pull plays with Matthew Feely and Ferdia Rogers on the receiving end kept Ranelagh in pursuit. Both sides traded until 7-7. Simone Gasperini thanked Arturo Laffi for trusting him with a spectacular catch to win the half.
Despite CUSB starting on offense, Ranelagh did not give up and Tadhg Deevy finished off the open side play for the break. The Dublin-based team smelled blood and set up a tight zone to force a turn and break back to back to take the lead 10-9. Ranelagh tried to push through with Niall McCarney coming one inch short for a lay-out D and possible two point lead. Instead they literally let momentum slip out of their hands throwing one pass in the ground and fumbling in the end zone the next point. CUSB capitalized on these mistakes bringing them to the edge of victory 14-12. When Luca Tognetti almost got a lay-out D and Deevy jumped at the deflected pass to score the point 14-13, the crowd believed in a Ranelagh tournament.
Unfortunately for the atmosphere, Michele Angella timed his sky perfectly and served Laffi to unleash the Italian joy and send CUSB to a rematch of the 2019 final against Clapham.
McCarney held his head up high right after the hard loss, "No-one expects something of Irishmen, but we changed that perspective. It's a hard loss, but CUSB is an athletic, patient and experienced side. But we'll be back."
Injured player Giovanni 'Cioppo' Satnucci realizes CUSB will have to step up their game against Clapham, "If you look at the tournament we had, you would say Clapham will definitely beat us. But that could also be said about our last EUCF. Ranelagh play similar to Clapham and in difficult circumstances we endured."