The first French women's title!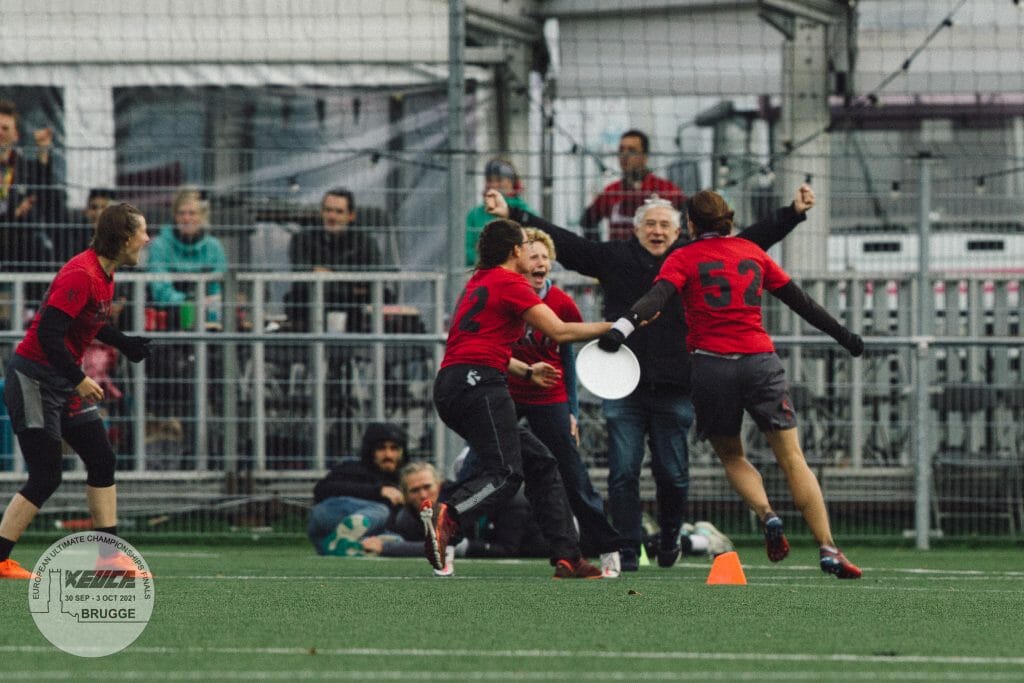 YAKA (Noisy-le-Sec) are European champions, soundly defeating 2019 reigning champions CUSB Shout (Bologna) 15-9 in a relatively one-sided final. The Frenchwomen were confident in their defensive abilities going into the game and showed them off in a stunning second half, where they scored seven consecutive breaks to decisively take any sense of drama out of the game.
The teams had reasonably similar paths to the final, with YAKA not conceding more than nine points in any game and Shout doing so just once1. Neither team had been stretched or challenged for a full game but knew each other very well. Shout have been YAKA's Kryptonite for several years, knocking them out in the semifinals of EUCF 2019 on their way to a first title. The Parisians won a universe point game over Shout at a preparation tournament in Bern recently, so they were feeling confident coming to Bruges.
The first point would have dented that confidence. A YAKA miscue on an upline pass gave the disc to Shout for a chance at a break on the first point. A huge huck from handler Linnea Seibert to a bidding Ana Diaz gave the Italians first blood and immediately put their French opponents on the back foot.
The teams traded for the next few points, seemingly feeling each other out. Unfortunately, the huge turning point in the fifth point, with the score at 2-2, was nothing to do with a great play. Shout captain and star offensive cutter, Irene Scazzieri, got up to block a huck after YAKA's D line earned a shot on offense. She landed awkwardly on the turf field and was clearly in some distress, her teammates rushing to her aid before she crawled off the field. She did not return to the game, and early indications on her injury are not positive.
Despite the emotional blow of losing Scazzieri, the Italians held on that point. It wasn't until the game was tied at 3-3 that YAKA began to make inroads on the Shout offense. A high-stall huck turn gave YAKA's D line a chance and they duly took it. Robyn Fennig assisted to Mélina Dabin to put the game back on serve. They snuck ahead for the first time on the next point, breaking with a beautiful inside flick from captain Aline Mondiot to her fellow EuroStar Inês Bringel to send the score to 5-3.
Shout were not to be rattled. They began playing an aggressive zone targeted at hurrying and limiting YAKA's handlers and, after the teams traded a few holds, took a break back to level the scores at 6-6 thanks to an arcing flick from Gaia Pancotti. They broke again for a three-point run of their own on the next point. Seibert sent another huck downfield for a sliding Anna Ceschi who popped it up for Pancotti to catch the score. An offensive hold for each team from there sent the game to half at 7-8.
Shout had the opportunity to really make their break advantage count by coming out of half with the disc, but YAKA stepped things up after the break. They threw an aggressive zone of their own and a Shout drop gave them a short field, which Mondiot converted with a leading hammer to Fennig. The throw was one of Mondiot's nine assists for the game in a tour de force performance.
The next point saw a Shout huck drift too far. Fennig took apart the Italian zone with two expansive blades and YAKA went up 9-8 when Mondiot caught her only goal of the game. The next point was messy, but YAKA broke again. This quickly became a theme. Shout's offensive rhythm completely deserted them, while YAKA's offense after turns was gaining yards and being driven by all four stars: Fennig, Mondiot, Bringel and another former EuroStar, Dutch player Paula Baas2. At least one of the four was on every line and they were doing a huge amount of heavy lifting with the disc.
YAKA broke five more times in a row, taking the total to seven consecutive breaks since half. In those seven points they had four turns, their offense humming and their defense closing every lane and pressuring every catch. Shout tried everything they could to stem the flow but were clearly thrown by losing Scazzieri and heads began to drop. To their immense credit they never gave up and managed to score to take the score to 14-9 in a mammoth point featuring six turns. All that did, though, was delay the inevitable. On the next point YAKA were able to put in the winning score, Mondiot fittingly throwing the assist to Anne Le Borgne for her first goal of the game.
Mondiot was delighted with the win. When asked what it felt like to be a European champion, she said it hadn't yet sunk in. "For me personally it was the final that I wanted, to play against CUSB. They are my friends, since we met them in 2013. Today it was our time. The second half was one-sided and I don't know exactly how, our pressure on defense I imagine, and now I am waiting for next season because it will be the same final and this was a battle."
She has previously lauded her team's ability on defense and that came through in spades today. "We knew that even if we had a lot of turnovers during a point, we could make each defense. We knew that even if they scored some points we could have the last word, and even if they score we had big confidence that we are a good team and we would score for sure another break."
Shout were obviously disappointed, but their thoughts were occupied by concern for Scazzieri and the feeling of what might have been had injuries not interrupted their season. "We are a little bit upset because we were really focused on playing a good game but it was not easy even if the weather is a bit better because of the injury to Irene," said offensive captain Cecilia Scagliarini. Injured star Laura Farolfi said that they had lost almost half of their offensive line in the last two weeks and were dealing with a number of injuries.
"After the half things were not clicking," added Farolfi. "YAKA have been very good, it's fair to congratulate them. We tried to do what we could after this year but we have had a lot of bad luck. We tried to work on a new system and half of the players that were able to play it were not here. When you start to lose confidence in your throws and your catches, we got stuck so we couldn't offer the continuation. I think the D was pretty good so we had many chances but somehow we couldn't find our flow."
Farolfi said that the leadership was proud of the team for fighting to the end, "Shout have a history of coming back from way worse so this is why I want to congratulate YAKA. We were close to coming back a few times, we lost the disc near the end zone a few times, but they were more chilled with the disc in their hands. They have very amazing throwers, well done to them. We think we are a great squad, we played four finals in the last six years and managed to win two years in a row and then play another final. I think we should be proud of that."
The last word, though, should go to the champions. "It is amazing to win," said Mondiot. "It is a group of friends now. Everyone trains, they come to train with us and we are connected every week to know how we all train. We talk a lot and I am very happy now after all the work from this group. After Cincinnati, it will start a new wave of YAKA."
Final Ranking
1. YAKA (Noisy-le-Sec, France)
2. CUSB Shout (Bologna, Italy)
3. Gravity (Dublin, Ireland)
4. SUFC Valkyria (Stockholm, Sweden
5t. LUV (Leuven, Belgium)
5t. jinX (Berlin, Germany)
7t. 3SB ( České Budějovice, Czech Republic)
7t. Freespeed Ladies (Basel, Switzerland)
9t. DiscoBolo (Bologna, Italy)
9t. Heidelbarchen (Heidelberg/Karlsruhe, Germany)
9t. Troubles (Warsaw, Poland)
12t. Mantis (Vienna, Austria)
12t. Box (Vienna, Austria)
12t. Flowers (Wroclaw, Poland)
15t. Terrible Monkeys (Prague, Czech Republic)
15t. DUC (Copenhagen, Denmark)
15t. FABulous (Bern, Switzerland)
---
CUSB had a 15-11 win over Czechs 3SB in the quarter. ↩

Who was playing on a stress fracture in her foot. ↩