My best guess at USAU's seeding.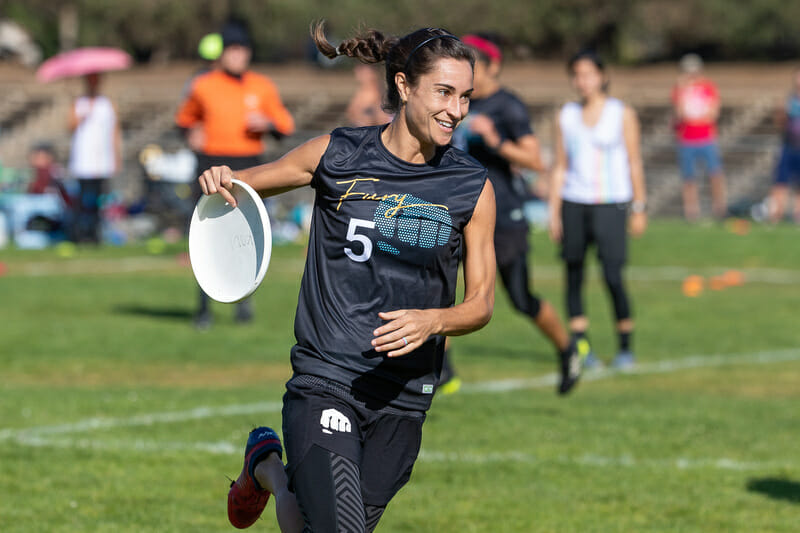 Ultiworld's club women's postseason coverage is presented by Spin Ultimate; all opinions are those of the author. Gear up for your big games, your tournament parties, and everything in between at Spin Ultimate!
In recent years, predicting the seeding at Nationals has been a simple task, one that follows a consistent pattern and rarely yields surprises. But in 2021, a year that had teams skipping the regular season and no rankings in sight, it's going to be much more of a subjective task. The basic rules are the same, but without the rankings that typically create a clear structure for the seeding, results from two years ago could end up mattering a lot more than usual.
Here's what you need to know: seeding is based on "results prior to the postseason (e.g., head to head, common opponents, tournament finish), input solicited from all the captains of participating teams, results of the 2019 season, and other applicable information." The order of Regionals finishes will be "strongly considered in determining seeding" but are not binding. I suspect, though, that they will be weighted more heavily this year than in years past, given the nature of the season.
I will be using the unofficial copycat USAU rankings on Cody Mills' Frisbee-Rankings.com to provide a basis for seeding as well — it would not surprise me if USAU did the same!
Let's kick things off right away with the pools generated by my predicted seeding.
| POOL A | POOL B | POOL C | POOL D |
| --- | --- | --- | --- |
| Fury (1) | Molly Brown (2) | Brute Squad (3) | Phoenix (4) |
| Bent (8) | Schwa (7) | Riot (6) | Traffic (5) |
| Siege (12) | Rival (11) | Parcha (10) | Nemesis (9) |
| Pop (13) | Wildfire (14) | Nightlock (15) | Tabby Rosa (16) |
1. San Francisco Fury
Fury is unbeaten in 2021. Not just that, they've dominated in almost absurd fashion, winning the Southwest Regional final 13-5 over Nightlock. Combine that with their history and their superb roster and you've got a lock #1 seed.
2. Denver Molly Brown
Molly earned themselves the #2 seed with a win over Brute Squad in the Pro Championships final. Their only loss is to Brute, earlier in the same tournament.
3. Boston Brute Squad
The defending champs will be the #3 seed this year after losing to Molly in the Pro Champs final. They could have been the #1 seed had they won the game. Dominant performance in the postseason, as impressive as Fury's if not more so.
4. Raleigh Phoenix
I think Phoenix did enough to prove they deserve this spot over Traffic. Their two wins against Schwa were 15-5 and 15-10; Traffic beat Schwa 13-10 at Regionals. Phoenix's only losses have come narrowly to Molly and Brute.
5. Vancouver Traffic
Let there be no doubt that Traffic is still legit. They dominated at Northwest Regionals and got big victories over Schwa and Riot.
6. Seattle Riot
It may be a rebuild year for Riot, but they are still a force in the division. They got the key wins against Schwa to take second in the Northwest, and given Schwa's performance against the field during the regular season, that floats Riot right up here to #6.
7. Portland Schwa
Schwa was looking like a potential top four seed but injuries have plagued them and they ended up dropping from the Northwest frontrunners to third in the region. They should end up here at #7.
8. New York Bent
1-0 v. Nemesis. 1-0 v. Parcha. BENT looked great at full strength at Regionals against everyone but Brute.
9. Chicago Nemesis
The rankings really like Chicago, who mostly handled their business against teams besides those seeded above them. They did lose a game against Rival earlier in the season, but they were clearly the better team at Regionals.
10. Pittsburgh Parcha
This is where the rankings are really handy. Parcha did have a loss to Tabby, but on the whole, their resume is quite a bit better. I'm leaning on the rankings here. It will be interesting to see how USAU handles this situation, because Parcha has no wins over Nationals teams and is 0-1 vs. both Bent and Tabby.
11. Columbus Rival
I'm going with Rival here at #11 since they have wins over Tabby and Nemesis and the algorithm likes them more than Siege and Pop. This gets pretty subjective due to lack of crossover competition.
12. Boston Siege
Siege had the stronger results in 2019 compared to the teams seeded below them that could feasibly take this slot. That's my tiebreaker in this instance. They've played almost entirely local teams, so their only losses are to Brute and BENT. They don't really have any notable wins.
13. Minneapolis Pop
Undefeated but against weaker competition. Maybe a sleeper team?
14. San Diego Wildfire
The second place finisher in the Southwest. I have no idea how you decide where to seed this team. I went off the rankings.
15. San Francisco Nightlock
The third place finisher in the Southwest. I'm respecting Regionals results in all divisions.
16. Florida Tabby Rosa
A nice win over Parcha but a lot of inconsistency and some punishing losses (Virginia Rebellion, Colorado Small Batch). Going with the rankings here. You could consider swapping Tabby and Nightlock to avoid regional rematches, but the rankings really suggest that Tabby should be the last seed.