GRUT get revenge on the Latvians!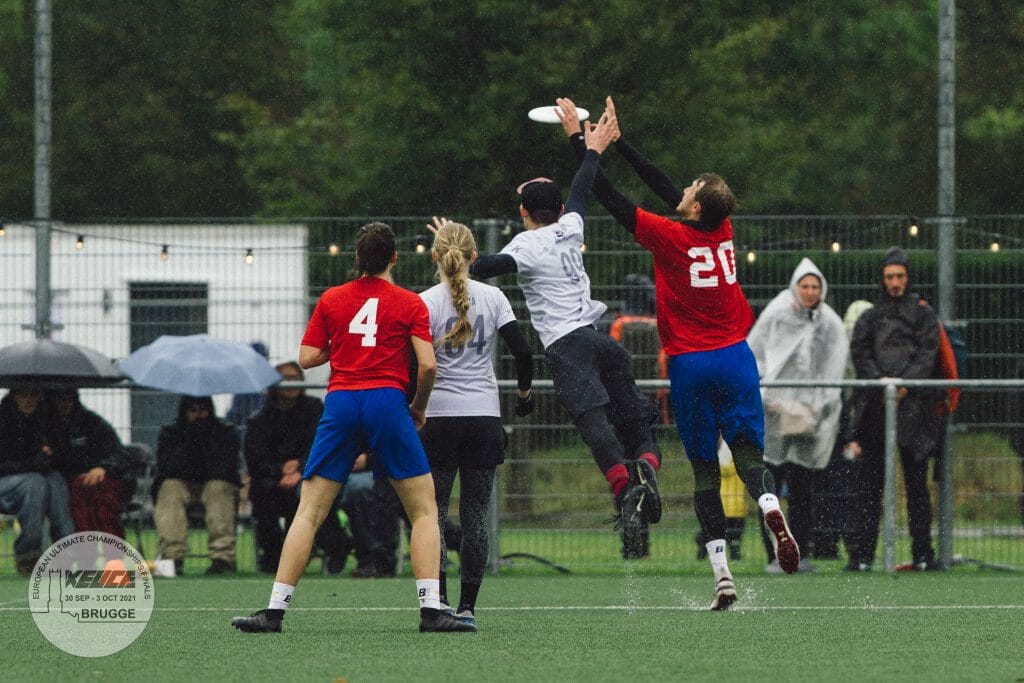 The 2021 XEUCF mixed final turned out to be a repeat of the 2019 final between tournament favorites GRUT (Amsterdam) and Salaspils (Latvia). This time GRUT took the win 15-12 over the Latvians to reclaim the European crown.
Both teams made it to the final game of the tournament undefeated. However, GRUT earned their spot in the final seemingly effortlessly, as no team was able to score double digits on them throughout the tournament. During semifinal, they dominated their match against Flow (Wroclaw), with a score of 15-6.
Meanwhile, Salaspils faced a more challenging semifinal against PuTi. They fought through the mud and the Finnish pressure and put themselves back in the final against the strong Dutch team. Yet in spite of this trial by fire they were seemingly unprepared for the start of the final.
GRUT started off strongly with a hold and two breaks to go up 3-0. Strong defense play of new GRUT player Eline Wilhelm and a missed Salaspils connection in the end zone allowed GRUT to establish a lead.
After taking a time out, Salaspils came back strong. Starting off with a huge scoober from Santa Sinica, they were able to go on a 3-0 run of their own to tie it up. The teams traded to 5-5 then GRUT reestablished their lead to 7-5. GRUT kept their nerves under control, and continued to play their game, positioning the disc just right.
GRUT's Tom Blasman established himself early in the game as a main handler on GRUT, and was key to their success in the first half.  Both teams decided for a mostly conservative game using short swing passes and avoiding the huge risks that both teams are typically famous for. GRUT seemed to be able to stick to their game plan more during the half. GRUT held on to their lead and Floor Keulartz made a powerful cut down field and took the disc between Lāsma Kublicka and Helen Tera 8-6.
Salaspils started the second half on offense and came out confidently with a huge catch from star player Arvīds Žanis Orlovskis to bring it to 8-7.
GRUT's Walt Jansen made a throwing error and the crowd was treated to a huge grab by Lāsma Kublicka. This catch was emblematic of the battle she had with Keulartz all game. Sadly Kublicka overthrew Tera and GRUT were able to score 9-7.
After a Salaspils hold that included a visionary throw from Orlovskis to Sinica, GRUT had two turnovers on their offensive point. The latter of which was a brilliant defense on a slight over throw in the Kublicka vs Keulartz matchup. Kublicka then threw a beautiful huck that was caught under pressure by Toms Ābeltiņš who seemed to over throw Tera for the score, but the Estonian shifted into sixth gear and made a heroic grab for the equalizer at 9-9.
This would be the last time that the score was this close. GRUT went on another 3-0 run to make it 12-9. From there on teams traded points until the end and on the final point Lola Dam threw a high release break to Chris Harris. Orlovskis threw his body at the disc to try and prevent the score but Harris secured the catch and clinched gold for the Dutch.
The teams were evenly matched for much of the game, but fatigue likely played a role in GRUT's final 3 point run to give them the buffer they needed to win the match. This could be due to Salaspils' shorter roster having only 20 players compared to GRUT's 27. Furthermore, Salaspils had a very tough semifinal against PuTi whereas GRUT cruised their way to the gold medal match.
GRUT's Ben Oort was thrilled with how his team played. "Obviously getting revenge on Salaspils was great, but doing it in this fashion was even better. I really enjoyed the fact that we played the final with all 27 players and everyone had their part." Oort has just found out that GRUT have secured a bid to WUCC next year, but they aren't quite done yet with this season. "Winning euros, and hopefully nationals this weekend will be a great way to wrap up the short 2021 season. We'll work through the winter and get ready for the 2022 season."
Salaspils' Lāsma Kublicka was positive about the match. "We have been waiting for two years to play awesome matches against teams like PuTi and GRUT. We knew that GRUT would do all they could to take back their EUCF gold. Especially since coming into this game we were 1-1 on finals.1 We integrated some new players and lost some older ones over the pandemic. With all that we are happy with how we played." Kublicka threw in a small reminder, "We practice separately and we are still, at our core, an open/women's club. We just sometimes come together for some fun."
Final Ranking
1. GRUT (Amsterdam, Netherlands)
2. Salaspils FK (Salaspils, Latvia)
3. PuTi (Helsinki, Finland)
4. Flow (Wroclaw, Poland)
5t. Catchup (Graz, Austria)
5t. Guayota (Tenerife, Spain)
7t. KFUM Örebro (Örebro, Sweden)
7t. Sesquidistus (Strasbourg, France)
9t. PELT (Limerick, Ireland)
9t. PUC (Paris, France)
11t. Left Overs (Brno, Czech Republic)
11t. Monkey (Grenoble, France)
13t. Colorado (Karlsruhe, Germany)
13t. FlyHigh (Lausanne, Switzerland)
15t. Mainzelrenner (Mainz, Germany)
15t. UFO (Utrecht, Netherlands)
17t. Hässliche Erdferkel (Marburg, Germany)
17t. Glory Owls (Brussels, Belgium)
19t. CUSB Red Shot (Bologna, Italy)
19t. Flying Rabbits (Brussels, Belgium)
---
GRUT beat Salaspils in the 2018 Windmill final, while Salaspils won against GRUT in the 2019 EUCF final ↩