GRUT isn't as young as they used to be but they still find their way back to the final!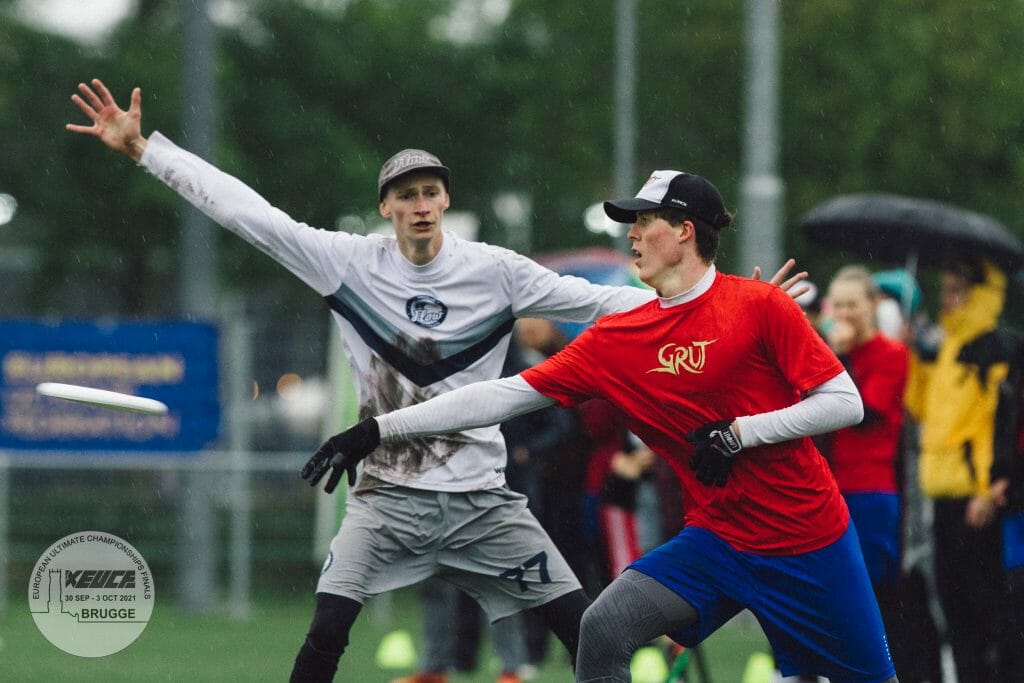 GRUT (Amsterdam) has gone undefeated through semis and are the first contestant of XEUCF finals. In their semifinal against challenger Flow (Wroclaw), which ended with a score of 15-6.
Flow has had struggles throughout the tournament to show their lead, starting their semis with memories of their tough quarterfinal (12-11 against KFUM Örebro). Even though they won in the end after being inferior for the longest part of the match with the Swedes, they were able to advance to semi's after a race to win when they realised their until that point mediocre play could cost them their chance to play at the finale. On the due to the weather most demolished field of the tournament, Flow was able to turn it all around in their favor.
GRUT started into the semi's in a not as harsh, yet still unsettled position.  Their quarterfinal matchup saw Catchup (Graz) scoring the most points against them of any opponent, 15-9. The Austrians have moved into quarterfinals with the absolute minimum number of wins needed, having only two victories in their books. However, they put their best cleat forward and gave GRUT an incredible hard first halftime and ending with a score of 15-9, which is the highest score anyone has made so far against GRUT in this year's XEUCF.1
Starting off the game, GRUT took the lead right away with a score on offense and getting the break right after, thanks to the smart positioning of Isa Monkau and the assist of Foeke Schaap after picking the disc right out of the then still somewhat dry sky. GRUT put up a highly effective zone in their defense play, forcing Flow to keep it conservative in their play. As was according to GRUT'S plan, after a hundred caught discs, there had to be one drop. The cold, wet weather and the pressure of the upcoming final played into GRUT's hands and made Flow lose their offense one after another. Their main receiver Lola Dam2 managed to get rid of her defender on every single cut and throughout the game, she proved herself worthy of her position as a captain. Only after 4-0, there was the first drop on GRUT's side just after they gained offense and Jasper ten Haken was not able to get a good grip on the soaked disc. Even then, Flow was not able to convert their chance on their first point. Co-captain Daniel Błach put on a strong defense game on GRUT, forcing a some turns.
Their second co-captain, Bartłomiej Specjał, secured Flow's first point at 5-1 after a struggling point, but GRUT gained it right back with Ben Oort with the assist of Walt Jansen. Now that Flow has finally smelled blood of their opponents, they managed to score a second point thanks to the great defense of their female layout star Natalia Nędzi. Flow, who have been playing person defense, has inspired GRUT to match the same way.However, this allowed Flow score their third point by co-captain Małgorzata Czaplińska with GRUT's Floor Keulartz not being able to keep up with her high speed. However, Keulartz was able to make up for it later when scoring a Callahan which was contested but seems to be in when watching in slow-motion. The game moved on in GRUT's dominant speed. With quick breaks of an easy score and a beautiful positioning game, both from Adam Łepak. As the rain got worse, Flow was able to improve the game, scoring their sixth and final point against GRUT. At this point, the Dutchies made two more points and ended the game early at 15-6.
GRUT is starting into the final with an expectation to win against Salaspils, as both of them went undefeated but GRUT has not been tested at all. Watch the livestream at 10:40 CEST and make sure to be first to know how the rematch of the last EUCF final will go down!
---
Guayota also had the same scoreline against the Dutch ↩

who else would it be, really? ↩