40 games live and on-demand!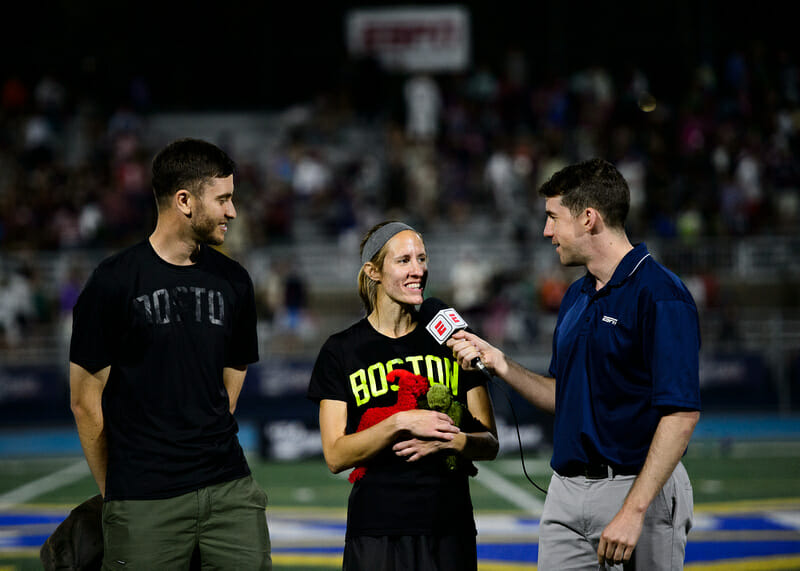 The 2021 USA Ultimate Club National Championships are finally here! Beginning at 12 PM Eastern on Thursday, October 21st, you can tune in for live coverage of the event in San Diego.
Video coverage is going to be available on YouTube and Ultiworld.com/live on Thursday, Friday, and Saturday, before the coverage shifts to ESPN3 starting on Saturday afternoon.
Here is the full broadcast and video schedule for the Club Championships:
Thursday
| GAME | DIVISION | TIME (ET) | WATCH |
| --- | --- | --- | --- |
| Michigan Hybrid (9) vs. Minneapolis Drag'n Thrust (4) | Mixed | 12:00 p.m. ET | ultiworld.com/live |
| Pittsburgh Parcha (16) vs. Vancouver Traffic (5) | Women | 12:00 p.m. ET | ultiworld.com/live |
| New York PoNY (9) vs. Atlanta Chain Lightning (5) | Men | 2:15 p.m. ET | ultiworld.com/live |
| San Francisco Nightlock (11) vs. Denver Molly Brown (2) | Women | 2:15 p.m. ET | ultiworld.com/live |
| Nashville Shine (11) vs. Arizona Lawless (7) | Mixed | 4:30 p.m. ET | ultiworld.com/live |
| SoCal Condors (11) vs. Washington D.C. Truck Stop (7) | Men | 4:30 p.m. ET | ultiworld.com/live |
| Washington D.C. Space Heater (6) vs. Seattle Mixtape (3) | Mixed | 6:45 p.m. ET | ultiworld.com/live |
| San Francisco Revolver (6) vs. Raleigh Ring of Fire (3) | Men | 6:45 p.m. ET | ultiworld.com/live |
| Lexington Sprocket (10) vs. Seattle Mixtape (3) | Mixed | Tape Delay | Ultiworld VOD |
| Denver Johnny Bravo (10) vs. Raleigh Ring of Fire (3) | Men | Tape Delay | Ultiworld VOD |
| Pittsburgh Temper (12) vs. Portland Rhino Slam! (8) | Men | Tape Delay | Ultiworld VOD |
| Columbus Rival (12) vs. New York BENT (8) | Women | Tape Delay | Ultiworld VOD |
| Boston Slow (8) vs. Fort Collins shame. (1) | Mixed | Tape Delay | Ultiworld VOD |
| San Diego Wildfire (10) vs. Seattle Riot (6) | Women | Tape Delay | Ultiworld VOD |
| Washington D.C. Truck Stop (7) vs. Chicago Machine (2) | Men | Tape Delay | Ultiworld VOD |
| Vancouver Traffic (5) vs. Raleigh Phoenix (4) | Women | Tape Delay | Ultiworld VOD |
Friday
Saturday
Sunday