Which squad of mixed Nationals players would come out on top?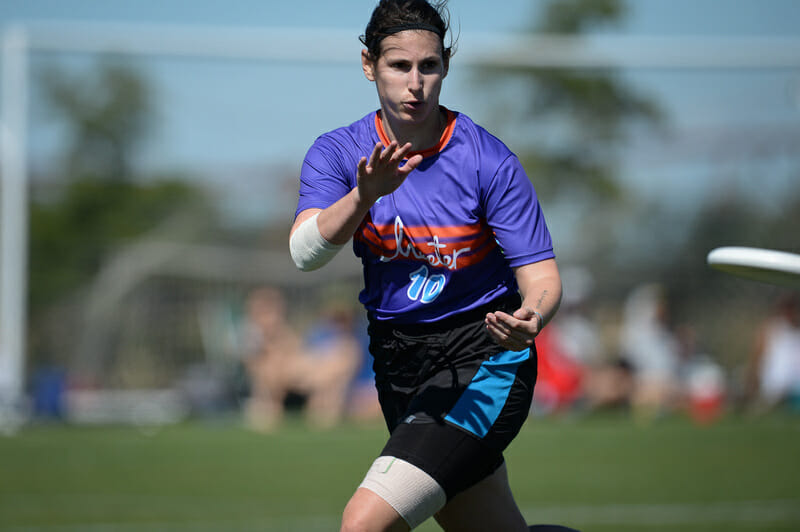 Ultiworld's 2021 coverage of the club mixed postseason is presented by Universe Point cleats; all opinions are those of the author(s). Check out Universe Point if you are looking for a comfortable, ultimate-specific cleat with a patented stud pattern that can give you an edge every time you're on the field.
Ultimate isn't yet to a place where franchises are paying general managers to go out and draft or sign the best players to compete for their club. But that certainly won't stop us from pretending it is!
We're back for another one of our favorite annual exercises around the Club Championships — matching our wits against each other in trying to draft the best team of players to win a championship right now made up of those attending Nationals. This year, we're pitting a pair of Ultiworld staffers against one lucky Ultiworld subscriber who was selected in our Discord.1
Our participants as theoretical GMs for the mixed division draft are Staff Writer Alex Rubin, Senior Editor Keith Raynor, and subscriber Leon Vitaliano, an 18-year-old student trying to finish high school in Switzerland who has been playing ultimate for seven years. As has been the case in past drafts, your job as readers is to vote for the GM you think selected the best roster, and let us know where we went wrong in the comments.
We drafted eight players per team. Without further ado, let's get to the draft grid:
| Round | Alex | Leon | Keith |
| --- | --- | --- | --- |
| 1 | Tannor Johnson (Sprocket) | Khalif El-Salaam (Mixtape) | Sarah Meckstroth (Drag'n Thrust) |
| 2 | Linda Morse (AMP) | AJ Merriman (Space Heater) | Robyn Fennig (Madison NOISE) |
| 3 | Jenny Fey (Space Heater) | Sandy Jorgensen (Space Heater) | Nick Lance (Shame) |
| 4 | Aubree Dietrich (shame.) | Nicky Spiva (AMP) | Kelly Johnson (Mixtape) |
| 5 | Dom Cavalero (Mixtape) | Jamie Eriksson (Lawless) | Caleb Denecour (Drag'n Thrust) |
| 6 | Bryan Vohnoutka (Drag'n Thrust) | Amber Sinicrope (Space Heater) | Manny Eckert (Mixtape) |
| 7 | Nick Snuszka (shame.) | Raha Mozaffari (AMP) | Joe Freund (Space Heater) |
| 8 | Hallie Dunham (Love Tractor) | Alan Kolick (Space Heater) | Jesse Shofner ('Shine) |
Here is what the drafters had to say about their picks:
---
Subscribe to Ultiworld today as part of our annual membership drive to gain access to our Discord community, as well as many other benefits of subscription! ↩
Club Championships 2021: Ultiworld Fantasy Draft (Mixed) is only available to Ultiworld Subscribers
Already have a subscription? Log in
Whether you visit Ultiworld for our reporting, our podcasts, or our video coverage, you can help us continue to provide high quality content with a subscription. By becoming a subscriber, not only do you receive benefits like exclusive articles and full article RSS feeds, you also help fund all of Ultiworld's coverage in general. We appreciate your support!