shame.'s approach to the 2021 season is goalless and fun-focused.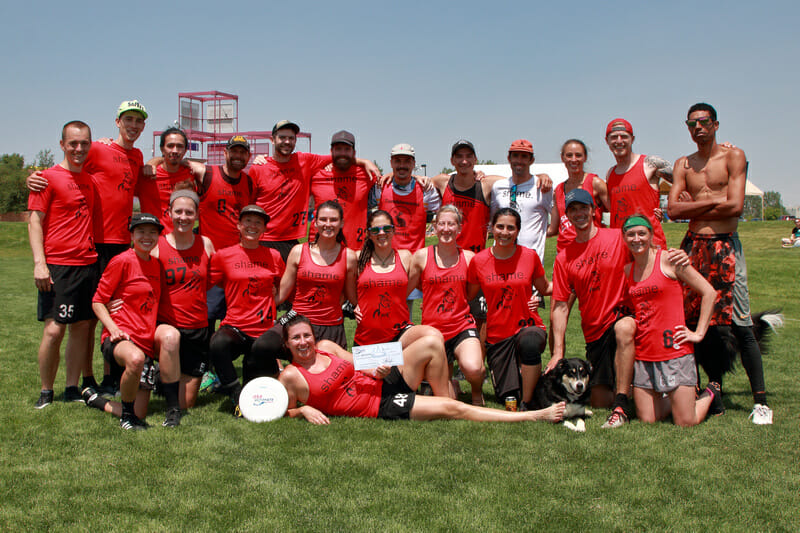 Ultiworld's 2021 coverage of the club mixed postseason is presented by Universe Point cleats; all opinions are those of the author(s). Check out Universe Point if you are looking for a comfortable, ultimate-specific cleat with a patented stud pattern that can give you an edge every time you're on the field.
"We're winners… if you don't set goals then you can't fail to reach them," – shame.'s Captains
Many teams and ultimate communities took the extended 2020 break to retool or reset. Arizona Lawless was born out of a community restructure in the Phoenix area, Nashville 'Shine and Boston Sprocket popped up as Nationals contenders, and plenty of big name players shifted over to the mixed division (hello Robyn Fennig and basically half of the 2019 Riot roster). Amidst all of the turnover, transition, and change, Fort Collins is sending the "same old shame.", team captains Ashley Daly Morgan, Ryan Morgan, Marilyn Reich, and Spencer Tibbs wrote to Ultiworld. "White claw, Hucks And Chaos."
Fort Collins shame., 2019 semifinalists, rolled through the 2021 regular season and are entering this year's Club Championships as the top seed. Even without explicit aspirations, and with healthy doses of comradery, swag, and hype, it's possible that the goalless team might accomplish the ultimate prize.
Goals Don't Win Games is only available to Ultiworld Subscribers
Already have a subscription? Log in
Whether you visit Ultiworld for our reporting, our podcasts, or our video coverage, you can help us continue to provide high quality content with a subscription. By becoming a subscriber, not only do you receive benefits like exclusive articles and full article RSS feeds, you also help fund all of Ultiworld's coverage in general. We appreciate your support!