BFG avenge their 2019 quarters loss.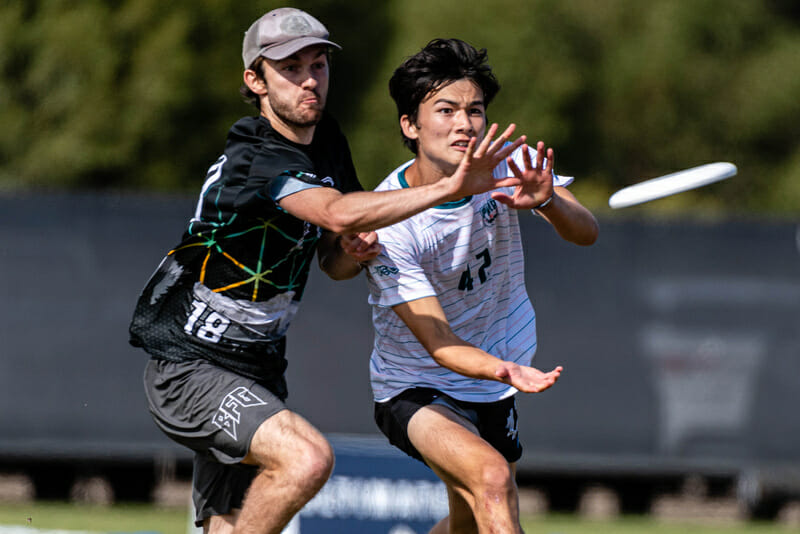 Ultiworld's 2021 coverage of the club mixed postseason is presented by Universe Point cleats; all opinions are those of the author(s). Check out Universe Point if you are looking for a comfortable, ultimate-specific cleat with a patented stud pattern that can give you an edge every time you're on the field.
SAN DIEGO – #1 Seattle BFG and #4 Philadelphia AMP met in quarterfinals for the second Nationals in a row. Similarly to 2019, BFG had dominant results on day one while AMP was hot and cold. But this year's matchup bore no further resemblance to AMP's 2019 universe point, upset win. This year, Seattle took the win in convincing fashion, 15-9 — a testament to BFG's lethal consistency and defensive fortitude at this season's Club Championships so far.
Seattle started off the game with a clean hold on offense. Using quick movement, BFG took full advantage of AMP's flatter marks and team rookie Cheryl Hsu scored to kick off the game. BFG's long, in-bounds pull pinned Philadelphia near their own end zone to start their first O point and AMP turfed a throw quickly, giving Seattle an early opportunity to demonstrate just how effective their D-line offense can be. They duly took that chance by punching in the short-field break to Sarah Benditt, who would quickly score a second break as well to put Seattle up 3-0.
AMP finally got on the board when a deep look finally clicked with a layout by Robert Roos, who then threw an easy score to a wide open Liz Hart. It was just the start of a big performance for Hart, who became one of this game's most dominant receivers, extending a trend she's established all tournament.
A mounting crosswind shook the consistency of both teams and BFG had an uncharacteristic overthrow, opening the door for AMP's first break opportunity. But a quick, overthrown huck gave BFG the disc back and they did not let it slip. Philadelphia did their all to generate turns and maintain holds — Nicky Spiva making big grabs and layouts to keep his team in the game even though his play was hot and cold, Calvin Trisolini putting up dime balls, Hart displaying incredible closing speed and sticky fingers, and Malti McKinnon laying out to generate a break opportunity.
But, despite AMP's valiant efforts, Seattle remained unshakeable and played solid, fundamental ultimate. Mario O'Brien's movement and field awareness opened up cuts and throws that helped them work up the field against different defensive looks. BFG's women-matching players shone brightly on offense and defense, with Jennifer Ricaurte bringing big energy to challenge top AMP matchups and hyping up her team on the sideline, Benditt and Hsu (two of the team's top scorers) reeling in grabs left and right, and so many others making meaningful contributions to the effort. Some "goons" had exceptional performances, but overall this squad worked hard to play through all of the players on each line. Seattle took half with a comfortable lead, 8-4, with a throw from Kerry Chang to Andi Coleman.
BFG came out of half swinging and broke twice more, Seattle's defense shutting down AMP's overexcited hucks to pull ahead 10-4. With another overthrow out the side of the end zone followed by a BFG overthrown deep look, Paul Owens threw a sweeping cross-field break to Jordan Rhyne to end Philadelphia's dry spell. AMP threw a junky defensive look to throw off BFG, but Seattle made quick work of it with over-the-top scoobers and patient resets to get back on defense and maintain a healthy lead until the end.
You can never count out an elite mixed team until the final result is over and done, but it felt clear from 10-5 that BFG would come out on top. There was always a sliver of hope that AMP might bring the game tighter but unlike in their previous round against Slow, Philadelphia was unable to kick into a higher gear to change the course of this matchup.
And after a long-fought point, Seattle put the final nail in the coffin. Jeff Pape worked it up in the handler set and, just outside of the red zone, he threw to Alissa Soo who scored to win the game 15-9.
When asked what led to their decisive victory, captain Mario O'Brien credited their dominant D-line. "We have a lot of trust that [our D-line] is going to set the tone for the game, no matter what team we play against. AMP is a really fast, athletic team…and we were confident that our D-line was going to make the fast start happen."
Star player of the game Hsu spoke highly of her teammates and their energy throughout the tournament and in this important game: "We have a lot of trust in each other…our energy has been high from the start and we kept it up."
Even though a loss is always tough, Philadelphia has a well-established system and is ready to turn this year into yet another building block in their storied history and promising future. "The team has been around for a long time and there have been some difficult eliminations and some amazing triumphs," remarked coach Patrick Sherlock. "The struggles and the challenges have helped make this success possible and made it sweeter. Today we weren't successful in this game but it's going to be the foundation for success in the future."