An age-old rivalry gets its latest chapter.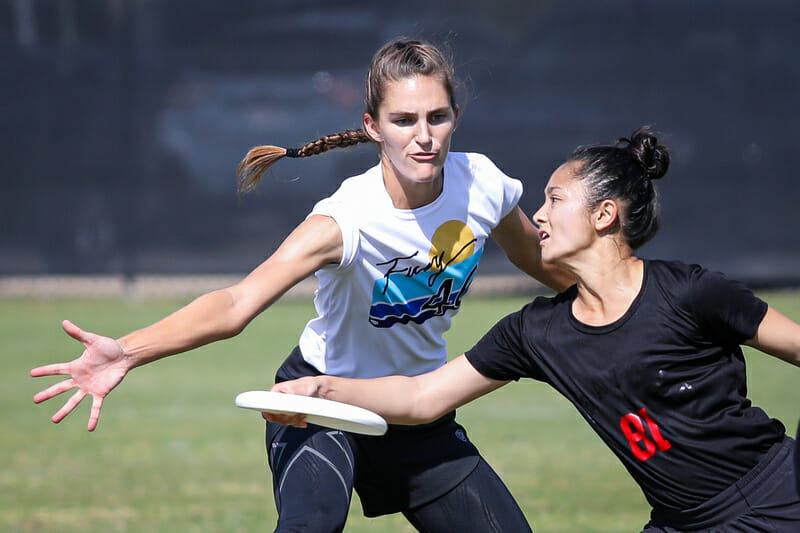 Ultiworld's 2021 coverage of the club women's division is presented by Spin Ultimate; all opinions are those of the author(s). Find out how Spin can get you, and your team, looking your best this season.
SAN DIEGO – While chaos and close finishes in other divisions played out all around them at the field complex, #1 San Francisco Fury cooly reasserted themselves as the decisive and deserving top seed with a comprehensive 15-6 victory over historic rivals #6 Seattle Riot to continue their total dominance at the 2021 Club Championships.
The first six points of this one caught the eye and the imagination as Riot took two early breaks from Fury and led 4-2, teasing the romantics following the game with the prospects of a cathartic upset for the ages from Riot against their to-this-point-untouchable, age-old opponents. It was not to be though, as Fury began to move the disc more quickly and efficiently and soon ran off eight consecutive breaks that effectively ended the game, just a few points into the second half.
Seattle brought out a junky zone look in the first several points and it seemed to throw Fury, who was coming in cold for their first game as opposed to Riot's second game of the day, for a loop. The San Francisco squad looked surprisingly tentative and slow in the initial stages, holding onto the disc too long and not able to move as fluidly as they wanted. "I think Riot was effective, they ran either junk or zone sets pretty well," noted Fury coach Matty Tsang. "I think they were effective at slowing down our tempo and making us stare down the lane, so that made us not as effective on offense."
A few Riot veterans played key roles in Seattle's initial success, with Shira Stern coming up with a diving layout grab to save a Riot hold that took them to 3-2. Rachel Bradshaw intercepted a Fury pass downfield that led to Riot's second break and a 4-2 lead. It was an unexpectedly hot start for Riot, and Seattle coach Gwen Ambler opined that Riot's extensive roster turnover may have actually helped them in the early going.
"I think that most of our team doesn't even know who players on Fury are," she speculated. "So I don't think our team was scared of them. I think that we just came out firing and capitalized on a couple of their turnovers." Soon enough, though, even Riot's newest and youngest rookies would know exactly why the names on Fury are the household names that they are as San Francisco made their move to get back into the game.
Magon Liu was a deep threat all game for Fury, and twice was on the receiving end for important holds for the San Francisco offensive line, including the score that stopped the early bleeding to bring Fury within one, down 4-3 and two breaks. The Riot rookies may have more of an excuse to not know the names of Fury rookies Dena Elimelech and Shayla Harris, but those two combined for the first Fury break of the game after a Seattle endzone turn, and it was tied 4-4. Riot's next offensive possession ended quickly and Fury simply put it to the returning Lisa Couper; suddenly San Francisco had erased the early advantage Seattle had built and led 5-4.
Riot did not score again until it was 11-4, as the top seed took eight straight breaks.
One point exemplified the main issue that Riot faced in the course of the quarterfinal, that being the inability to convert when they got close to the end zone. Coming out of half, Riot was down a difficult but not unreasonable deficit of 8-4 and they were receiving the disc going upwind with a chance to put a stop to the Fury break train. Seattle were able to work it up effectively and patiently even against significant pressure from the Fury defensive line but their offense stalled mere yards away from scoring. With some handler movement, Riot were able to get it to Sam Rodenberg for the apparent score, but the goal came back on a pick. Trying again, it was Rodenberg again with the disc in the end zone, but it came back on a contested stall call. The next effort was a floaty high-stall throw that Fury blocked. A huck to Carolyn Finney and a dish to Marika Austin later, it was yet another break for Fury as they extended their lead to 9-4.
In the ensuing points, Anna Thompson picked up her second layout block in the end zone of the game, Kaela Helton intercepted a pass intended to punch through the Fury zone, and Magon Liu scored on a diving grab; Fury was well on their way with the score at 12-5.
San Francisco got contributions from up and down their deep and talented roster, with Julia Butterfield dominant defensively alongside Thompson as Fury rolled to victory, Meeri Chang the recipient for the final goal to close the game at 15-6.
While Fury was rocked initially, they did settle into an offensive rhythm that they bounced along to all game, and their energy and incredible work rate ensured that they continued to generate turns. As has been said time and again, Fury look nigh untouchable right now, even as they gave up the most points they had all tournament against Riot. They'll face Raleigh Phoenix in the semifinal, and the second-youngest team in the field will provide a change of pace for a Fury semifinal opponent. "I'm excited for them because they're young," said relative Fury young gun and 25-year-old Shayla Harris. "I'm excited that they're in the semis because all these club teams are really old and they're a young team that's gonna have a really good experience."
For Riot, their season ends to their longtime rivals (again), but with plenty of experience for their extensive rookie class. They were helped along by veteran leadership that did their best to untether the 2021 Riot class from the team's heavy history. "I feel like our leaders have done a really good job at making sure that we know all that this is our own team and that we don't have to necessarily lean on any expectations from the past," shared first-year Seattle player Steph Phillips. If that is true, then the Riot we see in upcoming years may be a rather different one than the team with a tortured history as the new Riot players learn and grow from their first, and rather unusual, season.