The tournament's top two seeds met in a semifinal with everything on the line, with stakes as large as club worlds and as close-to-home as crosstown bragging rights.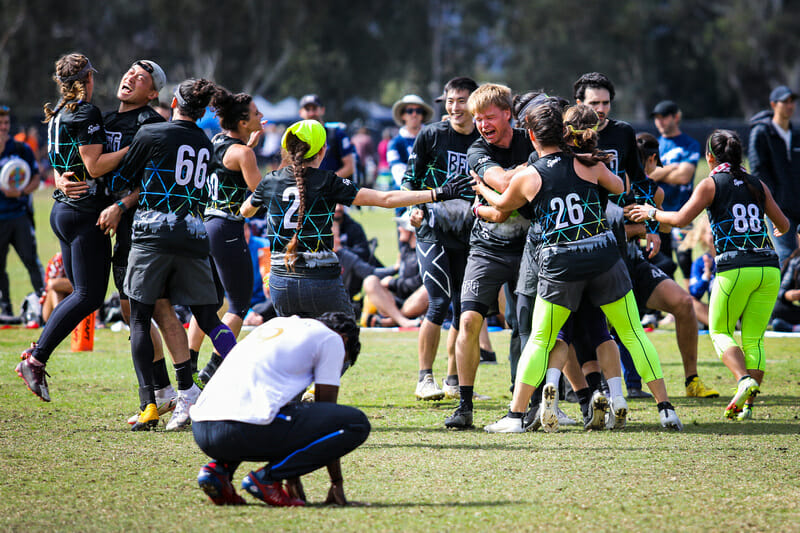 Ultiworld's 2021 coverage of the club mixed postseason is presented by Universe Point cleats; all opinions are those of the author(s). Check out Universe Point if you are looking for a comfortable, ultimate-specific cleat with a patented stud pattern that can give you an edge every time you're on the field.
Saturday's Seattle showdown truly lived up to the hype, with buzzing energy on the field and the sidelines alike. The top-of-division talent on both #1 Seattle Mixtape and #2 Seattle BFG brought the kind of intensity that could only come in a national semifinal that's also a hometown rivalry match, and the fans — whether crowded around the sidelines or tuning in virtually — would not be disappointed.
Going into the match, Mixtape and BFG had played each other five times already this year, with Mixtape winning all three regular-season games, but both previous Series games going to BFG. Even before those games, though, the two teams share a long, often tumultuous history battling for top billing in one of the country's deepest centers of ultimate talent. The excitement and anxiety were palpable on both sides: BFG and Mixtape each knew that they had all the pieces to come out ahead in their sixth, final, and most important rematch of the season, but neither could be too confident, since they very well knew that the same could be said for their opponents.
A showcase of disciplined, high-quality ultimate, this semifinal was riveting from start to finish. Mixtape received to kick off the game and punched in a quick hold. BFG returned in kind as each team traded flawless points. Mixtape was able to clinch the first break of the game when neon-clad Cheryl Hsu was overthrown — not once, but twice — in the end zone, and Khalif El-Salaam ended the point with a gorgeous upwind huck to Cam Bailey to go up 3-1. Mixtape's eyes seemed to sparkle with hope and expectation: maybe it wasn't anyone's game after all. But to their disappointment, this score was the first and last break they were able to convert.
BFG looked a little unsteady in the wind, more so as Mixtape's tight defensive set forced their throwers into unfavorable positions. There were some dangerously wobbly, high throws on resets, but their trusty handlers — particularly Mario O'Brien — came down with tough grabs time after time to maintain possession. Slowly but surely, they worked it up the field and eventually found Mo Tilmo for the score to get back within one at 3-2.
At times, both teams fell victim to the kind of yips that can plague otherwise skilled players in high-pressure situations, especially against familiar rivals with the unique ability to get inside their opponents' mental game. Mixtape's Aimee Kawai dropped a wide-open huck after blown coverage from BFG which allowed BFG to get back on serve at 3-3. This was joined by a few bobbles from both sides throughout the next several points. Kawai again fumbled the disc in the middle of a flick fake at 6-6 that gave BFG the break opportunity to take the lead before the break.
But even amidst these miscues and with the extra difficulty of playing in the wind, both the individual-level prowess and tight, disciplined strategic work of each team were on full display. Mixtape's star athletes made big, crowd-pleasing plays, with deep shots like Brad Houser's rip to Lexi Garrity for a quick score and big skies like Jesse Bolton's leaping grab outside of the end zone. BFG had a more understated offensive flow that centered on small ball and was more evenly distributed across players on the field. Although stat-leading players like O'Brien, Hsu, and Tommy Li were especially visible, some under-the-radar players like Steve Gussin, Alexa Kirkland, and Eliana Moskowitz were critical pillars of their tried-and-true strategy of valuing the disc and fighting like hell to get it back if they did turn it. BFG capitalized on just a few more of their opportunities to take half 8-7.
Even as BFG clung to their slight advantage throughout a high-energy second half, the audience was highly alert to the possibility that Mixtape could still pull a trick out of their sleeves to change the momentum of the game. The points stretched long with back-and-forth plays from all over both teams' rosters, but none of the excitement translated into a real opportunity for Mixtape to take the advantage. Mixtape's failure to get a break in the second half wasn't for lack of trying — they cycled through different forces and threw a 2-3-2 zone — but BFG adjusted ably to each one as they came, with stifling O-line defense to stave off any lost possessions from becoming the turning point in a game of tight margins.
At 11-11, the cap horn sounded, signaling that this would be a game to 12. After the game that preceded it, onlookers anticipated a hard-fought universe point. BFG received to start, with a place in the final, a shot at the gold medal, one of two guaranteed bids to the 2022 World Ultimate Club Championships,1 and immense Seattle mixed bragging rights resting on what Mixtape's defense could do. Hsu toed the line to reel in a pass deflected by Mixtape's Billy Katz and narrowly prevent a turnover, queueing up Pape to pass to Tommy Li to take the win 12-11 on a clean, efficient hold. BFG had done it: not only were they were going to the final to play for the program's first-ever national championship, but they had secured a bid to defend their WUCC 2018 mixed club world title.
The question burned for many: what made the difference in the postseason for BFG, who lost to Mixtape three times before Sectionals? "Our practices have been grind-out battles. It is that energy that prepared our O-line to play against the best defenders and our defenders to be able to play against anybody," explained AnnaMaria Pape. "This set us in this good place of knowing that we could do it. When we could match up against everybody at practice and shut them down, we knew we could do it here." Another key to success was playing by individualized matchup rather than set lines, which kept their defense dynamic and adaptive.
Bolton described how this loss has only increased his team's hunger to win and "ball out" after a season-and-a-half off from ultimate, and they held their heads high going into the third-place game (which they would ultimately win 14-10 over Madison NOISE, putting them next in line for an unannounced-but-likely third WUCC bid). This season has brought their roster of players new and old closer together than ever. "I told a couple of players at the end of the game that I'd rather lose this game with them than win without them," said Bolton. "That's how much this team means to me."
Though this game could have easily been chippy and tense given the stakes, each of these teams should be commended for the spirit they brought and the respect they showed to themselves and each other. High-pressure games can lead to tense, contested calls — and there were certainly a few. But there were just as many instances where defenders, including Abby Hecko and Kerry Chang, accepted foul calls in even spirits, even when play had been heated. In post-game interviews, Pape and Bolton actively took opportunities to acknowledge the excellence of their opponents.
In a year where seeding did not reliably predict the outcome of a given matchup or how teams would perform on the Nationals stage, these two Seattle teams' performance, in this and all their games, clearly demonstrated that they were deserving of their top two spots in both the tournament seeding and Ultiworld's Power Rankings. But only one team could advance in the bracket, and this time, it was BFG, who went on to a final with dark horse Ann Arbor Hybrid on Sunday.
---
Where BFG are the reigning gold medalists. ↩