How would today's best teams stack up against peak Revolver?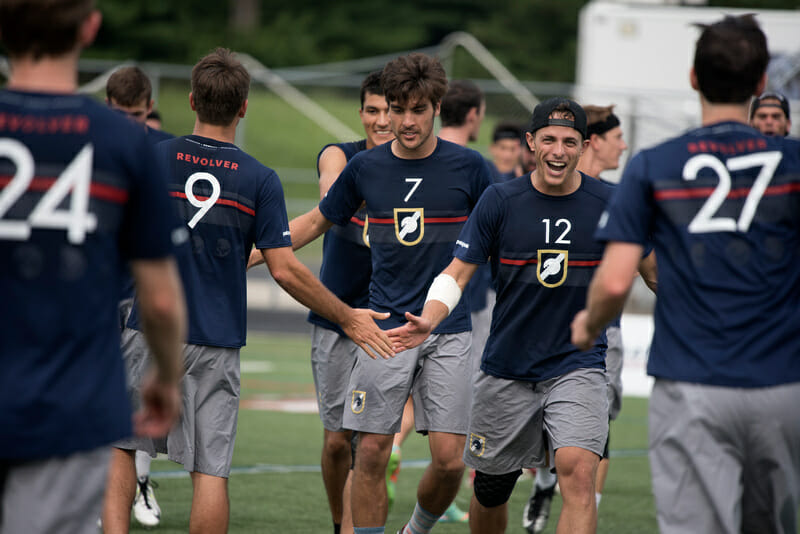 The Mailbag is now for subscribers only. That's going to do a few things: it will keep me committed to writing it every week. It will reward subscribers with a weekly column they can count on. And it will allow us to offer a free one-month Mini subscription for the best email or comment we get and publish in the Mailbag. If you're already a subscriber, you get a free extra month (or a discount). If you're not, you can come in and check out the benefits.
You can email me anytime at [email protected] with questions, comments, ideas — whatever you've got.
Q: If you assume that Nationals round lengths are fixed at 2:15 between rounds, and assume a minimum 20 min between games, would you rather have:
A) +1 soft cap at 95 min, and hard cap at 110 (5 min to finish point and play universe if needed + 20 min to next game). This cuts the current 20 min between soft and hard — which is too long for +1 — to 15 min, recognizing that some time is still needed to allow the +1 soft to play out in the case of a comeback.
OR
B) No soft cap. Hard at 110.
In B, more games can play out to 15, because you can use the full round time before any cap goes on. The risk of A is that games still end at 13 or 14, when those same games could have gotten to 15 if the +1 didn't come on 15 minutes earlier than the game needed to end.
Essentially, what's more desirable? Short games where the winner must score last or longer games where the winner merely ends with more points?
Mailbag: Revolver 2015 v. Ring 2021 (v. Sockeye 2021), Hard Cap v. Soft Cap, Three Livestreams, Asterisk? is only available to Ultiworld Subscribers
Already have a subscription? Log in
Whether you visit Ultiworld for our reporting, our podcasts, or our video coverage, you can help us continue to provide high quality content with a subscription. By becoming a subscriber, not only do you receive benefits like exclusive articles and full article RSS feeds, you also help fund all of Ultiworld's coverage in general. We appreciate your support!