This will be the first USA National Team to compete since 2019.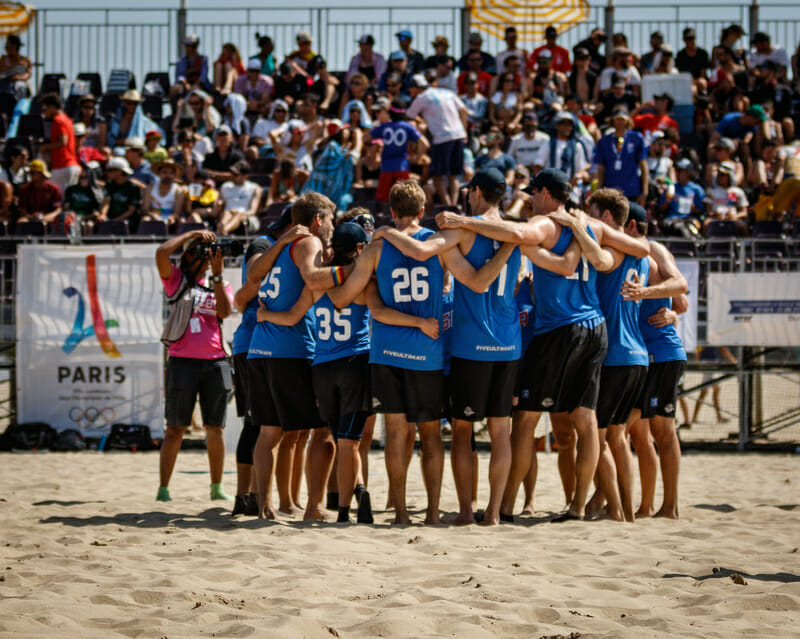 Over two weekends, about two hundred players from around the country made their case for inclusion among the select few who will represent Team USA at the World Championships of Beach Ultimate, which will take place April 2-9, 2022, in Huntington Beach, CA.
West Coast
On November 6-7, tryouts commenced in Huntington Beach, just a few hundred yards south of the site of next year's World Championships. In the opening huddle, Women's Division head coach Samantha Broaddus told attendees that there are not a lot of spots for role players on a small field and the coaching staff designed the tryouts to put athletes in spots to be uncomfortable.
Bryan Jones, the men's team head coach, opened his remarks by acknowledging that this isn't just the start of the tryout process, but the start of the team itself. He implored everyone to act like teammates, despite how weird it might feel to be playing at a tryout alongside players who just two weeks earlier were bitter rivals at the National Championships. "Set the expectation that you're going to lift people up," he said.
Mixed head coach John Groess encouraged the players to live in the moment and to not take their time together for granted.
Tryouts were divided into three groups: X, Y, and Z. One of those groups played on the mixed field while the other two were on the gender-split fields. During the early part of tryouts, the mixed coaches ran specific two-on-two and three-on-three drills to highlight cross-gender-match away throwing. By the afternoon, they had transitioned into running a king-of-the-hill style end zone scrimmage and situational scrimmages, where teams needed to pick up the disc in the corner on their own goal line. Compared to the 2020 WUGC tryouts, it seemed like more players were comfortable in a mixed setting: there were fewer missed connections from gender-split division players throwing to cross-gender-matchup teammates.
The women's field focused on small-space movements. They ran a few defensive footwork drills without discs and played three-on-three on a small field in the morning before transitioning into a more traditional scrimmage in the afternoon. At one point, the women's field was also running a three-on-five drill in which the defense could choose to deploy two extra defenders however they chose. Only a few trios managed to score, but the cheers of excitement from the sideline when they did were some of the most energetic moments of the day.
The men's field, in contrast, designed its drills to play in large spaces. In three-on-three drills, almost every rep ended with a completed away shot. The coaches emphasized playing with tempo and moving the disc quickly in their full field scrimmage. Though there was not too much wind, the drills emphasized throwing skill, especially the ability to break a mark and put the disc anywhere on the field.
Though there is a point in which ultimate is just ultimate, playing beach and playing on grass are in some ways separate games. Players who could maintain their speed across surfaces stood out more than others. With the collection of talent on display, every player had standout moments; so as to not write an entire novel about two days on the beach, here are just a few that caught my eye:
Marika Austin was probably the best all around player of the women-matching contingent: she certainly did not lose a step at all switching to beach. Dena Elimelech and Jamie Eriksson had field days forcing their opponents away and collecting easy blocks on floating throws.
While it might be exciting to hear about big name players matching up against each other, the egalitarian nature of tryouts also lets some less heralded players shine. Cynthia Thomas was one of the smoothest movers on the sand, and Justine Cherwink impressed onlookers with her ability to get open against world class defenders.
Fresh off of the high of winning Club Nationals and a Player of the Year award, 2017 WCBU gold medalist Mario O'Brien was playing at the peak of his game. He made a point of always acknowledging his teammates after participating in a score and was clearly comfortable playing in sand, even after a summer of grass. Taller receivers like Sawyer Thompson, Simon Higgins, Devin Cox, and Mick Walter caught plenty of goals, with the transition to sand limiting shorter defenders' jumping abilities. At one point, Walter bodied out his defender for a front-cone goal, and a teammate on the sideline cheered, "good genetics Mick!"
Players who could break even the best marks, Calvin Brown and Steph Lim were major standouts and displayed a valuable skill as well, as the smaller beach field size necessitates the use of the entire width of the playing surface.
Overall, the vibe was jubilant and relaxed. Despite the intense pressure of a tryout and the grueling nature of the schedule (players were active from 8am-4:30pm Saturday and 8am-3pm Sunday with an hour off for lunch about halfway through), players seemed to melt into the atmosphere with many taking a dip in the ocean once the drills and scrimmages wrapped up.
East Coast
A week later, a separate collection of the best talent ultimate has to offer made its way down to Florida for the second weekend of tryouts. USA Ultimate worked through some challenging logistics to allow the tryouts to go on as planned. Storms removed a large amount of sand from the beaches of northeastern Florida leading up to the tryout, which had been announced to be in St. Augustine.
The beach was less than ideal for athletics, as it was hard-packed with a lot of shells near the surface of the remaining sand. After looking for other beach locations up and down the coast, USA Ultimate tapped one of its backup plans and reserved sand volleyball courts and some grass field space at Sports Edge Beach, a ten court sand volleyball facility, in St. John's, Florida. Sports Edge Beach was approximately 35 minutes from the original site, easing logistics for the athletes and coaches. Though it was a bit smaller (the Sports Edge Beach facility offered 18 inches of sand about 80 yards long by 55 yards wide), the coaches and athletes adapted the schedule to the smaller space and slightly reduced hours. All around, those involved praised USA Ultimate for working through a logistical nightmare and making the best of an unfortunate situation. Coaches made a point to help the athletes focus on their play rather than the distracting uncontrollables of the tryout location.
One of the adjustments the coaches made was a schedule that spent more time scrimmaging. The athletes were once again divided into three groups, but with only room for two fields, there was always a group on a bye. The extra time off allowed players to play at 100% all weekend and kept the level of play high at the ultra-grueling Team USA tryouts.
With over one hundred athletes in attendance at each tryout, it is tough to imagine that only about one-fifth of them will make the three Beach Worlds teams. There seemed to be a game-changing play every few seconds, and every time it seemed like somebody had made a play so great they had to be included in the team, somebody else would follow it up with something just as impressive.
Of course, a few players stood out among this super-talented group. Jesse Shofner flashed her trademark speed and change of direction, even on the slower sand, and Caleb Denecour seemed like he was getting open against everyone and also got some impressive blocks.
"That was the coolest fucking thing I've ever done," Kevin Pettit-Scantling said in a video posted to his Instagram account. "Easily one of the hardest things. I mean just like the level of play is unlike anything I've ever seen before."
Regarding decisions, the coaching staff is still working and will communicate team selection choices with the athletes as soon as possible. "At the end of the day," said Rowan McDonnell, "these tryouts are incredibly special with the consolidation of talent present, and no one seemed to take that for granted."