Two teams who dominated competitive Regionals tournaments and two that enter with a little more air of mystery.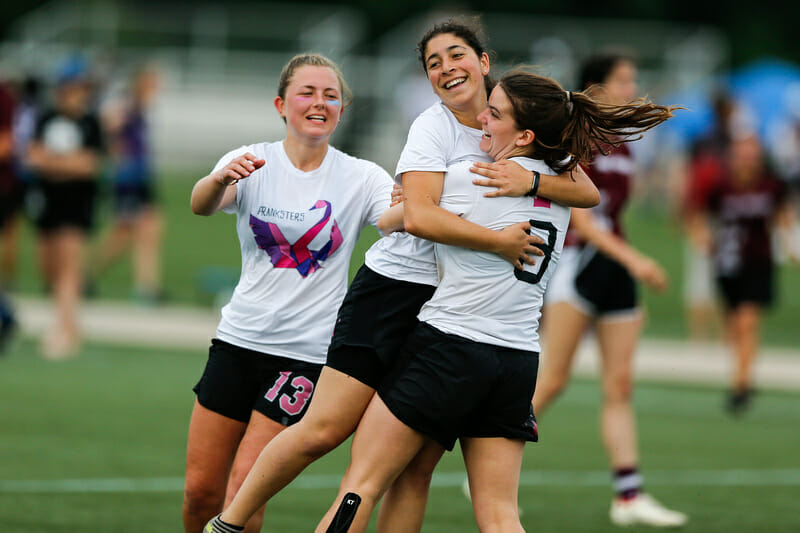 Our coverage of the 2021 college Series is presented by Spin Ultimate. You can get 15% off all college uniforms and swag right now at Spin Ultimate!
The 2021 College Championships are unusual in many ways: the quick ramp-up to a winter Nationals meant that qualifying Series events were the first tournaments some recruits ever played, while extended eligibility rules allowed teams to roster sixth- or seventh-year players and even alumni. For D-III teams, add one more point of distinction: for the first time, the D-I and D-III Championships are being held as a single tournament event. Along with that comes a notable scheduling change for this division, whose games are now spaced out across four days instead of being compressed into two.
The unique format of the 2021 Series as well as the long hiatus since sanctioned play make for lots of unknowns going into the weekend. In these previews, we'll offer a snapshot of each team and the competition they'll face when play begins on Friday, December 17. Watch ultiworld.com/live then for updates in all four college divisions!
Pool A | Pool B | Pool C | Pool D
Seeding: D1; no. 4 overall
Power Ranking: #4
Path to Nationals: Def. Amherst 11-3 in New England final
Past Nationals Appearances: 2019
Location: Middlebury, VT

You'd hardly know it from their first pool seed, but this is just the second time Middlebury has competed at Nationals after their first appearance in 2019. At that tournament, they entered seeded fifth and left tied for fifth. As an overall no. 4 seed, they would seem to be starting out a step ahead of their last Nationals run. Pool D, however, is famously perilous, and they won't have an effortless time hanging on to their top spot among these teams. Lehigh, the overall fifth seed, is right behind them, and their last-round game on Friday is shaping up to be the most competitive of the pool.
Luckily, Middlebury has some practice with close games this season. At New England Regionals, a tournament at which every team at the fields was ranked inside Ultiworld's top 25, they battled their way to a first-place finish with an 8-7 win against Bates and an 8-6 win against Williams, proving that they have the capacity to come out on top when they need to. Middlebury will also have a little time to get comfortable and figure out their rhythm before facing off against Lehigh. Their first two games of the day are against Occidental and Wheaton, relatively untested teams who could productively challenge the Pranksters, but are unlikely to topple them early.
Middlebury co-captain Raechel Zeller is excited for her team to show how much they have improved since the 2019 College Championships. "We're feeling incredibly fortunate to still have a program that is so strong and continues growing after waiting over two years from our success in Texas in 2019," Zeller said. The Pranksters will look to the future as well as the past this weekend, bringing plenty of "rookies" — sophomores and juniors who have never played a competitive ultimate season before — as well as a few players in their last semester at Middlebury. "It feels really special to get to share the experience with both of those groups."
Seeding: D2; no. 5 overall
Power Ranking: #5
Path to Nationals: Def. Kenyon 10-4 in Ohio Valley final
Past Nationals Appearances: 2012, 2015, 2018
Location: Bethlehem, PA

There's rarely much distance between the overall fourth and fifth seeds at the top of Pool D, and this Lehigh team has a real opportunity to finish at the top. Their dominance at Regionals should send them to Nationals with well-earned confidence, and after definitively besting a strong Ohio Valley field in near-blizzard conditions — their closest competitors, fellow Nationals team Kenyon, played them twice over the weekend and couldn't do better than a 10-4 loss either time — their morning games against Occidental and Wheaton should feel like a walk in the park.
Their matchup with Middlebury is the game to watch in this pool, and will likely be a much tighter result than Lehigh has seen this Series. Lehigh outpaces Middlebury in Nationals appearances: they competed on the national stage in 2012, 2015, and 2018 and their best finish is the most recent, a semis appearance in 2018 where they lost 13-10 to Bates. While none of the Gravity players from that year are still with the team, the knowledge that a Nationals-level performance has been done and can be done better can be a powerful motivator.
On Gravity's goals for this tournament, coach Matt Lubitz was precise and emphatic. "We've turned our big picture goals into micro goals: win each half, each matchup, each cut. We think we can compete in every game we play and beat any team in front of us." Lubitz differentiated between their outcome goal of setting themselves up well for the bracket and their larger process goal, which is use this experience at Nationals to help prepare them for the 2022 College Championships in the spring. Players to watch out for include Erin "Rex" Dillon, a longtime cutter transitioning into a handler role but retaining versatility all over the field, and Elly "Talon" Labay, a captain who's a major energetic center for the team. As everyone in ultimate knows, that sideline presence and positive, resilient attitude can be as important to winning games as athleticism and playmaking talent. Luckily, Lehigh comes ready with both.
Seeding: D3; no. 9 overall
Power Ranking: #12
Path to Nationals: Def. Claremont in one-game qualification event
Past Nationals Appearances: 2011, 2019
Location: Los Angeles, CA
Occidental is heading to the 2021 College Championships with two previous Nationals appearances under their belt. They enter as the third team in this pool, and they're likely to hang on to that position at the end of Friday's games. They'll face challenging opposition in their first two games against the pool's top seeds, but this team has the experience to pull through and execute what they do well to hold their own in their last game with Wheaton.
In a quirk of the regional qualifying system, Southwest D-III women's teams — often just Occidental and nearby Claremont — sometimes skip the pre-Nationals Series buildup entirely, with one team or the other earning a bid directly from the regular season. This year, the two teams played one game, and Occidental were the victors. With no typical season outside the Series to lead into this year's Nationals, Occidental has fewer reps in sanctioned play than much of the rest of the field (though not the fewest — see poolmates Wheaton below).
Still, they bring an ace to Nationals in Nora Fujita-Yuhas, a 2021 alum. She brings an impressive defensive skill set to this team, and her presence on the field is consistent and commanding. She'll be the player to watch out for on Occidental this weekend. And if they need another advantage, how's this: while other teams will fighting off the aftereffects of cross-country flights and discombobulating time differences amid a busy finals season, Occidental's campus is only about an hour drive from the fields!
Seeding: D4; no. 16 overall
Power Ranking: #18
Path to Nationals: Qualified uncontested from Great Lakes
Past Nationals Appearances: none
Location: Wheaton, IL

In a typical year, the last seed at at the tournament goes to the team with the weakest overall record compared to the rest of the field — the team that made the cut, but not ahead of anyone they're about to play. It's an interesting position, and one with a few advantages: since it's impossible not to either hold or break seed, whatever you accomplish once you're there is par for expectations at worst or, at best, an exciting upset. It's all possibility: who but you really knows what you're capable of from here?
No last seed in any division this weekend embodies that more than Wheaton, who qualified uncontested from their region. No other Great Lakes team wanted to compete for the chance to play in the 2021 College Championships, and Wheaton was seemingly gifted with their first-ever bid to Nationals. For a program with the energy and enthusiasm to return to high-level play after 2020, that opportunity to play a four-day tournament with the country's best is valuable: the exposure to more advanced play, different defensive sets than they see in their own region, and high-octane energy not always found at small fall tournaments are a boon to rookies and returners alike. After two years off, those opportunities mean a great deal to the continued strength of college ultimate, especially in this division.
As for Wheaton, they go into the tournament untested against the field, but that's not so dramatic a difference from several teams in this division who also qualified from two- or three-team events. With little to no inter-region connectivity to speak of, there are plenty of unknowns this weekend, and in that sense, Wheaton fits right in. If nothing else, they have an ironclad tactical advantage against the other teams in Norco this weekend: good luck scouting them.