Two of the best-known programs in the division and two first-time Nationals teams with very different paths to the tournament.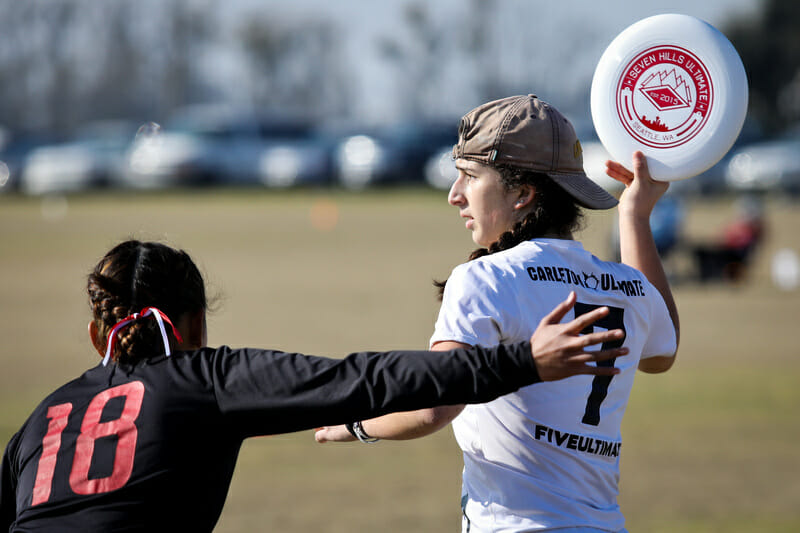 Our coverage of the 2021 college Series is presented by Spin Ultimate. You can get 15% off all college uniforms and swag right now at Spin Ultimate!
The 2021 College Championships are unusual in many ways: the quick ramp-up to a winter Nationals meant that qualifying Series events were the first tournaments some recruits ever played, while extended eligibility rules allowed teams to roster sixth- or seventh-year players and even alumni. For D-III teams, add one more point of distinction: for the first time, the D-I and D-III Championships are being held as a single tournament event. Along with that comes a notable scheduling change for this division, whose games are now spaced out across four days instead of being compressed into two.
The unique format of the 2021 Series as well as the long hiatus since sanctioned play make for lots of unknowns going into the weekend. In these previews, we'll offer a snapshot of each team and the competition they'll face when play begins on Friday, December 17. Watch ultiworld.com/live then for updates in all four college divisions!
Pool A | Pool B | Pool C | Pool D
Seeding: B1; no. 2 overall
Power Ranking: #2
Path to Nationals: Def. St. Olaf 12-9 in North Central final
Past Nationals Appearances: 2011, 2012, 2013, 2014, 2015, 2016, 2017
Location: Northfield, MN

Carleton Eclipse is no stranger to the College Championships, with seven previous appearances and three national titles under their belts going into this weekend. They dominated the North Central in October, going 5-0 at the region's single qualifying tournament and beating out fellow regional powerhouse St. Olaf and ascendent challengers Michigan Tech for the first spot. Their 12-9 win over Northfield neighbors St. Olaf in the final is their closest result of the Series so far, and the rest of this pool will have to sweat to get close to it.
Two big questions hover over this year's post-2020, alums-included Nationals: which programs have stayed strong during the pandemic hiatus, and which of them will still be competitive in the spring after this tournament's 2021-only players have moved on? Carleton may be uniquely positioned to come out looking good on both counts in all four college divisions; their reputation for ultimate excellence attracts strong recruiting classes year after year, and they have the alumni network and institutional knowledge to keep their programs running despite disruptions. This year's Eclipse roster boasts a blend of seasoned alumni, experienced upperclassmen, and scrappy, enthusiastic underclassmen that's likely to serve them well this weekend and into the 2022 season.
Captains Harper Brooks-Kahn, Grace Hague, Colleen Milligan, and Alex Rowell attribute their success this fall to their teammates' dedication to Eclipse. Players across the roster have been reliable presences for each other on and off the field, creating a bond that will be another source of strength for them at Nationals, and leadership hopes to use this tournament to further establish their team as top-tier contenders in the division. Be on the lookout for highlight-worthy plays as well as steady fundamentals in their games this weekend.
Seeding: B2; no. 7 overall
Power Ranking: #10
Path to Nationals: Lost to Truman State 14-3 in South Central final; def. John Brown 15-2 in game-to-go
Past Nationals Appearances: 2014, 2015, 2016, 2018
Location: Houston, TX

Rice has had a strong fall in the South Central, losing only to a super-powered Truman State team in the final of their qualifying tournament and with results against the rest of the field that look much more like their 15-2 win over John Brown in the game-to-go.
Even with a roster of mostly freshmen and sophomores playing their first-ever college tournaments this semester, their roster has cohered into a highly effective unit on the field. Their captains, fifth-year handler Amanda Lopatin and standout sophomore Heather Szczesniak, bridge the team's generation gap in style; they're bringing along eight alumni, too, including center handler Emily Wang and Sarah Downing. Guidance from Torque's experienced players has helped keep the ship steady in competitive play, with leadership intentionally balancing playing time between rookies and veterans to bring their underclassmen up quickly.
Looking forward to Nationals, head coach Ashley Shelor is putting an emphasis on the mental game. She tells her players to envision a pot of soup. "Each player starts by putting in an ingredient, whether that's a cut or a badass D or hype with their voice. When players are feeling like they need a little something, or they're in their head, they can take some yummy and delicious soup from the pot, and when they're feeling good, they can add to the soup," explained Shelor. "Everyone on Torque adds something unique to the team, and we support each other so that we can be the best team, with the best soup, that we can possibly be."
Seeding: B3; no. 11 overall
Power Ranking: #16
Path to Nationals: Won Atlantic Coast three-team round robin
Past Nationals Appearances: none
Location: Richmond, VA

First-time Nationals attendees Richmond Redhots are also using their alumni to great effect in this fall's Series. They were dominant at the Atlantic Coast round robin, ending the day 11-4 over Catholic and 13-6 over Mary Washington. Captain Katelyn Wing attributes Richmond's success to their bond as a team and the successful communication that comes with it, and it's easy to connect those assets to the years of pre-pandemic experience together their older players bring into the fall.
The Redhots' handling crew will look to Mimi Tran to cover the whole field and catch the uncatchable, and utility player Victoria Davis will return to fill in as needed with her well-rounded set of skills. Keep an eye out for senior Meredith Wang, playing her first competitive college season and already one of the more dominant cutters on the field. At their qualifying tournament, Wang was a star receiver, reeling in approximately half of Richmond's points on the weekend, and could prove a real endzone threat in Norco.
As a new program at Nationals whose major contributors bring years of ultimate experience to this tournament, it's tough to forecast exactly how the Redhots will finish this weekend. Advancing in the bracket seems achievable; breaking seed even more so. But with their season's goal of qualifying for College Championships achieved — a dream many seasons in the making for some — they're sure to bring passionate energy and excitement to their games.
Seeding: B4; no. 14 overall
Power Ranking: #7
Path to Nationals: Advanced to New England second place bracket from crossover round; def. Amherst 9-4 in game-to-go
Past Nationals Appearances: none
Location: Waltham, MA

Brandeis is another first-time Nationals attendee, qualifying from a highly competitive New England region and beating out multiple other high-level teams to do it. It wasn't the result many would have expected after pool play at Regionals, where last-seeded Brandeis went 0-2 against relative favorites Williams and Middlebury. But a 10-4 result over Stonehill in crossover play kept them alive in the second place bracket, where they avenged themselves against Williams to the tune of an 11-6 win, a place in the game-to-go, and an eventual bid to the College Championships.
Captains Eve "Echo" Robinson and Allie "Fresca" Mundis attribute their success to their high-energy sideline, relying on other players like Solana "Spade" Jolly to keep the team's spirits high through difficult tournaments. But once Brandeis stepped on the gas, the only place they were stopping was California. "Banshee came into Regionals as the underdog. We were seeded last for the tournament, but came in with our heads high ready to play our game," Mundis told Ultiworld. "We ended up beating both of the teams we lost to at Sectionals last month. We owe this Nationals bid to everyone on our team — from our new coaches to our sideline. We made Banshee history this weekend, and are so energized to see what's next for us."