A Nationals perennial with more alums than current students on the roster and three challengers who could make a name for themselves this weekend.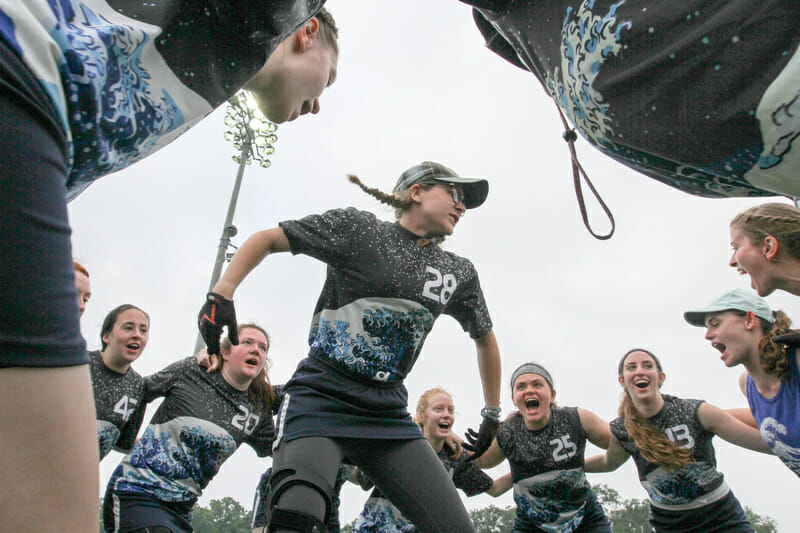 Our coverage of the 2021 college Series is presented by Spin Ultimate. You can get 15% off all college uniforms and swag right now at Spin Ultimate!
The 2021 College Championships are unusual in many ways: the quick ramp-up to a winter Nationals meant that qualifying Series events were the first tournaments some recruits ever played, while extended eligibility rules allowed teams to roster sixth- or seventh-year players and even alumni. For D-III teams, add one more point of distinction: for the first time, the D-I and D-III Championships are being held as a single tournament event. Along with that comes a notable scheduling change for this division, whose games are now spaced out across four days instead of being compressed into two.
The unique format of the 2021 Series as well as the long hiatus since sanctioned play make for lots of unknowns going into the weekend. In these previews, we'll offer a snapshot of each team and the competition they'll face when play begins on Friday, December 17. Watch ultiworld.com/live then for updates in all four college divisions!
Pool A | Pool B | Pool C | Pool D
Seeding: A1; no. 1 overall
Power Ranking: #1
Path to Nationals: Def. Rice 14-3 in South Central final
Past Nationals Appearances: 2012, 2013, 2014, 2015, 2016, 2017, 2019
Location: Kirksville, MO

Truman State are well-deserving of the overall first seed at this tournament. After crushing their competition at the nationals-qualifying South Central Conference Championship in October, TSUnami should have no problem winning this pool and the bye to quarters; if any of the rest of Pool A can score seven points on them, they'll be ahead of every other team TSUnami has played in the Series so far.
This team comes to Norco with more alumni than current students on their roster, a wall of experienced talent that even other teams bringing along a graduated player or two will find difficult to match. Of those thirteen alumni, five are 2019 All-Region selections. From that All-Region first team, they boast Jessica Tiller, a dominant cutter and defender, and Emily Tucker, a rock-steady handler and consistent assist-leader; from the second team, 2019 Breakout Player of the Year second runner-up Sarah Finley, dependable handler Madison "Madi" Fulte, and Anna Sullivan, a speedy receiver who doubles as an additional handling option. As if that weren't enough, they'll have another returning alum in a key handler position in Lauren Wiggins. Don't overlook their current students, either: Noelle Hogrebe, Autumn Schrader, and Kayla Gerlt are fierce players who fill important roles across both offensive and defensive lines.
This program is no stranger to the national stage — this year marks their eighth appearance at the College Championships — and while they've never surpassed their T-5th finish from 2014, seven years of experience against the best teams in the division does a lot to grow a program. The unique format of this year's Nationals has allowed TSUnami to pull multiple generations of team development together on one roster. As the top seed and Ultiworld's top-ranked team in the division, they're the team to beat in 2021. If they perform as expected, they should walk through pool play and remain difficult to stop well into the bracket.
Seeding: A2; no. 8 overall
Power Ranking: #11
Path to Nationals: Advanced to second place bracket from North Central pool play; def. St. Olaf 12-6 in game-to-go
Past Nationals Appearances: none
Location: Houghton, MI

It's always an impressive feat for a program to make a Nationals appearance only a season or two after it was founded. It's even more impressive that Michigan Tech, who played their first games in 2018, could survive the challenges that the COVID-19 pandemic thrust on college club teams — and especially D-III women's teams — and still blaze a path to the first College Championships after ultimate returned to play. Despite being even younger as a program in 2019, they put up a good fight in that year's Series, losing by just a point in the game-to-go and generating real anticipation for their 2020 season. They made good on that as soon as they could, defeating name-brand St. Olaf to earn a bid this fall.
And believe it or not, they're bringing an alum! The Superior Ma's have just enough history to call on a graduated player, Jayleen Rossi, to make an appearance for them in Norco. In addition to Rossi, notable players returning from past seasons are seniors Allyson Fenton and Anna Schmazel. The continuity and veteran leadership will be an asset for this team, along with some new firepower from rookies Emma Elliot and Makenna Dawson.
For an eighth seed, a successful journey out of pool play is often about setting expectations. A win against Truman State would be a groundbreaking upset. Rochester, on the other hand, should be a more evenly-matched opponent, and Michigan Tech's rapid trajectory to becoming a nationally-ranked team in a historically competitive North Central suggests they may have the edge. Their toughest test in the pool may come from Puget Sound, whose recent Nationals experience may be a meaningful asset despite a lower overall seed.
A 2-1 or 1-2 result in pool play seem to be the likeliest outcomes for the Ma's. Looking ahead, if the second-place finisher in this pool wins their prequarter, they'll go on to play the top team from Pool B in quarters — and if seeding holds, that's Carleton Eclipse, who defeated Michigan Tech 12-3 in conference play. But this team has faced adversity and rebounded with flair before. Don't assume they're just happy to be here.
Seeding: A3; no. 12 overall
Power Ranking: #17
Path to Nationals: Lost to Portland 15-2 in Northwest final; def. Pacific Lutheran 12-6 in game-to-go
Past Nationals Appearances: 2015, 2016, 2017, 2018, 2019
Location: Tacoma, WA

After five consecutive appearances at Nationals, all of which have ended in the bracket, and ultimately tying for fifth with Middlebury in 2019, Puget Sound is back for more. Their place as the third-seeded team in this pool belies a solid crew of returners with a well-distributed skill set, and it's almost certainly within their grasp to break their overall no. 12 seed and make an even bigger name for themselves this year.
Clearcut is powered by alum Bethany Llewellyn and returners Natalie Yates, Annie van den Berg, Bailey Ulrich, Maia King, and Beatrice Bugos, a sturdy foundation of experience for this team. That crew should have the ultimate skills and the competitive experience to know how to maximize their roster's capabilities across offense and defense, as well as confidence on a big stage.
Like Michigan Tech, Puget Sound will most likely find themselves contending for second or third place in this pool, and the A2 vs. A3 matchup in the third round on Friday is the game to win for Clearcut. Michigan Tech has impressed in their first few seasons as a team, but they still have limited experience as a program in this kind of setting; that may be to Puget Sound's advantage, and a strong finish in pool play would announce to the field that this team is truly ready to compete. But also like Michigan Tech, Puget Sound has some familiar foes from earlier this Series lurking in the bracket: if pool play goes to seed, the best-case scenario for this pool's third-place finisher is a quarters matchup with Pool C's top team, the Portland team who beat them decisively in the Northwest final.
Seeding: A4; no. 13 overall
Power Ranking: #14
Path to Nationals: Top two finisher from Metro East three-team round robin
Past Nationals Appearances: none
Location: Rochester, NY

Rounding out this pool of one Nationals regular and three relative newcomers is Rochester, another team making their first-ever appearance at the College Championships. The unusual nature of the 2021 college season — with some teams taking a backseat after graduating major talent, some loading up on alums, and some sitting out the Series entirely — has reshuffled the pecking order for many regions, and as a result, some teams who rarely beat out the best-known names at qualifying tournaments are making Nationals for the first time.
The EZs are one of them, and that makes them an intriguing question mark going into the tournament. Can they beat out Michigan Tech, Puget Sound, or both for a place in the bracket? It's possible. Will they shock the world by taking down tournament top seed Truman State? Less likely, but you can't rule it out. What we do know is that this team is fired up and ready for an exciting weekend of ultimate on the west coast — a far cry from upstate New York in mid-December.
"It'll be great to see different strategies and styles of play, and we think it will be an excellent learning experience for all," captains Mimi Jung, Madison "PJ" Lang, and Katie Phillips reported to Ultiworld. So far this season, the EZs have been playing with relatively open lines, and you can expect to see some of their large rookie class on the field in Norco. But that doesn't mean they don't mean to make the most of their competitive opportunities this weekend. The captains expressed that going to Nationals has been a longtime dream for the team, especially their senior class, and they see this tournament as an opportunity to represent their program's history on this stage. "It always used to feel like a crazy, unattainable goal, so knowing that we'll be there in just a few days is unbelievable," they said. "We owe a lot to previous players who have worked really hard to build this team, so we're hoping to make them proud."
No matter how Rochester finishes at this tournament, the trip should be a great developmental opportunity to their many new players as well as something to celebrate for their returners and alums. For a team returning after the long pandemic hiatus, that's as cinematic a conclusion to the first semester back as anyone could ask for.