A Pool C full of teams on the rise, with just one previous Nationals appearance between the four of them.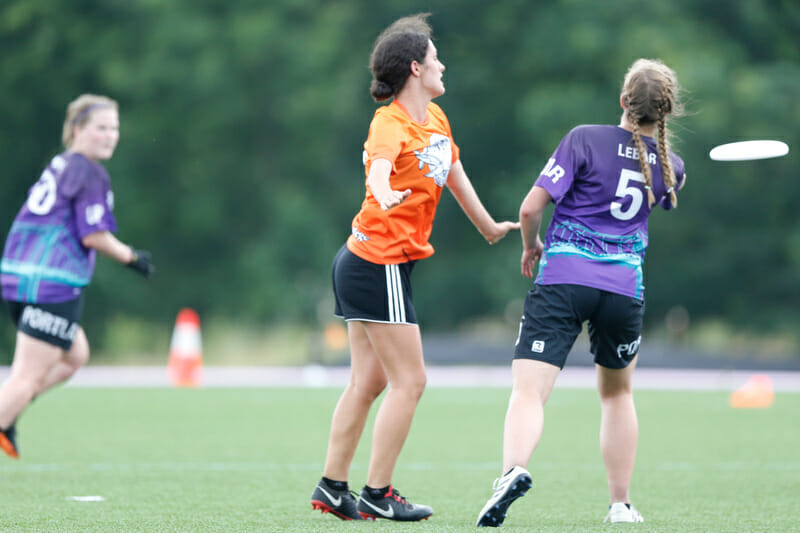 Our coverage of the 2021 college Series is presented by Spin Ultimate. You can get 15% off all college uniforms and swag right now at Spin Ultimate!
The 2021 College Championships are unusual in many ways: the quick ramp-up to a winter Nationals meant that qualifying Series events were the first tournaments some recruits ever played, while extended eligibility rules allowed teams to roster sixth- or seventh-year players and even alumni. For D-III teams, add one more point of distinction: for the first time, the D-I and D-III Championships are being held as a single tournament event. Along with that comes a notable scheduling change for this division, whose games are now spaced out across four days instead of being compressed into two.
The unique format of the 2021 Series as well as the long hiatus since sanctioned play make for lots of unknowns going into the weekend. In these previews, we'll offer a snapshot of each team and the competition they'll face when play begins on Friday, December 17. Watch ultiworld.com/live then for updates in all four college divisions!
Pool A | Pool B | Pool C | Pool D
Seeding: C1; overall no. 3
Power Ranking: #3
Path to Nationals: Def. Puget Sound 15-2 in Northwest final
Past Nationals Appearances: 2019
Location: Portland, OR

Over the past few years, Portland UProar have burst onto the D-III scene with style, quickly becoming a name to watch out for in this division. They've already demonstrated their strength this year with a 15-2 victory over a respectable Puget Sound team in the Northwest final, and they're hungry to compete at the College Championships. Like many teams in Norco this weekend, they're making the most of the extended eligibility rules by adding five alumni for the fall, but they come to this tournament ready to use the whole depth of their roster.
Handlers Kristen LeBar and Jacklyn Wataoka will look to downfield dynamo Kim Dorr, the team's 2020 Donovan nominee, whose quick cuts and odds-defying catches are a nightmare for opponents to contain. On the other side of the disc, UProar prides themselves on their lockdown defense. Look out for tight pressure on other teams' handler sets to force turnovers sure to be capitalized on with haste. Portland's key assets are their speed and athleticism, as well as a balanced distribution of skills that allows each player to maximize their strengths. They're favorites to win this pool, and should remain competitive into the bracket.
Seeding: C2; overall no. 6
Power Ranking: #6
Path to Nationals: Won Southeast three-team round robin
Past Nationals Appearances: none
Location: Jackson, TN

Every team's journey to the first College Championships since the COVID-19 pandemic began is a story of tenacity, persistence, and faith in their program despite uncertain rewards. For the Union Jillz, that story starts a little further back. Officially founded in 2016, this fall is the first year they've ever been able to field a team for the Series — and that team went on to claim the Southeast's only bid in comfortable wins over Berry and Georgia College.
Head coach Harrison Hayes attributes the team's success to the hard work and enthusiasm that each player brings to the field. With few sanctioned tournaments to go around, the Jillz have stayed competitively sharp by organizing games with other colleges, as well as mixed alumni tournaments. Hayes hopes that the Jillz's success this fall will be galvanizing moment for their women's ultimate community, not only at Union, but throughout the Southeast D-III region.
As for this weekend, the team is optimistic about their performance and has big goals carrying them into pool play. At Nationals, they'll look to Tori Graves to dominate on both sides of the disc while also being a vocal leader from the sidelines. The whole roster boasts athleticism and energy to spare, and they're ready to bring the grit, passion, and fighting spirit that kept their program alive to their games at Nationals.
Seeding: C3; overall no. 10
Power Ranking: #13
Path to Nationals: Top two finisher from Metro East three-team round robin
Past Nationals Appearances: none
Location: Poughkeepsie, NY

Vassar punched their ticket to Norco at Metro East Regionals, an unusual two-day round robin in which three teams played each other twice for two total bids from the region. Emerging with an overall 3-1 record in which their only loss was a narrow 7-6 game with fellow Nationals team Rochester on their second go-around, Vassar came out with a sizable advantage in point differential thanks to their outsized wins in the first day's games. With a more robust sample size of Series results than other teams who qualified out of two- or three-team regions, Vassar appears to be a solid, consistent team who can hold their own even as other teams learn the Boxing Nuns' tricks and improve on previous mistakes.
Captains Alouette Batteau, Lucy Gammon, and Nola Kim Mayer are proud of the growth and dedication the entire roster has demonstrated this fall. Although pandemic restrictions have limited team events and practice time, they've been able to bring on new players to continue to grow the program. Their roster boasts confident handlers and cutters, and they come to Norco ready to challenge the best defenses other teams can throw at them.
Seeding: C4; overall no. 15
Power Ranking: #20
Path to Nationals: Lost to Lehigh 10-4 in Ohio Valley final; def. Swarthmore 8-4 in game-to-go
Past Nationals Appearances: none
Location: Gambier, OH

Rounding out Pool C is another program making their Nationals debut, Kenyon Blu-Ray, who secured the second Ohio Valley bid with an 8-4 victory over Swarthmore in the game-to-go. Their performance at a wintery Regionals tournament with more than a few competitive teams at the fields suggest they may arrive on the National stage as a real challenger — and with 33 players on the roster, they're unlikely to run out of legs.
Captains Rose Fisher and Janie Keenan have been foundational to Blu-Ray's growth this season. Acting in a dual player-coach role to structure their team's play both on and off the sideline, they're a pair to watch for their on-field chemistry. A confident handling crew is sure to keep the offense steady, and clutch cutter Candela De Amorrortu will be a favorite target downfield, with speed and intelligence in the endzone to complete points in style.
According to the team, Blu-Ray are excited for all aspects of this College Championships experience. They look forward to matching up against new teams on the field, not only to see how well they fare competitively, but to bring home experience against a range of teams and playing styles to help continue their program's impressive rise.