What went down on Saturday afternoon in the D-III women's division.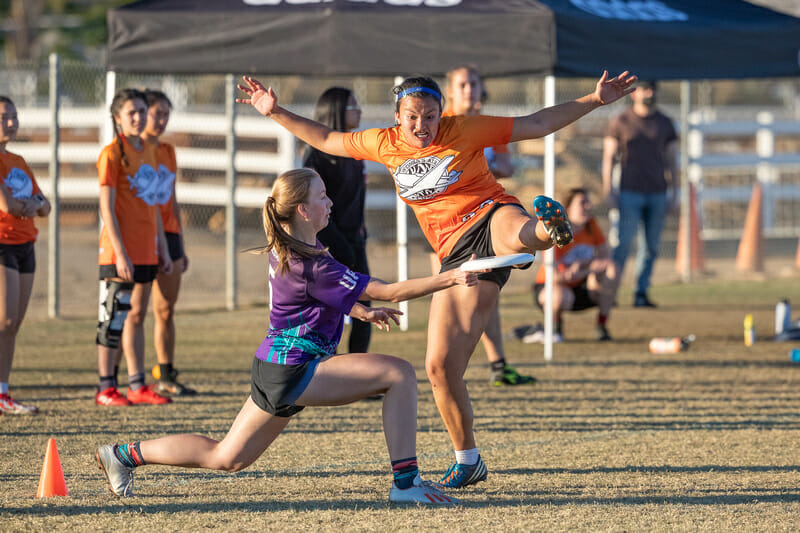 Our coverage of the 2021 College Series is presented by Spin Ultimate. You can get 15% off all college uniforms and swag right now at Spin Ultimate!
2021's D-III College Championships has had upsets sprinkled throughout, but at the end of it all, we're left with a chalk semifinals in both divisions. As of Saturday, the top four men's and women's seeds are all undefeated, and most enter semis after a dominant victory in their respective quarterfinal. Let's take a quick look at those results in the women's division.
Middlebury 15-5 Union
This game was streamed for free on Ultiworld's YouTube channel! Watch the replay here and consider getting an Ultiworld subscription to support our streaming coverage.
Truman State 15-2 Vassar
Truman State is a dominant force on the field. No other team this weekend has gone after every disc with such intention and ferocity. Despite the lopsided final score, Vassar played well, utilizing their depth of roster in an attempt to repeat their success against Rice in prequarters. But Truman State's defense allowed for little movement, and their offense — while not studded with highlight plays — won the point again and again with the fundamentals of throws, catches, and trust in their teammates.
Truman State's victory over Vassar would not have been possible without the defensive prowess of Katie Bruggeman. Bruggeman came out of nowhere to intercept passes between Vassar players and quickly convert with confident puts to the end zone. Anna Sullivan also dominated on both sides of the disc. Notably, TSU's entire roster could rotate fluidly through the handler and cutter positions, with each player able to get open and throw with finesse upon receiving the disc.
Team leadership Sarah Finley and Autumn Schrader agreed that their team's patience on throws was essential to their success. The cutters were able to fight through Vassar's defense for quick passes from their handlers.
Vassar's captains had all positive things to say about their run into the Nationals bracket. No matter what happens in the rest of the tournament, Vassar will have broken seed. It was clear in their game against Rice that the team's morale had been revitalized since pool play. Captains Alouette Batteau, Nola Kim-Mayer, and Lucy Gammon were excited about how every player showed up for each other in the prequarter and continued that energy into their game against Truman State. Their 14-8 game against Rice in prequarters was a signature win for their fall 2021 season, a scrappy, well-matched game that showcased both team's ability to earn every point. Batteau wowed on offense and defense with her handling skills, putting smooth flat hucks to every corner of the field and catching questionable throws with impressive bids.
Carleton Eclipse 15-4 Michigan Tech
The first point of this game was a brutal 10 minutes long, with turn after turn drawing out the suspense of who, if anybody, would score first. Finally, Carleton was able to punch it in and set the tone of the whole game. Carleton won this game on deep looks, recognizing early that Michigan Tech's defense was going to limit their small-ball under passes. Michigan Tech seemed unable to convert consistently as Carleton adapted to the challenges Michigan Tech threw at them.
Carleton coaches Cameron Barton and Emma Nicosia were excited to have another game to showcase their team's depth on this stage. Their clipboards showed the even lines that Carleton played against Michigan Tech, with each player getting ample playing time and contributing to each point they were on. Barton emphasized that their team has improved with every game this weekend. Today's game saw Tess Barton hungry for assists, ripping huge over the top hucks to her receivers waiting in the end zone.
As North Central neighbors, Michigan Tech and Carleton are familiar with each other. These teams know each others strengths and weaknesses. Carleton's coaches reported that Michigan Tech has the biggest heart of any team they've seen, and now their young program's tenacity has carried them to Nationals. Knowing this, Carleton had to play hard to shut down any opportunity Michigan Tech had to build momentum against them and turn the tide of the game. Michigan Tech's offense was run by Leah Arnt, who stood out with major defensive plays as well as smooth handler motion with Ally Fenton. All weekend, it has been Laura Lyons who has come down with contested deep shots from Michigan, who was once again in the end zone for Michigan this game.
Portland 15-11 Occidental
Going into quarterfinals, Portland had only allowed 10 goals all weekend. Their unstoppable roll through Pool C left one question: what will it take to challenge this team? Occidental surely knew what they were getting into in this game, and did not let their opponent's Friday record intimidate them. Coming out on offense, Occidental quickly capitalized by starting the game off with a quick hold. Occidental would hold this intensity throughout the entire quarterfinal, making this game a nailbiter to watch.
Portland's offense was dominated by Jaclyn Wataoka, who slung clean passes across the field, often finding Julia Hanly in the endzone to score. Coaches Elise Hollowell, Beckie Zipp, and Dan Young touted Hanly's performance, noting that she really rose to the occasion and played the best frisbee she has all season. And what a way to do it! Hanly caught 7 of Portland's 15 goals.
Other notable players were Kim Dorr, who has consistently been a player to watch, with outstanding athleticism and grace in the air. Dorr nabbed discs right out of the paths of Occidental's offense, quickly converting and throwing deep for scores. Additionally, Kristen LeBar was a consistent player, making smart throws with the success of the team in mind. Portland's coaches were excited about how their team's defense rose to the challenges Occidental threw at them, and looks to maintain the same confidence they've carried all tournament.
Occidental hung with Portland every step of the way in the closest game of any of the women's quarters. Sophie Havranek, who threw almost every assist in the prequarter game against Rochester, was once again a force to be reckoned with against Portland. Handler Nora Fujita-Yuhas ran the downfield game and Lily Hue received the majority of the goals. Coach Enway Melo could not emphasize enough how Occidental continually rose to meet the increased defensive pressure they met as they've progressed through the tournament.
In an ironic twist, despite Los Angeles-based Occidental being closer to Norco than any other team in the division, poorly-timed external circumstances left the team without a field to practice on. Instead, they sought out any space they could find for the leadup to Nationals, an exercise in adaptability and determination that easily translated to this weekend.