"Middlebury remained calm in the face of adversity and that allowed them to pull away for the win."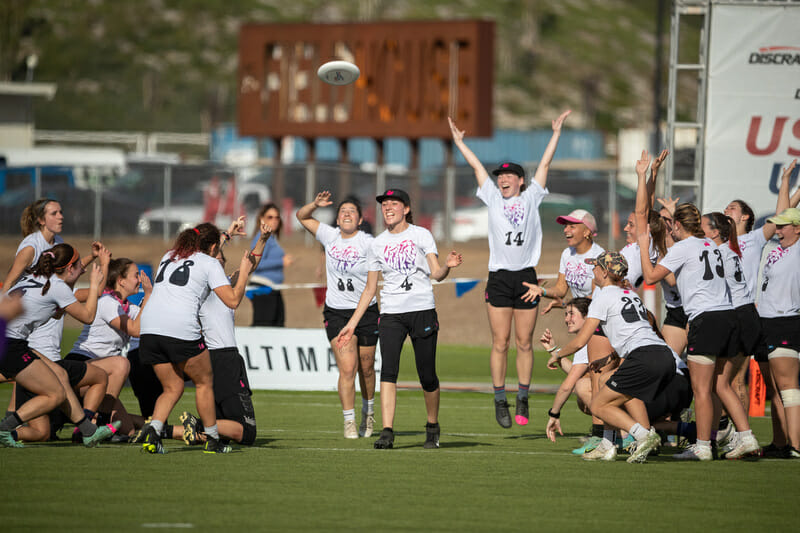 Our coverage of the 2021 College Series is presented by Spin Ultimate. You can get 15% off all college uniforms and swag right now at Spin Ultimate!
After both teams put on class-of-the-tournament performances all weekend, the 2021 D-III women's title came down to a matchup between a legacy fourth-seed in #4 Middlebury Pranksters and a relative newcomer in #3 Portland UProar. A fast-paced battle opened the game, but Middlebury eventually took control to win 15-10.
Portland received to start, but their opening throw was blocked by Middlebury's Rowan Dong, giving the Pranksters the disc just outside the goal line. Middlebury, though, immediately returned the disc on a missed shot to the back of the end zone. A few more turns followed, but in the end, it was Middlebury who opened scoring with the game's first break, with Madelyn Lander finding Natalie Dodson for a 1-0 start over Portland. In the next point, Portland's offense looked much more like the UProar we've seen all weekend: a quick, clean hold on a Jaclyn Wataoka deep shot to Makaley Krueger that tied the game at 1-1.
On their first defensive point of the game, Portland forced a handful of turnovers, with twists and turns until Middlebury finally held, Keziah Wilde hucking to Claire Babbott-Bryan. After that, both teams rained down goals, with quick assists and big plays to get the game in motion. Wataoka and Kim Dorr did the heavy lifting for Portland with clutch help from Makaley Krueger to finish off points, while the Pranksters' Babbott-Bryan made highlights of nearly every type, including a possession-saving layout grab and two of the team's first three goals.
The series of clean holds pushed the game to a score of 3-3 before the next set of miscues. A back and forth point saw each team move the disc up and down the field, but have turnovers that prevented goals. After a handful of turnovers in each direction, Portland took control of the disc in the red zone, and capitalized with a break, putting the game back on serve as Kim Dorr found Julia Hanly for a goal to make the score 4-3.
The teams picked up with a series of holds again, with Portland showing some clean offensive sets to convert their holds. Though the holds weren't as clean for Middlebury, they were able to successfully punch the disc into the end zone time and time again.
As the teams again traded holds to a score of 5-5, it felt as though Portland was in control – their defense was causing an immense amount of pressure, and Middlebury turnovers were leading to long offensive points that would leave most worn down. But Middlebury answered the bell, responding with defensive pressure of their own, and forcing a turnover from Portland in their own half of the field, then hitting a deep shot to secure another break to regain the league at 6-5 after Madelyn Landers escaped to the deep space to reel in an uncontested goal.
After trading holds, Middlebury added one more first-half break to take an 8-6 lead into halftime as Elise Chan found Babbott-Bryan for the deep shot goal. Throughout the first half, both teams had an opportunity to garner breaks. The difference for Middlebury came from their D-line offense's ability to take advantage and play consistently.
Receiving the disc to start the second half, Middlebury hit an early deep shot to Josie Bourne, who made a grab toeing the back line for the opening hold. After extending the lead to 9-6, Middlebury looked fully in control and did not look back. Early possession turnovers by Portland gave Middlebury the disc in prime territory, and the Pranksters converted two quick breaks to extend the lead to 11-6.
Portland added just a couple of goals in the second half, as the team's traded points to close the game, and the score rode out to 14-10, before Middlebury capped off the game with a goal that fittingly involved Babbott-Bryan, who sent a crossfield shot to Bourne to finish the game 15-10.
For Portland, it was the continuous grind their defense forced that forced a number of turnovers and created opportunities for breaks. Ultimately, it was their inability to consistently capitalize that became their undoing. Too many times, after forcing turnovers, they would simply give the disc back to Middlebury in a position to score quickly.
For Middlebury, they remained calm in the face of adversity and that allowed them to pull away for the win. There were points where the game could have fallen apart for Middlebury, they struggled to get goals at times, but their perseverance allowed them to finish off long points. That enabled them to squeeze out more from their deep roster and tire out the smaller UProar side, letting them stride past the finish line in first.