Assessing 2021's D-III women's finalists ahead of Monday's title match.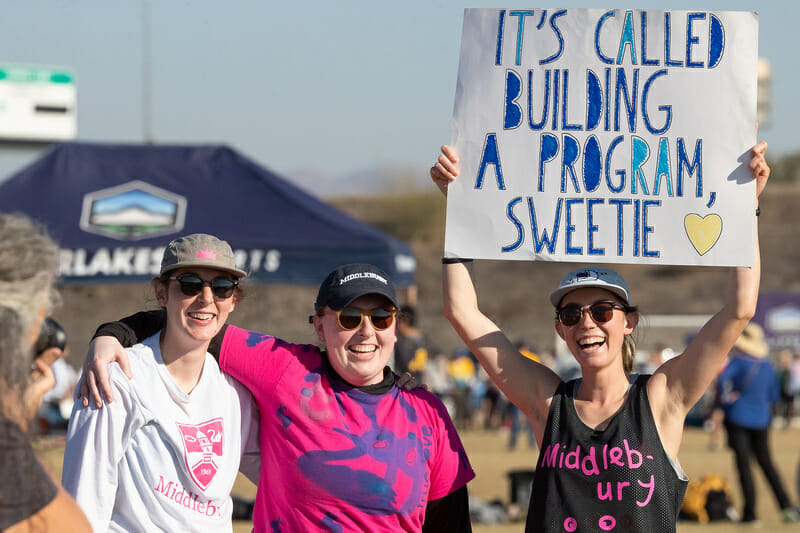 Our coverage of the 2021 college Series is presented by Spin Ultimate. You can get 15% off all college uniforms and swag right now at Spin Ultimate!
#4 Middlebury and #3 Portland have taken down all they have faced, and will now square off in a battle of undefeateds for the 2021 D-III College Championship. Not sure what to watch for? Our reporters assess each side of this matchup to give you the final scouting report before the game.
Top-End Talent
Middlebury: A-
Claire Babbott-Bryan established herself early as the player to watch this weekend. An early pick for D-III women's Player of the Year, Babbott-Bryan has continually impressed with tricky off-hand looks and how-did-she-find-that? hucks that slice through the entire offense and defensive stack to find her receiver — frequently Sidra Pierson. This report wouldn't be complete without a mention of Keziah Wilde, the backfield presence who has been crucial to the Prankster's success. Often the every-other handler in small ball game, Wilde also demonstrated her arsenal of deeper throws in the semifinal against Truman State. Finally, Pierson's quick cutting and amazing aerial skills have invaluable assets, especially in combination with Babbott-Bryan and Wilde's field-changing throws.
Portland: A
Jaclyn Wataoka is my early pick for player of the year. Wataoka has all the throws needed to open up an offense for Portland, and makes major impact plays on defense as well. Kim Dorr has been one of the standout athletes of the weekend, making highlight plays in the cutting space and generally controlling one-on-one matchups. Julianna Galian has been a nice complimentary cutter to Dorr, also winning the deep space. And finally, Kristen LeBar has made a massive impact in the handler space as the consistent offensive center who simply doesn't make mistakes.
Depth
Middlebury: B
Middlebury has a decently-sized roster, and many important playmakers may have missed out on the tweet-length updates only because their names weren't attached to the goals or assists. Everyone on the field knows their job and how to execute; often nearly every player touches the disc as it is moved up the field. However, Middlebury relies heavily on a core squad of key pieces, so if the points get long, those players may begin to tire, with few options for subs who can fill in for those roles in quite the same way.
Portland: B-
Portland has a nice handful of secret weapons beyond their top-end stars. Julia Hanly has made big plays in the cutter space, and Christine Burchinal has been an impact player as well. Beyond that, though, the roster gets kind of thin. With just 15 players, Portland has one of the smallest rosters at this tournament, and that lack of depth has to be one of the biggest points of concerns for this team. The small roster not only increases the chances of their legs running ragged – it also lowers the ability to have an impactful sideline. In a new-for-D-III four-day format where pool winners play only one game per day through quarters, semis, and the final, depth is probably much less of a determining factor than in any other year for this division.
Offense
Middlebury: A
Expect to hear these names again and again during finals, and if you don't know them already: Claire Babbott-Bryan and Keziah Wilde. Babbott-Bryan can get open wherever she wants, receive the disc from Wilde, and immediately swing it back before the defense can catch up. This chemistry was crucial to Middlebury's success against Truman State in semis. Middlebury's fan section informed our reporters that their O-line was never broken once on Friday. They're patient and smart, using every player on the field to keep the defense moving.
Portland: B+
This Portland offense is one of the most fun offenses you are going to see across the division. This is a team that's willing to shoot deep at any time. They have the handlers and cutters to make those big plays happen, and when it's working, this team can score in a hurry. But the deep game can be a double-edged sword, and Portland's reliance on it can also cause long points and turnovers. Tempering the shot-making with patient work up the field could be to this team's benefit. They have excellent handler play in Wataoka and LeBar, and it would be great to see them use this more often.
Defense
Middlebury: A-
It's hard to knock a team's defense when they've racked up a +43 point differential over the course of a tournament. Middlebury hasn't been defined by flashy skies or layouts. Instead, the Pranksters simply worked as a unit to force their teams to throw low-percentage looks over and over, frequently generating errors. Middlebury's D-line is athletic and smart, with intentional positioning to give their opposition's throwers few options. Having forced those panicky deep shots, Middlebury's speed allows them to chase down and contest other teams' attempts for significant yardage. Natalie Dodson was noted by captains for her incredible lock-down defense — if she's rarely seen making highlight-reel blocks, it's largely because she never allows her player to be open enough for a pass.
Portland: A-
We've seen Portland jump out to early leads throughout the weekend, scoring in a flurry that establishes powerful momentum for UProar against their opponents. That's not possible without a defense that can deliver the pressure that creates break opportunities. Against Carleton Eclipse, Portland's defense was swarming: every in-cut was contested, every reset was clogged, and every yard gained felt like a fight. If there's something Portland could improve on defensively, it would be generating blocks. This isn't to say that Portland doesn't have good defenders — they do — but it feels like coverage sacks are often the turnover creator, and as opponents get better, that simply won't keep working.
External Factors
Middlebury: A
Brotherly Love. Middlebury is a part of a lucky set of schools whose men's and women's teams have both been playing at Nationals this year. Both Pranksters teams' support for each other was evident on the sidelines of their semifinal today, with the men helping keep the energy up high. Isn't it always so much more fun to put on a show for a cheering crowd?
Sideline Presence. The Pranksters don't need the reinforcements to motivate themselves, though. Coming to Norco with an arsenal of hilarious cheers, ranging from cleverly crass to groan-worthy puns, Middlebury's "eighth person" sideline keeps the morale up. A halftime dance break keeps the team loose and relaxed, which is important when playing stressful games and needing to maintain composure with the disc.
Portland: A-
Mental Discipline. Portland has a smart, thoughtful coaching staff that seems to be keeping the team focused on the interior aspects of the sport. The mentality that comes from that intentional work makes this feel like a team that won't crumble under the pressure of playing for a National Championship.
Small Sideline. The biggest struggle in terms of external factors that I can think of goes back to depth. With such low numbers, Portland will also have to work hard to match the sideline energy of Middlebury in the final.
Final Thoughts
Middlebury has been ready for this game since Friday. Only allowing 32 points in the past three days, the Pranksters have shown they don't get tired and won't give up. With understated but effective defense that forces even the most confident teams to throw low-percentage passes, this team will capitalize on any mistakes their opponents make. A highly-polished team on the field and a goofy, affectionate squad on the sideline, this team is ready to ramp up their play to exceed the level of any opponent.
For Portland, there's a balance between their offense and defense that makes them great. Yes, they play a risky style of offense that can rely on the deep ball at times, but it's backed up by a defense that absolutely stifles their opponents. When they put up a deep shot, if they come down with it, great. When they don't, they're still forcing an offense to march 60 yards or more with defenders challenging every throw. So far, they've succeeded with this strategy, forcing turnovers that give UProar a short field to punch in the goal. It will be interesting to see how that strategy plays out in this final: as Portland's opponents get better, those opportunities won't be as easy to come by.
You can watch Ultiworld's free livestream of the D-III women's final at 12:30 PM Pacific on Monday, December 20 at ultiworld.com/live.