Florida State's magical spring continues despite stiff competition.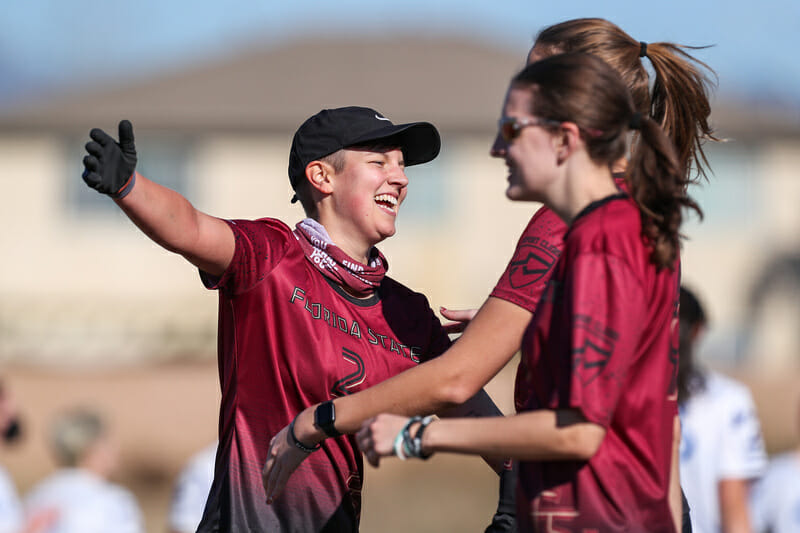 Our coverage of the 2022 college season is presented by Spin Ultimate. You can get 15% off all college uniforms and swag right now at Spin Ultimate!
AUSTIN — Warm, sunny weather all weekend with steadily increasing wind on Sunday set up for a fantastic finish at Centex. When the dust settled at the Wright-Whitaker Sports Complex, the #18 Florida State Seminole Ladies were the last team standing, scoring upsets in the semifinal and final to keep their 2022 winning streak alive at an incredible 24-0. Top-seeded #8 Tufts Ewo, who drew FSU in semis and lost by the narrowest of margins, were forced to settle for third place, while #17 Pittsburgh Danger took runner-up after an intense battle with hosts #15 Texas Melee.
Final Results
Click the images to see individual results.


Small but Mighty Florida State Holds Strong
The semifinal round on Sunday was when the action really started to take off at Centex. Florida State may have been the no.5 seed to Tufts Ewo's no.1, but after neither team was really tested in pool play or in the Sunday morning quarterfinal round, their matchup turned out to be the game of the tournament – though it was nearly drowned out by the noise from the larger rosters and larger fan bases on the next field over, for the semifinal between home team Texas and perennial stronghold Pittsburgh (film of which will be available for subscribers).
The wind, which was only barely noticeable on Saturday, added to the drama by suddenly picking up to around 15 mph with the occasional more powerful gust soon after the round started, forcing teams to adjust and reducing the effectiveness of some of the less confident throwers. It seemed to particularly wreak havoc on Florida State in the early going, allowing a poised and confident Tufts Ewo team to get the first two breaks of the game and jump out to a 4-2 lead before FSU called timeout to regroup. Tufts played arguably the best lockdown person defense of any team in the field all weekend, which was another adjustment for a Seminole team that had grown accustomed to having open cutters downfield.
Florida State fell back on their ace in the hole when faced with adversity, which was the handler movement and chemistry between Lindsi Allman and Cami Lamont. Both demonstrated great awareness and positioning to practically ensure an open reset whenever a teammate faced a rising stall situation – a powerful get-out-of-jail-free card, especially as the wind picked up on Sunday. When needed, the two of them could bob and weave their way down the field, occasionally looping Camryn Curvey or Lauren Kuhlman into the mix.
That recipe helped them tie the game back up at 4-4, but Ewo retained their advantage going into half on a point that foreshadowed the end of the game: After a FSU turnover, Tufts tried to squeeze a strike throw to Julia Lober on the sideline. A trailing Lamont threw a full extension bid at the disc but was only able to tip the back edge, and Lober toed the line and continued the disc to Olivia Goss, who unleashed a big forehand huck to the end zone for a 7-5 lead.
One of Florida State's main defensive strategies was a creative zone meant to force lots of swings, where the handler defenders would sag into the lanes and the downfield defenders set up in a diamond formation with speedy cutter Natalie Wilson taking away unders and Lamont or Hannah Grimes anchoring the deep space. It worked against a lot of opponents, but Tufts was maybe the only team to consistently beat it, with experienced players like Lober and Lia Yamamoto Schwartz patiently finding and exposing the gaps in the coverage. Once they worked it into the red zone, Ewo also showed off a smooth transition into a set with dominant cutter Hazel Ostrowski in the iso, which resulted in a few easy scores.
Up two breaks and receiving to open the second half, Tufts held to take an 8-5 lead, and it would have been excusable for FSU to let the game slip away from there. The Seminole Ladies brought a roster of maybe 14 players to Austin, and the main core of six or seven played nearly every point in the semifinal and final. When asked after the final how the team maintains the endurance to grind for an entire tournament, one of the FSU coaches quipped: "It's a lot of chasing each other around at practices… we've been dealing with [the smaller roster] all season, so we've really developed a lot of chemistry and trust with each other."
Needless to say, FSU fought back. More give-gos between Lamont and Allman helped them close the gap to 8-7, then 9-9. After the hard cap horn sounded and yet another score by Natalie Wilson tied it at 10-10, Ewo received on double game point. They were able to work it full field on a clean possession that included a great catch by Goss under heavy pressure from Wilson, but the upline toss to Lober that would've won it was denied by a flying Lamont. FSU moved it down the near sideline and sent a huck towards Wilson. Goss made an incredible effort to get a hand on it, but the wind kept it afloat and it was corralled by Lamont for the win. It was a fitting nail-biter of a point to cap a well-fought game.
Pitt Battles Past Tough Opponents to Reach Final
The third tournament for Pittsburgh Danger this season, and the one farthest from home, was largely a great success, but it was anything but a walk in the park on Sunday. Their D-line and sideline energy picked them up early and often, especially in the quarterfinal against Northeastern, after the Valkyries opened the game with three straight breaks. Danger coach Erica Baken praised her "special teams" unit after the final: "We had a handful of players that came out and played a zone that we are still refining, and that was a really helpful tide-turner for us. Defensively, Ari [Bhatia] and Hannah Boyd were really excellent as handler defenders, forcing a lot of stall 9 stuff." Pitt responded beautifully from the 3-0 deficit to take half 7-4, and held off the efforts of a feisty Valks squad in the rising breeze to reach semis.
There they met hosts Texas Melee, who were coming off a couple of too-close-for-comfort wins in pool play and a more convincing 11-7 win over Chicago Supernova in quarters. The stage was set for an intense game, with both teams playing a similar style of tight defense and boasting a fair amount of sideline support from players, coaches, and family/spectators. Annelise Peters brought the fire all weekend and took on the majority of Pitt's throwing duties on offense, while Melee's Summer Wilson made a number of key plays and really stepped into her role as one of the leaders on the field alongside center handler Mindy Radike.
Pitt nabbed the first break of the game with some upwind handler work between Jessie Sun and Beth Manturuk, but Melee evened it up at 5-5 after a block and assist from Wilson to athletic cutter MC Robbins. After a couple more holds, the game appropriately culminated in a long, hotly contested, back-and-forth universe point in which Texas had a few endzone looks but couldn't punch it in, and Danger took the 8-7 win to advance and face Florida State.
After the excitement of the two semifinal games, the final proved to be an odd affair. Stars Lamont and Peters established themselves with a couple of early highlights, but the FSU zone that hadn't found much success against Tufts gave Pittsburgh fits in the first half. "The first three-quarters of [the final] it felt like we were kinda beating ourselves," Baken said afterwards. "In the game previously we were dealing with a lot of the same challenges of the zone spacing, and a similar style of offense [by Texas], so we knew we could beat it, but our fundamentals had fallen through with some mental fatigue." Credit to Florida State for capitalizing, as they were less than perfect offensively themselves, but took advantage of short field opportunities to jump out to a 5-1 early lead and a 7-3 first half.
The early jump proved to be very important, as FSU led by as many as six in the second half before mental, if not physical, exhaustion began to set in. Still running the same eight or nine players, the Seminole Ladies adapted towards a "just hold on" mentality. A horn sounded during a point which ended in a Florida State hold, making the score 11-6, and Pitt's players huddled up on the field, thinking the game to be over. However, observers determined there were still some 15 minutes until cap, which seemed to breathe new life into the Danger contingent. Baken concurred: "After the fake hard cap, a lot of us relaxed into the fact of 'maybe it's not the end of the world if we lose, but let's go down fighting'… it helped release the pressure." Florida State did not score for the rest of the game, but continued to play hard and delayed the Pittsburgh comeback just long enough for the real horn to sound, making them 11-10 winners of their fourth tournament already this spring – a truly incredible achievement.
Subscribe to read more about Centex, including regional implications and the All-Tournament line.
Bonus Content for Women's Centex 2022: Tournament Recap is only available to Ultiworld Subscribers
Already have a subscription? Log in
Whether you visit Ultiworld for our reporting, our podcasts, or our video coverage, you can help us continue to provide high quality content with a subscription. By becoming a subscriber, not only do you receive benefits like bonus content and full article RSS feeds, you also help fund all of Ultiworld's coverage in general. We appreciate your support!