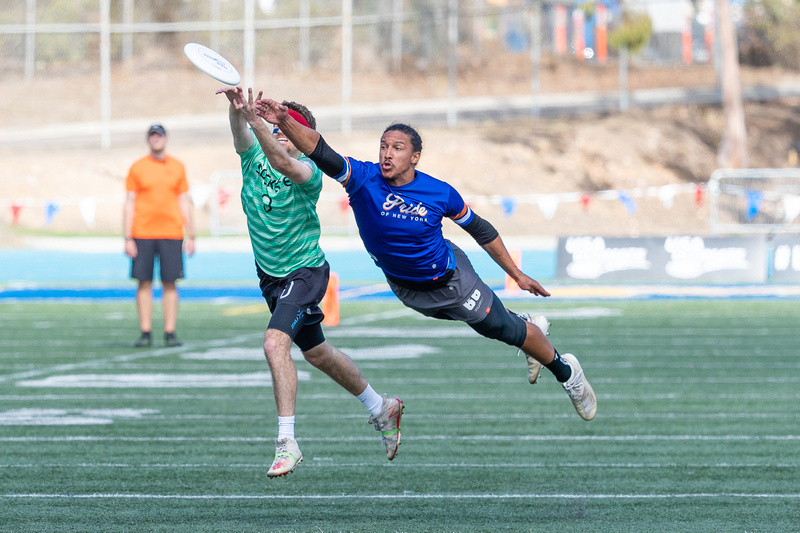 The 2022 USA Ultimate Club Season Guidelines were released last week, setting the rules and policies for the upcoming summer club season. Here's what you need to know about this year's guidelines.
2022 Schedule
| TOURNAMENT | DATE | LOCATION | VENUE | TEAMS |
| --- | --- | --- | --- | --- |
| Pro-Elite Challenge | July 9-10 | Aurora, CO | Aurora Sports Park | Waitlist |
| Select Flight Invite (East) | July 23-24 | Fredericksburg, VA | TBA | Waitlist |
| Select Flight Invite (West) | July 30-31 | Temecula, CA | Galway Downs | Waitlist |
| U.S. Open Club Championships | Aug 5-7 | Blaine, MN | National Sports Center | Waitlist |
| Elite-Select Challenge | Aug. 20-21 | Indianapolis, IN | TBA | Waitlist |
| Pro Championships | Sept. 3-5 | Raleigh, NC | WRAL Soccer Park | Waitlist |
| Sectionals | Sept. 10-11 OR Sept. 17-18 | Nationwide | | |
| Regionals | Sept. 24-25 OR Oct. 1-2 | Nationwide | | |
| National Championships | Oct. 20-23 | Del Mar, CA | Surf Cup Sports Park | |
Mixed Division 'Prescribed Ratio' Rule In Effect at Some Tournaments
At the Pro-Elite Challenge, US Open, and Pro Championships, mixed division teams will play under WFDF's Ratio Rule A, which reads as follows:
7.2. Ratio Rule A ("prescribed ratio" rule):

7.2.1. At the start of the game, after the first disc flip, an additional disc flip happens with the winner selecting the gender ratio for the first point. For the second and third points the ratio must be the reverse of the first point. For the fourth and fifth points the ratio must be same as the first point. This pattern of alternating the ratio every two points repeats until the end of the game (half time has no impact on the pattern).
Other mixed division events will continue to play under the "endzone decides" rule that has been in effect in past seasons. USAU is planning to transition all mixed division play to "prescribed ratio" rules in the future.
Rankings Are Back
USA Ultimate did not publish or use official rankings in the 2021 club season as the organization sought to provide maximum flexibility to teams returning to play amidst the COVID-19 pandemic. Rankings are returning in 2022, though, as is the 10-game bid-earning minimum. Rankings will be published weekly beginning on July 27th.
The results of the 2022 season will also qualify teams for 2023 Triple Crown Tour tiers (Pro, Elite, Select, Classic).
2019 or 2021 Performance Offers Tournament Priority
Along with dropping rankings in 2021, USAU also determined that teams would maintain their status from the 2019 season regardless of their performance in 2021. However, a number of teams had newfound success in 2021, and they aren't being relegated to Classic status.
Every team that qualified for Select, Elite, or Pro status in either 2019 or 2021 will be invited to tournaments based on the highest tier that they earned in either season. Teams that earned a particular status in 2019 have priority over teams that earned that same status in 2021 on tournament waitlists.
No Tournament Requirements in 2022; Everyone Will Play Sectionals
For the second straight season, USA Ultimate is not requiring teams to attend specific events. In an otherwise mostly "return to normal" season, this is a significant departure from pre-COVID rules, when teams in the highest tiers had to play at specific tournaments.
Normally, Pro and Elite teams could earn a bye to Regionals by meeting certain tournament attendance requirements. Since there are none in 2022, all teams will begin the postseason Series at Sectionals.
Continued Roster Flexibility
Until July 5th, players can compete with any club team they wish, including switching back and forth on different teams. Following that date, players can continue to compete with different teams but may not return to the roster of a team they previously played for, the standard rule from 2019 and earlier.
Teams may roster up to 32 players (a higher number than in the past), but the event maximum is 26 players.